Medical Lab Assistant Schools & Colleges
Last Updated
Medical laboratory assistant training is the right choice if you are inquisitive and curious by nature and are interested in the workings of the human body. You can acquire the knowledge needed to work in a medical lab and perform tests and procedures.
Through your training, you can develop expertise in phlebotomy, microbiology, urinalysis, and other aspects of clinical chemistry. You can also develop the ability to prepare specimens, collect blood samples, and much more.
Some programs also include front office training and externships. Front office training can expand your knowledge base and allow you to pursue additional career opportunities. Plus, an externship can equip you with real world experience in the field. You can choose the training option that will work best for you.
Medical laboratory assistants/technicians have one of the most important jobs in the healthcare field. And they also happen to have some of the most fascinating and enjoyable jobs as well. Read on to learn more about what medical laboratory assistants do, how much they make, what's required to get started in the field, and much more. And if you're ready to get started working toward your career immediately, find a school by using the simple search tool below!
---
---
Medical Laboratory Technician Schools
Sponsored Listings
---
---
Medical Laboratory Assistant Career & Training Information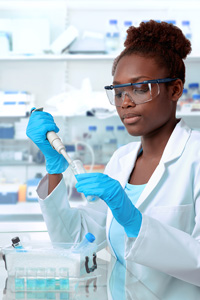 Canada's modern healthcare system wouldn't function without the many tests performed every day in clinical laboratories across the country.
Doctors rely on accurate and timely laboratory test results to make necessary decisions about the treatment of their patients. In fact, up to 85 percent of the medical information that doctors require is generated from laboratory testing. That's what makes medical laboratory assistants so important. And it's also why the field of medical laboratory science is such a cool career choice.
What Is a Medical Laboratory Assistant/Technician?
Medical patients need their doctors to make informed decisions. When it comes to your health, you want any problems to be correctly diagnosed and treated. But it takes medical professionals other than doctors—many working in laboratories—to help make that happen. A medical lab assistant (or technician) assists in the collection, preparation, and testing of blood, fluid, and tissue samples, out much of the laboratory work necessary for getting doctors and their patients the results they need.
Job Titles
In Canada, job titles can include:
Medical laboratory assistant (MLA)
Medical laboratory technician
Medical laboratory aide
Medical laboratory assistant/technician (MLA/T)
Medical laboratory assistants who draw blood samples from patients are also called phlebotomists or phlebotomy aides.
Salary
The typical MLA salary in Canada is pretty good. In fact, given the growth of this field and the high demand for laboratory services, it's possible that the salary you begin your career with may grow significantly as you gain more experience.
National Wage Estimates
According to Government of Canada data from 2016-2017, national wages break down this way:
The median hourly wage was $24.70 (which equates to annual pay of about $51,376 for full-time employment).
The highest average hourly wage was $37.00 (about $76,960 per year).
It's possible to encounter even higher wages depending on your level of experience, any extra qualifications you have, the employer you work for, and the region you work in.
Provincial Wage Estimates
Data isn't available for every province, but according to Government of Canada estimates from 2016-2017, some of the province-by-province median hourly wages look like this:
British Columbia—$23.00 (about $47,840 per year)
Alberta—$27.00 (about $56,160 per year)
Saskatchewan—$22.42 (about $46,634 per year)
Manitoba—$24.00 (about $49,920 per year)
Ontario—$23.00 (about $47,840 per year)
Quebec—$28.00 (about $58,240 per year)
New Brunswick—$22.34 (about $46,467 per year)
Nova Scotia—$24.00 (about $49,920 per year)
Newfoundland and Labrador—$28.00 (about $58,240 per year)
Employer Benefits
Many jobs include good benefits like supplemental health insurance, extra paid days off, and life and disability insurance. Plus, some positions are unionized, which can mean additional benefits and job protections.
Typical Job Description
The typical job description is comprised of many different collection, testing, and lab maintenance duties. However, tasks can vary a little from lab to lab and employer to employer.
Job Duties
Depending on the position, a this position can include duties such as:
Sample Collection
Collecting blood and other bodily fluid samples from patients
Performing phlebotomy (i.e., drawing a patient's blood) if necessary
Accepting delivery of biopsied tissue samples
Sample Preparation
Checking samples to make sure they've been collected in the proper containers
Matching patient information with collected samples and test-request forms
Rejecting non-matching samples and forms
Labelling samples and forms with unique identifying numbers
Inputting requested tests, patient info, and identifying numbers into a computer system
Assisting with slide preparation for microscopic evaluations
Basic Laboratory Testing
Placing samples into a pre-analytical system
Requesting new samples if problems are detected (such as the destruction of red blood cells)
Reporting sample problems to a supervising medical laboratory technologist if new samples can't be obtained
Performing non-microscopic tests on urine samples
Setting up more complex tests to be carried out by a medical laboratory technologist
Lab Maintenance
Keeping a clean, organized, and tidy workspace to prevent contamination of samples
Performing routine lab equipment maintenance
Monitoring the temperature of various lab equipment to ensure that samples stay preserved and tests get carried out in appropriate conditions
Many employers also like medical laboratory assistants to be capable of performing tests on patients such as ECGs (electrocardiograms) and PFT (pulmonary function testing).
Training and Education
The most common way to prepare for this career is to complete a short post-secondary program. Most programs last six to 14 months. And, depending where you live, there are usually many schools to choose from. One of the great benefits of attending school is that many programs can set you up to receive practical experience in a real medical laboratory setting before you graduate.
Certification
Technically, certification is voluntary for medical laboratory assistants in Canada. For the most part, this occupation is not regulated. But although the government may not require it, certification is good to obtain anyway.
The Benefits of Medical Laboratory Assistant (MLA) Certification
The main benefit of MLA certification is that most employers require it. They see it as a sign of your competence. Beyond employer requirements, getting certified gives you a recognized professional credential that you and your colleagues can feel proud of.
Certifying Organizations
At the national level, certification comes from the Canadian Society for Medical Laboratory Science (CSMLS). The most common way to qualify for the CSMLS certification exam is to complete a formal education program. Some provincial organizations, such as the Medical Laboratory Professionals' Association of Ontario (MLPAO), also award certification.
Job Outlook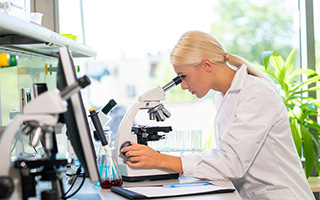 In Canada, the outlook for jobs in this field is bright. According to the Government of Canada, professionals in the category that includes medical laboratory assistants and different types of medical technologists are projected to be in very high demand from 2015 to 2024.
In 2010, 88,822 people were employed in this field. Between 2011 and 2020, the government projects 40,304 job openings, with 15,906 of those openings being due to the expansion of the medical technology sector. That represents a projected increase in employment of about 18 percent.
The growth in demand for medical laboratory assistants is expected to be caused, in part, by advances in medical equipment and technologies that will provide the ability for doctors to order a wider and wider range of tests for their patients.
The Best Things About Being a Medical Laboratory Assistant
MLAs enjoy one of the best jobs in the field of healthcare. Here are a few of the benefits of this career choice:
Pride from doing something important—Knowing that you're helping patients and their doctors get the information they need can feel very gratifying.
Good pay—The typical medical lab tech salary allows for a nice living, and many employers provide good benefits as well.
Clear expectations—The nature of the work means that medical lab assistants almost always know exactly what's expected of them, which can make you feel confident and assured.
A productive work environment—Medical labs tend to be very orderly environments and free of distractions.
Relatively low stress—Medical lab assistants generally have one of the least stressful roles in the healthcare field, meaning they can mentally leave their work behind them at the end of each day.
Lots of employment opportunities—With the increasingly high demand for their services, qualified lab assistants can take advantage of numerous job openings across the country.
Workplaces
Professionals in this field can find employment in a number of different settings, including:
Hospitals
Medical clinics
Medical research institutes
Universities
Government research laboratories
Blood transfusion labs
The Difference Between a Medical Laboratory Assistant (MLA) and a Medical Laboratory Technologist (MLT)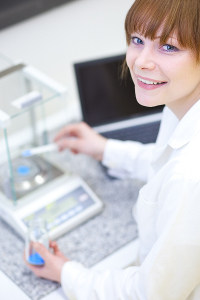 To understand the main differences, it helps to split them up this way:
Education
Becoming an MLT requires more post-secondary education than becoming an MLA/T.
MLTs need to complete one of the following:
A bachelor of science or medical laboratory science degree program (which usually takes about four years)
A two- or three-year medical laboratory technology program plus a period of supervised training in a real-world setting
In contrast, MLA/Ts can get started by completing a relevant program in as little as six to 14 months.
Certification
MLTs are regulated and required to register in eight Canadian provinces. As part of the requirements, they generally must obtain certification through the Canadian Society for Medical Laboratory Science (CSMLS). Nearly all employers also require certification.
MLAs, however, are not regulated. For them, certification is technically voluntary even though most employers do require it.
Job Responsibilities
MLTs are allowed to perform more-complex lab tests, experiments, and analyses on a wider range of blood, bodily fluid, and tissue samples. They also have more responsibility because they often supervise medical lab assistants.
Career Advancement
With additional education and training, a medical lab assistant can become a medical laboratory technologist. With the right qualifications, you could then also expand into new roles in:
Laboratory management
Medical lab education
Medical research and development
---