Cardiovascular Technologist Schools & Colleges
Last Updated
At cardiovascular technologist schools, you can develop skills that enable you to help extend and improve people's lives through stronger and healthier hearts.
As a cardiology technologist, you could work under the direction and supervision of a cardiac surgeon or other cardiac health professional. Your goal will be to assist him or her and help provide the best diagnosis and treatment possible for patients. You could offer your expert support in hospitals, clinics, and other health care environments.
With a cardiac technician education, you may soon be helping doctors correctly diagnose and treat their patients while using interesting technology. Start today by asking one of the cardiology technologist schools below for information or by using your postal code to find programs near you!
---
---
Cardiology Technologist Career & Training FAQs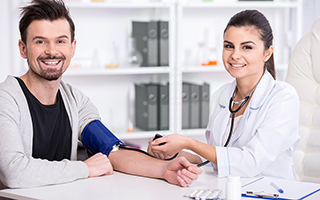 As everybody knows, the heart is one of the most vital organs of the human body. It pumps oxygen- and nutrient-rich blood throughout a person's body. Without a beating heart, a person dies. In Canada alone, somebody dies from cardiac arrest (i.e., when a heart suddenly stops working) every 13 minutes, according to the Heart and Stroke Foundation. That's the equivalent of as many as 40,000 deaths every year. And it's just one reason why cardiology technologists are so essential.
In this area of the health sciences, the focus is on helping physicians diagnose and treat a large variety of problematic medical conditions that can affect patients' hearts and blood vessels. Cardiology technologists work on the front lines of health care by detecting heart disease and assisting in the care of patients who have it. In the process, they help save a lot of lives. After all, the need is great. Consider these stats from the Heart and Stroke Foundation:
About 90 percent of all Canadians are in danger of experiencing heart disease or stroke as a result of carrying at least one risk factor for those conditions. In fact, over 350,000 people are hospitalized in Canada each year because of stroke or heart disease.
It's been estimated that about 1.6 million Canadians are currently living with heart disease, including about 600,000 who live with heart failure (i.e., a condition in which a weakened or damaged heart isn't able to pump enough blood to fully meet the needs of a person's body).
Every year, people across Canada have roughly 70,000 heart attacks (i.e., serious medical events that occur when a heart is damaged and doesn't get enough oxygen as a result of a blockage).
Clearly, you may be able to do a whole lot of good by working in the field of cardiology technology. So if you'd like to contribute to other people's wellness while using advanced medical equipment, then keep exploring what this career is all about and find out how you can get started in it.
---
What Is a Cardiology Technologist?
In the most basic sense, a cardiology technologist is a health care professional who uses sophisticated machines and devices to help diagnose and treat patients with heart disease or other disorders of the circulatory system. Cardiology techs often work under the supervision of cardiologists or cardiac surgeons.
That said, you wouldn't be the first person to wonder how to properly define "cardiology technologist," especially since "cardiovascular technologist" is another popular job title that is often used in Canada as a catch-all in the field. Truth is, trying to make sense of the variety of slightly different job titles in this field can be a confusing challenge unless you understand that, at its core, the field consists of two major areas: (1) non-invasive cardiology technology and (2) invasive cardiovascular technology.
Non-invasive cardiology technology is primarily about performing diagnostic tests on patients' hearts without putting any objects or medical instruments inside their bodies. In contrast, invasive cardiovascular technology is primarily about helping cardiac surgeons treat and diagnose patients by performing minor surgical procedures that do involve putting medical devices and instruments inside their bodies.
Here's where it gets confusing: Some health care facilities use "cardiovascular technologist" to describe somebody who performs non-invasive procedures, which often makes that term interchangeable with "cardiology technologist." Other health care facilities prefer to use "cardiovascular technologist" only for those who perform invasive procedures. As a result, it is usually easier to distinguish between different positions by reading their job descriptions instead of relying on their job titles alone.
Even so, it's often possible to categorize this field's job titles as representing either non-invasive or invasive procedures. For example, job titles that are usually associated with non-invasive procedures include:
Cardiology technologist
Cardiology technician
Cardiac technician
Cardiologist tech
Non-invasive cardiovascular technologist
Non-invasive cardiovascular technician
Cardiac stress technologist
Electrocardiography (ECG) technologist
Echocardiographic technician (or cardiac sonographer)
Job titles that are commonly associated with invasive procedures include:
Invasive cardiovascular technologist
Cardiovascular invasive specialist
Cardiac catheterization technologist
Cardiac catheterization technician
Medical patients often get tested by non-invasive cardiology technologists when they are experiencing symptoms such as heart palpitations, chest pain, dizziness, shortness of breath, or arrhythmia (i.e., abnormal heart rhythm). In more serious cases, invasive tests and/or treatments may be necessary, which is when invasive cardiovascular technologists are often called upon.
---
What Do Non-Invasive Cardiology Technologists Do?
Non-invasive cardiology techs use advanced medical equipment to help detect heart problems and generate test results that enable doctors to properly diagnose and treat their patients. Depending on the particular position (and the training that's required for it), a non-invasive cardiology technologist job description may include using or programming electronic equipment such as:
Electrocardiogram (ECG or EKG) machines—These machines are used for measuring how well patients' hearts are functioning by monitoring and tracking their electrical activity. Patients are usually asked to lie down and stay still while cardiology technologists place as many as 15 electrodes on their arms, legs, and chest. While a patient remains still, a cardiology tech activates the ECG machine and records the rhythms and electrical activity of his or heart for a few minutes. ECG readings can help detect conditions such as current or recent heart attacks, abnormal heartbeats, enlargement of the heart, arterial blockage, areas of heart muscle damage, heart inflammation, lung disease, and electrolyte imbalances.
Holter monitoring devices—Also known as ambulatory (i.e., mobile) ECG devices, these small machines also record the electrical pulses that are created by patients' heart activity. The difference between a Holter monitor and a regular ECG device is that a Holter device is designed for a patient to wear it continuously for 24 to 48 hours while going about his or her normal life. That way, cardiology techs can collect data that shows what their patients' hearts are doing during various daily activities. (Patients are asked to keep detailed logs that outline their symptoms, activities, and consumed medications while wearing Holter devices.)
Pacemakers—Cardiology technologists are often tasked with reprogramming these small electronic devices that are implanted in patients' chests and used for controlling their irregular heartbeats. Every pacemaker has a tiny computer that generates electrical pulses and can be programmed based on the medically necessary heart rates for each individual patient. Cardiology technologists are able to reprogram surgically implanted pacemakers by wirelessly sending new instructions to their tiny computers.
Exercise tolerance testing equipment—By using treadmills or stationary bikes, ECG machines, and blood-pressure monitoring equipment together, many cardiology techs perform tests on the ability of their patients' hearts to handle levels of physical activity that progressively grow more intense. Also known as stress testing, this type of diagnostic procedure is primarily used to help assess the extent of a patient's coronary artery disease, which occurs when blood vessels get too narrow and constrict the flow of oxygen and nutrients to the heart.
Echocardiogram (i.e., heart ultrasound) machines—These machines use high-pitched sound waves to create video images that show the flow of blood through various areas of patients' hearts. Echocardiograms are often performed in conjunction with other diagnostic procedures, including stress testing. They can be used for examining the functioning of heart valves and chambers or for detecting abnormal heart murmurs, blood clots, tumors, and a lot more.
In addition to carrying out non-invasive testing or programming procedures with the equipment above, cardiology technologists also analyze test results and prepare reports for cardiologists or other physicians. In some circumstances, they also may administer very particular medications to patients while under doctor supervision.
---
What Do Invasive Cardiovascular Technologists Do?
Invasive cardiovascular techs perform procedures that are a lot more advanced than those performed by non-invasive cardiology techs. In fact, their work requires a higher level of training since it involves putting medical instruments and devices into patients' bodies. They still need to have non-invasive skills like ECG tracing. But they also need to have minimally invasive skills such as cardiovascular catheterization, which is a procedure that involves threading a thin, long, flexible tube through a patient's blood vessel from the arm or upper thigh to the heart.
Cardiovascular catheterization enables cardiac surgeons to perform essential diagnostic tests or treatments without the need for more radical surgery. For example, catheters are often used to deliver special dyes to a patient's heart so that clear x-ray images can be taken that show arterial blockages caused by plaque in the bloodstream. They are also used in conjunction with ultrasound technology and for procedures such as:
Endomyocardial biopsy (i.e., extracting physical samples of heart muscle)
Coronary balloon angioplasty (i.e., opening a blocked or narrowed artery by inflating a thin, expandable balloon)
Coronary stenting (i.e., placing a tube-shaped device in a clogged or narrowed artery to ensure good blood flow to the heart)
Some invasive cardiovascular technologists also assist cardiac surgeons during operations for the implantation of pacemakers, implantable cardioverter defibrillators (ICDs), and cardiac resynchronization therapy (CRT) devices. As part of their duties, they also may prepare patients and equipment, monitor patients' vital signs, stop the bleeding in catheters' points of entry, and respond to complications and emergency situations.
---
What Is the Typical Cardiovascular Technologist Salary?
Wages within this area of allied health care vary quite a bit. A lot depends on location as well as experience and skill level. Canada-wide, the median cardiology technologist salary was about $57,782, according to Government of Canada Job Bank 2017-2018 estimates.
But even for somebody who is just getting started in this field and is looking to earn an entry-level cardiology technician salary, Canada is a good place to be. That's because, nationwide, the lowest earners in the field made about $37,440, which is the equivalent of $18.00 per hour.
And when it comes to being an experienced and highly skilled professional in this field and earning a top-level cardiology technologist salary, Canada is a good country to call home. On a national scale, the highest earners made $76,960 or more. Yet, in Alberta, the top cardiologist tech salary reportedly went as high as about $93,517.
Of course, some of Canada's provinces also offer median wages that are higher than the national median for this field. For example, when comparing each province's median cardiology technologist salary, BC ranks second, and Alberta comes out on top. Check out those provinces' respective median salaries for this field:
Alberta—$72,342
BC—$72,134
---
Can You Tell Me How to Become a Cardiology Technologist?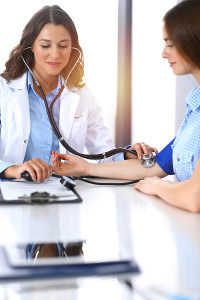 The first step toward becoming a cardiology tech in Canada is to earn a vocational college diploma in this field. Most non-invasive cardiovascular technician training programs take less than two years to complete. And some only take a little over a year. They generally include classroom learning, hands-on lab training, and supervised real-world experience in actual clinical settings.
As part of their admission requirements, cardiology technician schools often want students to have at least a Grade 11 or 12 understanding of math, English, biology, and physics or chemistry. Some colleges also ask applicants to pass a basic entrance exam and sit for an entrance interview. They simply want to make sure that the students they admit to their programs are truly motivated and capable of learning the material.
After completing a cardiology tech program, the next step is to register with the Canadian Society of Cardiology Technologists (CSCT). This step is required in every province and territory except Quebec. If your education and experience qualifies you for registration, then you'll be asked to pass an exam that consists mostly of multiple-choice questions related to cardiac technology procedures, patient care, and essential foundational knowledge. After passing the exam, you'll be awarded the designation of registered cardiology technologist (RCT).
As an RCT, you can then apply for entry-level cardiology technologist jobs. With a few years of experience, you may decide to pursue a more advanced role as an invasive cardiovascular tech. If so, you'll likely need to complete additional training. Post-diploma programs for invasive cardiovascular technology are often designed to last about two years.
---
What Will I Learn During Cardiology Technologist Training?
Program content varies slightly from school to school. But you will probably get the opportunity to learn in the classroom, within a practical skills lab, and on-site at a real medical or diagnostic testing facility. Your cardiac technician training is likely to cover a wide range of subjects, including:
Medical terminology
General human anatomy and physiology
Pathology
Basic computer skills
Health sciences research and statistical interpretation
Cardiac anatomy, physiology, pathophysiology, and pharmacology
Cardiac technologies and instrumentation
Electrophysiology
ECG tracing
Holter monitoring and exercise stress testing
Pacemaker fundamentals
Communication in medical laboratory settings
Medical records and information systems
Basic phlebotomy
Basic patient care
During your program, you will learn about how to perform diagnostic tests and become familiar with the equipment and procedures that are used in the process. You'll also learn about various cardiac diseases that you're likely to see within your career.
A few of the things that you can learn to do in cardiology technologist programs include:
Recording the cardiac activity of medical patients using EKG/ECG machines
Interpreting EKG/ECG tracings
Recognizing life-threatening heart rhythms
Conducting exercise tolerance tests
Tracking the round-the-clock cardiac activity of heart patients using portable devices like Holter monitors
Analyzing the performance of pacemakers
Reprogramming pacemakers
Conducting cardiac ultrasound tests
Plus, if you pursue invasive cardiovascular technologist training, then you may develop skills with catheterization and balloon angioplasty procedures, which are used to detect and treat blocked blood vessels and heart valves.
Many cardiovascular tech training programs also incorporate instruction related to becoming certified in areas such as:
Service, leadership, and professionalism
Handling and preventing violence in the workplace
Preventing workplace injuries
Using the Workplace Hazardous Materials Information System (WHMIS)
First aid and CPR
---
If I Become a Cardiology Tech, Where Can I Work?
Most cardiology technologists work in hospitals and medical clinics. However, it is also possible to find jobs at diagnostic testing laboratories. Some cardiology techs, after acquiring some experience, even work as sales or technical support professionals for companies that manufacture or distribute cardiac equipment and devices.
---
How Many Job Opportunities Are There in Cardiology Technology?
Over the coming years, many of today's experienced cardiology technologists are expected to retire. And Canada's growing population of senior citizens is creating greater overall demand for health and medical services. As a result, thousands of new job openings may become available in this field over the next few decades.
In fact, Job Bank statistics show that between 2017 and 2026, a total of about 23,100 Canadian jobs may be generated in the occupational category that includes cardiology technologists. Most of those jobs are projected to come about because of expanded demand for medical technology services, while about 40 percent could result from retirements.
---
What Are Some of the Top Benefits of Pursuing a Cardiology Tech Career?
Although this field offers the chance to earn a good salary, cardiology technologist careers also frequently provide additional advantages. After all, this type of occupation is incredibly important to society.
Think about it: Cardiology technologist schools can help you get started in a career that lets you assist doctors in the diagnosis and treatment of heart conditions. Whether you want to specialize in performing electrocardiograms by getting EKG technician training or want to be able to perform a full range of cardiac testing procedures by undergoing cardiology technologist training, program options exist to help you become someone who makes a vital impact.
Here are three of the best things you'll get to do by going to school for a career in this field:
1. Help People
Heart patients will look to you to provide the support and diagnostic testing they need so that their doctors can treat them appropriately and return them to health. With many heart-damaging conditions like diabetes and obesity on the rise, more and more patients require the caring professionalism of cardiology technologists to help them through.
2. Fulfill Your Love of Technology
Vocational programs in this field can teach you how to use some of the most high-tech equipment in the health care field, including:
Electrocardiography (aka EKG or ECG) equipment
Ambulatory monitors (aka Holter monitors)
Pacemakers
Software for analyzing cardiac activity
Echocardiography (i.e., cardiac ultrasound) equipment
3. Develop Skills That Are in High Demand
Remember: This field is growing now and will continue to grow for the foreseeable future due to Canada's aging population. And medical conditions such as diabetes and obesity are on the rise, which creates even greater demand for cardiac professionals.
---
Move Ahead With Your Career Ambitions
Take advantage of your motivation to create a better professional life. Quickly locate cardiovascular technologist schools in your area by entering your postal code in the program finder below!
---