Eastern College
New Brunswick · Nova Scotia
Last Updated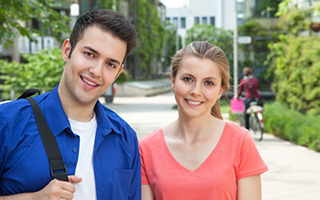 You set your career goals high and are willing to work hard to achieve them. Eastern College can take your ambitions and help you shape them into skills needed to step into a new career.
Explore your passion through a wide range of programs in many exciting fields. You could dive into the ever evolving information technology world, join the fast paced health care field, or showcase your talent with an arts or design program. Or you could explore even more options in areas like business, law, and supply chain management!
Programs Structured to Maximize Your Success
Eastern College is focused on getting their graduates into the workforce as soon as possible. This is made possible between a combination of industry-current curriculum and their unique approach to program delivery. Programs are organized into modules to give the student a more direct and concentrated learning experience. By only teaching one subject at a time you are provided with the chance to really focus in on what you are learning, and not divide your attention between classes. Plus, more flexible classes allow you the freedom to keep the lifestyle you are used to.
In addition, many of Eastern College's programs provide the opportunity for a 3-16 week-long field placement. This will enable you to work in your chosen field, gathering even more skills that could be desirable to potential employers. If you're curious about which programs include an opportunity to work in the industry after graduation, find out more now!
---
Eastern College Programs
---
Faculty of Supply Chain
Start moving ahead—toward a career that's known for reliability. At Eastern College, you can develop skills that are useful for all kinds of opportunities related to logistics and supply chain management. You can even earn professional certification for this industry as part of your program.
Supply Chain and Logistics
---
Faculty of Healthcare
Get ready to join the rapidly growing healthcare industry with an education from Eastern College. Whether you want to work directly with patients, help young people in your community, care for animals, or provide support "behind the scenes," a huge variety of opportunities are available. Eastern College can provide you with a solid foundation for beginning one of these fascinating careers.
Child and Youth Care with Addictions Support Worker
Child and Youth Care Worker
Continuing Care Assistant
Early Childhood Education (ECE)
Home Support Worker
Massage Therapy
Medical Administrative Specialist
Occupational Therapy and Physiotherapy Assistant
Personal Support Worker
Pharmacy Assistant
Pharmacy Technician
Veterinary Assistant
---
Faculty of Law
Train for a career that garners respect and makes a real difference. For example, you can learn essential skills for working in the correctional system or starting an exciting and meaningful journey in law enforcement. Or you can learn how to perform legal research, prepare legal documents, and assist lawyers as a paralegal.
Criminology
Paralegal
Police Foundations
---
Faculty of Art & Design
Use your creative energy to work toward an inspired career with an artistry, design, or makeup program at Eastern College. These programs have an up-to-date curriculum that could have you working in the industry you are passionate about in no time. Take your pick today!
Barbering
Interior Decorating
Makeup Artistry and Design
---
Faculty of Business
You know you have the ambition to be successful in the business world, you just need the opportunity to prove it. Eastern College has programs available to help, whether you would like to improve upon your existing skills or start fresh in a new field. The possibilities are endless with programs in areas like accounting, digital marketing, veterinary administration, and more. The choice is yours!
Accounting and Payroll Administrator
Accounting Technician
Administrative Specialist
Business Administration
Business and Digital Marketing Specialist
Veterinary Administrative Assistant
---
Faculty of Technology
Put your problem solving skills to the test with a fun and dynamic career in information technology. Technology, more often than not, is what keeps a business running smoothly, so demand in this industry continues to grow. Gain the skills you need to begin a career that you can truly enjoy through a tech program!
Advanced Systems Management and Cybersecurity
IT Systems and Security Administrator
Video Game Development
---
Four Convenient Locations in Atlantic Canada
Eastern College has grown significantly over its 30-plus years in action and now has four locations across Atlantic Canada. You can start your studies with this school whether you live in New Brunswick or Nova Scotia. All four campuses are located in areas rich with history and are surrounded by an abundance of amenities. Find yourself getting an education in an area with world-class entertainment, shopping, beaches, hiking trails, and more. Learn more about all of the benefits of training at Eastern College by requesting more information online today!
New Brunswick
Fredericton
850 Prospect St
Fredericton
NB
E3B 9M5
Moncton
1070 St. George Blvd
Moncton
NB
E1E 4K7
Saint John
212 McAllister Dr
Saint John
NB
E2J 2S7
Nova Scotia
Halifax
6940 Mumford Rd Ste 111
Halifax
NS
B3L 0B7
---