---
---
What You Can Do with Nail Technician Training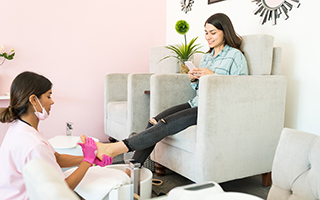 Canadians love getting their nails done by professionals, whether as part of a full package of beauty services or as a stand-alone treat. And lots of people across the country (both women and men) get manicures or pedicures every month, or even every week.
That gives aspiring nail techs plenty of reason to be optimistic. After all, the training is generally very short—even when combined with schooling in skin care or other spa therapies. And only the province of Manitoba requires any kind of apprenticeship or trade certification. Simply put, this field is easy to get into.
While certification may not be necessary, depending on where you live, it can still be a smart way to show potential employers that you've got what it takes to be a beauty professional. Certification exams will vary depending on the province or territory you live in, but are generally held in central areas that are easily accessed.
As you get started, you may want to work as an employee of a salon or spa for a little while just to get your feet under you. It's a good way to learn from more experienced nail techs, especially if you work at a nails-only salon. Plus, Canada is full of potential employers.
According to the Government of Canada's Job Bank, between 2017 and 2026, about 11,300 job openings for estheticians, electrologists and related occupations are expected in beauty salons and other personal care businesses across the nation. And opportunities even exist to work outside of the country while traveling to exotic locations on cruise ships.
But you don't necessarily have to work for somebody else. Plenty of nail technicians build their own loyal base of clients and work from home or take their services to where their clients are as one-person mobile salons. You can meet a lot of fascinating people and make deep friendships that way. Who knows, you might even find a client that lets you try out the world's most expensive nail polish. (It costs about $250,000 and contains 267 carats of black diamonds, according to an article in NAILS!)
All that said, here is a breakdown of the three most common work arrangements that nail techs enjoy:
Being a Salon Owner or Self-Employed
Consider this key statistic from the Job Bank: Within the category of estheticians, electrologists and related occupations (such as manicurists), 47 percent of Canadian workers were self-employed in 2015.
Working as the owner of your own nail business means getting to decide everything from the hours you operate to the marketing you carry out to the beauty products you sell. If you grow large enough, you can then hire employees to help out. But you're responsible for buying or leasing your salon space along with supplies and equipment.
Being an Employee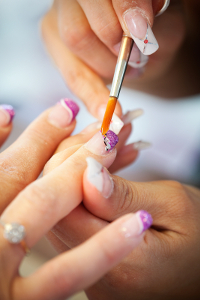 This avenue works particularly well for beginners since you can learn a lot from the feedback of people more experienced than you. Plus, the business you work for is often involved in helping you build a regular clientele.
In terms of compensation, employed nail technicians generally receive either a salary or a set percentage of service fees collected. Of course, they also earn tips. And they frequently earn a commission on any products they sell. Some employers also provide benefits such as vacation and supplemental health insurance.
Renting a Booth at a Salon
In this arrangement, a nail tech pays regular rent for the use of a workspace inside an established salon. The advantages include being able to make your own decisions about the services you offer and how much you charge. But you are generally responsible for purchasing your own supplies and finding your own clients.
---