Administrative Assistant Training Schools
Last Updated
Become a vital contributor to an organization's success.
With administrative assistant training, you can begin a career that lets you have a recognizable impact every day. It's the kind of role suited to enthusiastic people like you who enjoy having a lot of variety and making other people's lives easier and more productive.
An education in this field can lead to a future in which you act as a meaningful partner in running a complex department or establishment. And just think of the enriching relationships you can develop with other professionals as you build on their trust and confidence. Over time, your knowledge and firsthand experiences with major decision-makers could give you the tools to move your career to a level you never expected.
So find out how attending one of these administrative assistant schools might benefit you. Each of the colleges below is ready to share detailed information—all you need to do is fill out a short form to get started!
5 Popular Types of Administrative Assistant Careers
---
---
Administrative Assistant Schools
Sponsored Listings
Administrative Assistant
Advanced Business Office Applications
Fredericton, New Brunswick
Moncton, New Brunswick
Saint John, New Brunswick
Halifax, Nova Scotia
Administrative Specialist
Medical Administrative Specialist
---
---
5 Popular Types of Administrative Assistant Careers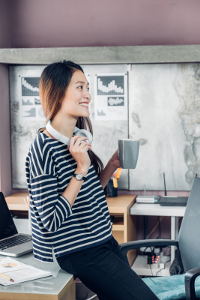 Administrative assistants are needed in almost every industry. In fact, about 204,000 Canadians are employed in this field. But some industries require admin professionals to have very particular sets of knowledge. Healthcare, for example, is full of distinctive terminology and organizational processes that you won't necessarily find in other sectors. So it's smart to think about which kind of industry you'd like to lend your talents to. Administrative assistant programs exist for many of the most popular paths. Here are five of the most common specialized roles you might consider training for:
1. Executive Assistant
Business is likely the first area that comes to mind when you think about becoming an admin assistant—for good reason. Companies of all sizes need people who can help coordinate schedules, make travel and meeting arrangements, direct phone calls, and generally ensure that important managers or executives have the freedom to focus on what they do best.
Plus, many of today's executive assistants have roles that go well beyond just clerical tasks. They often get to help manage key projects and exchange ideas with influential decision makers. As a result, many of them earn very good pay. In fact, the median hourly wage for executive assistants in Canada is $26.67, which equates to a yearly salary of about $55,474. And with experience and advancement to the senior executive assistant level, they can earn as much as $46.88 or more per hour (about $97,510 yearly) in some parts of the country.
Working with lawyers and paralegals can mean having days that are full of diverse and interesting tasks. As a legal admin assistant, you can experience the pride that comes from being part of a team that attains successful outcomes for deserving clients. And the pay is often good too. In Canada, the median salary for people with this occupation is over $49,000, and some earn over $69,000.
3. Medical Administrative Assistant
Few things are as rewarding as knowing you've helped make a positive impact on the health and well-being of someone else. Being a medical administrative specialist is about giving doctors the opportunity to spend as much time caring for patients as possible. It's a role that often comes with good pay. Canadians in this field earn median wages equivalent to a yearly salary of more than $44,500. And experienced medical assistants can make as much as $72,800 or more per year in some regions.
Love animals? This career lets you meet new ones almost every day. By learning what it takes to keep a veterinary clinic running smoothly, you can be the person who greets animal patients and handles the important administrative details that allow veterinarians and veterinary techs to provide excellent care. People in this role make about $30,000 as a median annual salary, and some make more than $35,000.
5. Bookkeeping or Accounting Clerk
Handling the daily finances of an organization is a special administrative role that can be very enjoyable. After all, you get to help maintain a clear picture of the all-important bottom line, which is used in making decisions that guide an organization toward continued success. In Canada, these clerks earn a median salary of about $45,000. And the highest earners can make more than $72,000 per year.
---