Canadian Business Schools & Colleges
Last Updated
Create your prosperous future—starting right now. The business schools featured here are ready to assist you in making good things happen. They care about your advancement. They want you to achieve success.
Besides, you've got plenty of motivation. Which means you can visualize a day ahead when you're able to add lots of value to an organization—perhaps your own. Maybe you're a leader. Or an organizer. Or maybe you love getting things done in a powerful support role.
Whatever your professional ambition, the action you take today can bring you closer to realizing it. So think about what drives you. And know that, very soon, your life could be even more fulfilling than you first imagined.
Opportunity awaits. Why not check out what these schools offer and ask for detailed information about the business programs that interest you? It's a simple step that could provide many great returns.
Business Education and Career FAQ
---
---
---
Business Schools
Sponsored Listings

Vancouver, British Columbia
Culinary Arts & Restaurant Ownership
Fashion Marketing
Hospitality & Restaurant Business Management
---
Vancouver, British Columbia
Culinary Arts & Restaurant Ownership
Fashion Marketing
Hospitality & Restaurant Business Management
13 BC Campuses
Abbotsford
Chilliwack
East Vancouver
Kamloops
Kelowna
Maple Ridge
Nanaimo
New Westminster
Penticton
Richmond
Surrey
Vancouver
Victoria
Business Administration:

Bookkeeping
Management
Payroll
Principles
Sales & Digital Marketing

Business Fundamentals
Executive Medical Office Administrator
Executive Office Administrator
International Trade
International Trade and Business Management
Tourism Hospitality Management
Vancouver, British Columbia
Fashion Design - Specialization in Marketing
Barrie, Ontario
North Bay, Ontario
Sault Ste. Marie, Ontario
Sudbury, Ontario
Accounting and Payroll Administrator
Business Administration
Business Management
Medical Office Administrator
Office Administrator
Calgary, Alberta
Edmonton, Alberta
Lethbridge, Alberta
Lloydminster, Alberta
Accounting and Payroll Administrator
Business and Digital Marketing Management
Hospitality Business Management
Logistics & Supply Chain Management
Social Media & Web Marketing
Accounting and Payroll Specialist
Administrative Assistant
Advanced Business Office Applications
Business Administration
Digital Marketing Specialist
Honours Business Administration
Office Administrator
Supply Chain and Logistics
Fredericton, New Brunswick
Moncton, New Brunswick
Saint John, New Brunswick
Halifax, Nova Scotia
Accounting and Payroll Administrator
Accounting Technician
Administrative Specialist
Business Administration
Business and Digital Marketing Specialist
Supply Chain and Logistics
Accounting & Payroll Administrator
Business and Digital Marketing Management
Financial Management
Global Supply Chain Management and International Trade
Hospitality Business Management
Human Resources Administration
Immigration Assistant
Logistics & Supply Chain Management
Social Media Marketing
Social Media and Web Marketing
Supply Chain Management
Travel & Tourism
Abbotsford, British Columbia
Surrey, British Columbia
Vancouver, British Columbia
Accounting and Payroll Administrator
Business and Digital Marketing Management
Digital Marketing
Media Communications
Music Business
Sports Marketing and Media
Surrey, British Columbia
Toronto, Ontario
Online
Automotive Business Manager
Automotive Sales & Leasing
Online (Not available to residents of Quebec)
ABC® Certified Wedding Planner
Accounting
Administrative Assistant
Bookkeeping
Business Management
Child Day Care Management
Employee Relations Officer
Hotel/Restaurant Management
Managing Your Own Business
Market Researcher
Travel / Tourism
---
---
Business Education and Career FAQ
What Are My Options for a Career in Business?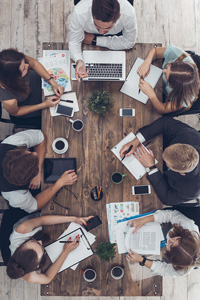 Keep one word in mind: Expansive. That might be the best way to describe the world of possibilities open to someone with the right business training.
Almost every industry and every area of our lives is touched by commerce. And the exchange of products, resources, services, and even ideas is driven by people who understand the key processes at play and have the skills to keep them moving forward.
So your potential career options are truly extensive. To start, just look at a few examples of the basic organization types that exist:
Publicly traded corporations
Privately owned corporations
Partnerships
Sole proprietorships
Non-profit institutions
Community associations
Now check out some of the specific sectors known for producing good career opportunities. Imagine being an entrepreneur, manager, or key member of a team in one of these broad niches:
Accounting
People who specialize in this field are needed everywhere. That's because organizations must balance their books, pay the correct taxes, and comply with government regulations in order to be successful. And that takes accountants—people who delight in working with numbers and navigating important details.
Every organization benefits from having professionals who know how to keep a workplace running efficiently. From managing client and employee records to coordinating schedules to handling correspondence, people with jobs in this area enjoy widely varied activities. Administrative assistants and medical office assistants represent two of the most common career paths.
Event Planning and Entertainment Business Management
There's no doubt about it: These are lively fields that attract creative, energetic people. Planning shows, celebrations, or other big get-togethers involves a lot of special knowledge and ability. And managing musicians and other entertainers can be an incredibly fascinating experience.
Different styles come and go, but one thing remains constant: The people who manage what gets sold in stores or online have very engaging jobs. Bringing new clothing and accessories to the retail market requires doing interesting research and forecasting emerging trends. And that's just a small part of what makes the fashion sector so compelling to many business-minded individuals.
A person can get a lot of joy from pampering others. Whether at a restaurant, hotel, or luxury resort, being involved in the management of fine experiences offers plenty of opportunity for professional fulfillment. After all, it means getting to use and expand on skills that originate from your best personal qualities.
This field is popular for a reason: It's often great fun. When you get to combine your research skills with creative brainstorming and smart strategizing, the result can be a career full of invigorating challenges and extraordinary outcomes. From branding and customer engagement to sales and promotions, the world of marketing provides fertile ground for people who want their work to make a noticeable impact.
Travel and Tourism
Visiting new places and having new experiences make life more enriching. So being a professional who helps makes fun, adventure, and unforgettable leisure time possible for other people often comes with plenty of rewards. It's the type of career that can create truly vibrant opportunities.
---
How Do I Choose a Path That Suits Me?
One of the best clues comes from your core personality. Take some time to honestly assess what motivates you. And ask others who know you well to give you a list of your strengths. Then see how those things line up with these business personality types:
Leader—A person who likes being out front and in charge. If that's you, then management is one possibility you might want to explore.
Organizer—Someone who is driven to make plans, bring people together, and create a sense of order. Example careers include being an event coordinator, music promoter, travel consultant, or even an office assistant.
Visionary—The person with grand ideas, the one who sees opportunities in places others don't and is willing to take risks. Entrepreneurs are the best example. But many marketing and fashion professionals fit this type as well.
Supporter—A professional who enjoys being part of the execution of an idea or playing a direct role in the day-to-day operations of an organization. Accountants and administrators are two good examples.
Of course, another tried-and-true method for discovering your niche is to go through a business administration program. Many schools offer the chance to explore a number of basic areas like accounting, human resources, and marketing as part of your course of study. Then you can often choose to specialize in the area you like best.
---
How Long Does a Business Education Take?
It varies based on the type of credential you're after. Certificate and diploma programs generally last up to one year, whereas pursuing an associate degree will usually take between 18 and 24 months. When it comes to a bachelor's degree, you're looking at about four years. And a more advanced degree, such as the Master of Business Administration (MBA) credential, will normally require a couple of additional years after completing your bachelor's.
---
Can I Get the Training I Need to Advance While Still Working?
Yes. In fact, many of the programs on this page are structured to help adults who need to hold down their existing jobs while pursuing their studies. Some schools even offer features like flexible class schedules and online training options.
---
What's the Best Reason to Enter the World of Business?
Limitless possibility. A wide expanse of opportunities. Your education can give you knowledge that applies to several industries. And once you have a little experience, you can take the skills you've developed and contribute to the growth and prosperity of different sectors that interest you. Along the way, you'll learn a lot about yourself, meet fascinating people, and increase your wealth potential.
---
How Do I Find an Appropriate Business School?
You're probably very close to doing exactly that. This page is full of lots of terrific choices. And you can always use the convenient search tool to discover schools that offer programs near you. So take a little time to explore these options today!
---