Fashion Design Schools in Canada
Last Updated
You know fashion design school is right for you.
You possess creativity and flair, and you desire a career that is glamorous and fun. Your friends describe you as someone who is on top of the latest trends, and sometimes even set fads of your own! You idolize designers like Ralph Lauren, Giorgio Armani, and Versace. Just talking about them makes you excited and you want to follow in their footsteps.
Training can allow you to explore the fashion industries of Milan, Paris, and New York. You can learn everything from designing, buying, and marketing. When choosing a school, keep in mind that fashion is a competitive industry and it can be beneficial to find a program that balances both creative and business aspects. This will help you create hot designs that appeal to and reach the market.
Within the world of fashion, there is so much that you can design: accessories, apparel, and footwear. Schooling can open up this whole world to you! Begin your journey to the centre of the runway today and find a fashion school near you!
Your First Step to a Stylish Career
---
---
Fashion Design Schools
Sponsored Listings
---
Vancouver, British Columbia
Fashion Design - Specialization in Marketing
---
---
Your First Step to a Stylish Career
The Triad of Career Paths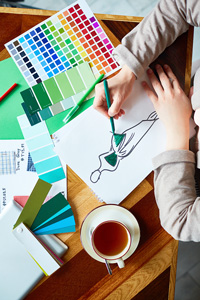 Fashion design is a major industry. And, although it can be very glamorous, more often than not a career in fashion usually demands a lot of hard work. But, you live for fashion, right? And, you're more than willing to put in time behind-the-scenes for the chance to work in this fascinating industry.
There are three sides to the industry, each with corresponding careers:
Creative (designers, stylists, illustrators)
Manufacturing (production coordinators, pattern drafters)
Business (buyers, fashion merchandisers, marketers)
All three aspects work together to turn a simple idea into this season's must-have item.
Ready-to-Wear Fashion Design Programs
Which training program you choose really depends on where your natural talents lie. Are you wildly creative, with an ability to translate your visions into sketches of stylish clothing and footwear? If so, you may want to find a program that prepares you for a career as a designer, and teaches you about trends, design, textiles, fabrics, and color.
But, if you think you're more suited to a technical role, you may want to pick a program that provides you with pattern making and computer-aided drafting and design (CADD) training. This type of education can prepare you for a career turning the fashion designer's ideas into prototypes, which are then used within manufacturing.
Finally, you may want to select a program that includes fashion merchandising and marketing. With this kind of training, you could launch a career in merchandising or trend forecasting (providing the market research on which new designs are based).
Different Learning Environments
There are three main environments where you can receive training:
Colleges and trade schools
Universities
Online schools
Although all three will typically provide you with similar foundations, they differ greatly in the details. For example, universities tend to focus on equipping you with a broad knowledge, and quite often include general education courses. Whereas, colleges lean more toward offering job-specific programs that allow for more hands-on training in the classroom, and during internships in the field.
Online schools certainly give you a more flexible and convenient way to complete your education, but may not offer as much interaction with your fellow students, instructors, and people within the fashion industry.
Finally, all three differ in their time commitment. Typically, college programs are shorter than university programs. And, online schools may offer flexible, accelerated scheduling.
There are many things to consider when deciding which learning environment would suit you best, including these three key questions:
Is the school accredited?
Does it fit my current lifestyle?
Does it fit my career goals?
---
Getting Your Start in the Field
Ultimately, your enthusiasm for fashion design is where it all starts. So you'll want a school that shares your passion and is dedicated to matching your energy with tangible training.
You can easily discover schools just like that in the options displayed above. And the simple search tool below offers a quick way to pinpoint programs you can enroll in from where you are right now. Why hesitate? Go for it!
---