Art & Design School Guide
Last Updated
Start making a career out of your creative talents.
Going to art or design school is a good way to boost the abilities you already have while learning valuable new skills. It's the first step toward becoming a complete professional and prospering from your distinctive talents.
Think about what you already enjoy. Maybe you're drawn to the visual aspects of communicating ideas and messages. Perhaps you're fascinated by the styles that people wear or the way they arrange and decorate their living spaces. Or maybe you're a gamer, music lover, or film buff who wants to help create the next generation of interactive media and entertainment.
Whatever your reasons for considering art school, it helps to know that many Canadians like you have succeeded in finding a good career in the arts. Plus, more programs in this area are available now than ever before. The creative sector just keeps expanding with new possibilities.
So take a look at some of the most focused design and art schools in Canada. Each one can help you discover your own career potential right now.
10 Fun Areas of Opportunity in Design and the Creative Arts
---
---
---
Art and Design Schools
Sponsored Listings

Vancouver, British Columbia
Game Art and Design
Graphic Design
Professional Recording Arts
---
Vancouver, British Columbia
3D Modeling for Animation and Games
Animation Art & Design
Digital Photography
Fashion Design
Game Art & Design
Game Programming
Graphic Design
Graphic Design & Foundation for Design
Interior Design
Professional Recording Arts
VFX for Film & Television
Visual & Game Programming
Toronto, Ontario
Windsor, Ontario
Engineering Design & Drafting Technologist
Graphic Design
Vancouver, British Columbia
3D Modeling Animation Art and Design
Architecture Design and Technology
Fashion Design - Specialization in Marketing
Game Development and Design
Graphic Design
Interior Design
Video Game Art
Video Game Development
Computer Aided Design Technology
3D Modeling Animation & Design
Graphic Design
Graphic Design Technology
Web Design
Web and Mobile Applications Development
Moncton, New Brunswick
Halifax, Nova Scotia
Interior Decorating
Video Game Development
Computer Animation
Creative Writing
Digital Cinematography
Game Art
Game Design
Graphic Design
Media Communications
Mobile Development
Music Production
Web Development
---
---
10 Fun Areas of Opportunity in Design and the Creative Arts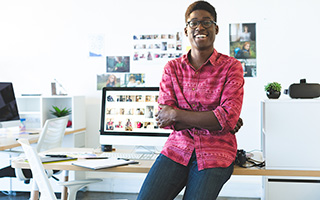 Creative industries are an increasingly important part of Canada's economy. In fact, according to Canada Council for the Arts, the nation's cultural sector was estimated to have generated $56.1 billion in 2018 alone—accounting for 2.7 percent of the country's real GDP. And new companies in this space keep appearing. From coast to coast, fresh opportunities are sprouting up for people with the right combinations of creative and technical skills.
For example, did you know that the Greater Toronto Area (GTA) now has the third-largest talent pool of designers in North America? It's a fact. Only New York and Boston have more design professionals. But designers are in high demand across many other regions of Canada as well.
Here are 10 of the best fields to consider as a creative Canadian:
This enjoyable field is all about solving interesting communication challenges visually. From logos to brochures to product packaging to website graphics, the range of projects that a graphic designer can work on are beyond varied. Whether for print or electronic media, today's graphic design schools understand that the opportunities to enlist your imagination and artistic flair in this career are often surprising.
Plus, the pay can be very good, particularly as you advance into more senior roles. For instance, the median salary for graphic designers in Canada is about $48,880. And the highest earners in the field make over $85,010 in some regions.
The online world would be much less appealing if we didn't have talented web designers. They don't just make websites attractive. They also make them functional and user-friendly. And, like traditional graphic designers, they also tend to earn good salaries, especially if they have solid coding and markup skills. In Canada, the median pay for web designers and developers equals about $57,720 per year. Top earners can make more than $95,992.
Your imagination can really take flight in this industry. Creating never-before-seen characters, immersive stories, and inventive gameplay is all part of the creative process of bringing new titles to the video game market, which is massive. According to Statista, over 60 percent of people are gamers. And the country's electronic entertainment sector employs a lot of talented artists and designers. In fact, CMF says that Canada ranks third in the world for the number of people employed by the video game industry. And according to PayScale, the median salary for a designer in the field is more than $51,610.
4. Animation, Multimedia, and Visual Effects
Motion graphics are everywhere. They're used to bring stories to life and to enhance the overall impact of video games, films, and other forms of multimedia entertainment or communication. According to CMF, Canada's digital media industry alone is worth about $22 billion. And that means skilled animators and multimedia and special effects designers are needed by many companies. Median salaries tend to be around $51,323.
5. Photography
Our culture might be more visual than ever before. We crave new images. And the photos that really captivate us have the power to influence what we think, how we behave, and what we buy. So being a professional photographer can mean having the potential to help shape the world. And when you work in a commercial capacity, you have the chance to eventually make as much as $74,131 or more per year.
Music is a cornerstone of our individual and shared cultural experiences. And sound plays an essential role in immersing us in stories presented on TV, in film, or in video games. That's why a career in Canada's recording arts industry can be so fulfilling. It lets you bring joy and delight to the senses of other people. Plus, you can earn a good living. For example, median pay for a Canadian audio recording technician equals about $52,000 a year. And some people in that career earn more than $90,002.
7. Acting and Performing Arts
With successful film industries in Vancouver, Toronto, and other Canadian regions, talented actors and writers can find some pretty compelling opportunities. And many towns and cities have thriving theatre and music scenes. That means a go-getting performance artist can make a career out of his or her passion. Plus, check this out: The median annual pay for an actor in Canada is $48,000.
How a building is designed on the inside is just as important as how it looks on the outside. Probably more so. Our interior spaces need to be created based on how they're used and what we hope to get from them. Professional interior designers understand this better than anyone else. And they know how to make it all happen since good interior design programs have helped them develop high-level skills. As a result, they can often earn a very comfortable living. Median pay for an interior designer in Canada is about $43,555 a year. But, with enough experience, it is possible to make more than $100,006 in some locations.
Before buildings can be constructed, detailed visual plans must be prepared using CADD software. Blueprints and similar technical drawings are the link between the ideas of engineers and architects and the physical work of skilled tradespeople. As a drafting technician in Canada, you could make a median salary of about $52,000. And, with the right experience, you could become a top earner and make up to $115,003 in fast-growing regions like Alberta.
Your unique sense of style could be the ticket to a career of truly colourful expression. Why not become one of the people setting the trends for the clothes we wear and the accessories we adorn ourselves with? Fashion design schools in Canada have helped turn many people like you into successful style mavens. And some of the highest earners in this field make more than $72,010 per year.
---