22 Amazing Jobs With Animals
By Publisher
| Last Updated July 24, 2020
Jobs with animals can be some of the most rewarding—especially when you can help make their lives healthier and happier. After all, animals can be extremely loyal and appreciative. According to the U.S. Centers for Disease Control and Prevention (CDC), having pets can lower people's blood pressure and reduce their cholesterol levels, so it stands to reason that jobs working with animals could bring similar benefits. Is it any wonder so many people prefer to spend their workdays among non-human creatures?
Canadians do love their animals. Pet ownership in this country has grown significantly over the last few years. The Canadian Animal Health Institute notes that around 41 percent of Canadian households have at least one dog, and 38 percent have at least one cat. That means growing opportunities in all sorts of animal-related careers.
Lots of animal lovers dream of becoming veterinarians, but that is by no means the only option. There are many different types of jobs that work with animals, and they require varying levels of education and experience. Whether you're interested in caring for, protecting, studying, or training animals, there are plenty of exciting possibilities out there. Explore the animal careers list below to get inspired!
Salaries are current as of February 25, 2020 and are based on data from the Government of Canada's Job Bank unless indicated as being from (1) PayScale, (2) ERI Economic Research Institute, or (3) SalaryExpert.
---
Careers in Veterinary Services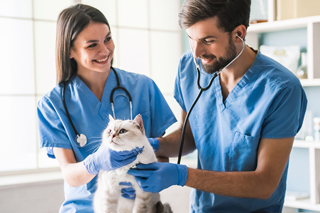 Do you want to devote your career to the physical well-being of creatures great and small? Careers in veterinary services are probably the best-known jobs that involve animals. It's no secret that being able to contribute to the healing of a sick or injured animal can be immensely rewarding. Consider these occupations:
1. Veterinary assistant
With a unique combination of animal care skills and administrative abilities, veterinary assistants are essential to the operation of veterinary clinics and hospitals. Assistants feed and bathe animals, clean exam rooms and treatment areas, and hold animals during procedures. They also schedule appointments, handle billing, and perform other clerical tasks.
2. Veterinary technician
Drawing blood, placing catheters, performing lab tests, and assisting in surgery are typical tasks of veterinary technicians. You have to know how to work with animals and people, since many technicians talk to pet owners about how to care for recovering animals. In some provinces, technicians must be registered.
3. Veterinarian
When it comes to jobs involving animals, this is usually the first one people think of. Veterinarians diagnose and treat injuries and illnesses in all types of animals. They set bones, dress wounds, fix teeth, prescribe medications, and perform surgery. It takes at least six years of university training to become a veterinarian, but getting the chance to help animals heal can make it all worthwhile.
4. Veterinary pathologist
Veterinary pathologists are veterinarians who take additional training to specialize in animal diseases. They use specialized lab equipment to examine animal tissues and fluids for signs of disease, perform necropsies to determine how an animal died, and conduct research into ways to treat and prevent diseases. In Canada, veterinary pathologists must be certified by the American College of Veterinary Pathologists.
5. Veterinary ophthalmologist
Another potential area of specialization for licensed veterinarians is ophthalmology, which focuses on problems affecting the eyes. Veterinary ophthalmologists diagnose and treat conditions like glaucoma, conjunctivitis, and cataracts. They conduct routine eye exams and perform surgery when necessary. To work in this field in Canada, you'll need to be certified by the American College of Veterinary Ophthalmologists.
Canadian salary data is unavailable, but veterinary ophthalmologists in the U.S. earn a median salary of $80,970.1
---
Non-Veterinary Animal Care Jobs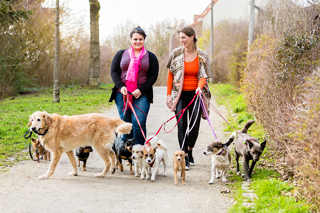 Veterinarians might get the lion's share of attention, but there are plenty of other ways to make a career out of caring for animals. Some of these jobs can be had with little or no experience, while others require a bit of special training. Here are a few examples of animal care jobs outside of veterinary services:
1. Dog day care manager
Busy pet owners are increasingly turning to dog day cares as a way to allow their four-legged friends to be active and sociable while the owners are at work. Day care managers evaluate the energy level and temperament of each new dog, provide supervised play and rest areas, and ensure that all animals in the facility stay safe. It's important to be certified in pet CPR.
2. Wildlife rehabilitator
The goal of wildlife rehabilitators is to help injured animals recuperate so they can be released back into their natural habitats. In this role, you feed and clean up after the animals as well as provide basic first aid. The amount you make as a wildlife rehabilitator can vary considerably; many rehabilitators are volunteers, but some paid positions are available in humane societies and other large organizations.
3. Pet sitter
Caring for pets in their own homes while owners are working or travelling is the job of pet sitters. Typical tasks include putting out food, changing water bowls, cleaning litter boxes, and providing companionship. Some sitters stop by for an hour or so; others stay overnight in a client's home. No experience is required to do this kind of work.
Median hourly wage: $14 for dog sitters1
4. Dog walker
This is one of the most common jobs involving dogs. Plenty of owners hire professional dog walkers to make sure their canine friends get their daily dose of exercise. Walkers take the dogs out, clean up after them, and make sure they behave appropriately in public areas. In cities like Toronto and Vancouver, dog walkers need a permit to be out and about with more than three dogs at a time.
Median hourly wage: $14.021
5. Animal shelter manager
Animal shelter managers provide a safe haven for injured, abandoned, and unwanted animals. They are in charge of the overall operation of the shelter, which means they supervise staff, manage budgets, maintain the facilities, and make sure all animals receive appropriate care. Courses in business management can be good training for this career.
6. Pet groomer
Grooming is about giving pets (mostly dogs) a healthy and attractive appearance. Pet groomers brush and comb fur, apply shampoo and conditioner, cut nails, clean ears, trim hair, and sometimes brush teeth. You don't need formal training for this job, but some groomers opt to take courses through the National Groomer Association of Canada.
7. Animal care attendant
Sometimes known as animal care assistants, these workers care for animals in kennels, shelters, and pet shops. They prepare food, clean and disinfect living areas, and take dogs out for walks. They also take note of any signs of illness or discontent in the animals and report their findings to veterinary staff. Training is normally provided on the job.
---
Jobs That Involve Studying Animals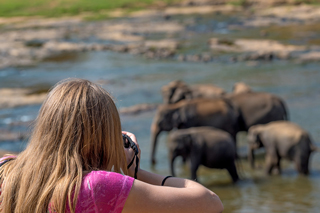 These are the kinds of jobs that involve animals and travelling. After all, observing or photographing creatures in their natural habitat necessarily means getting out of the office and into the field (or ocean). Check out these options:
1. Zoologist
Despite the name, zoologists aren't just concerned with animals in zoos. These professionals study the behaviour and life cycles of a wide range of animals, from mammals and birds to insects and fish. Some work in labs, while others focus on studying wildlife in nature reserves. A bachelor's degree can get your foot in the door, but you'll need at least a master's to do independent research.
2. Wildlife biologist
Examining the natural habitats and behaviours of animals is the role of wildlife biologists. They study different species to learn how the animals fit into their ecosystems and how they interact with people. Wildlife biologists collect data on animal populations, assess the potential impact of commercial development on animal habitats, and research ways to manage endangered species.
3. Marine biologist
Since the job of marine biologists is to study all types of ocean life, many of them spend extensive time out at sea. You could be researching the migratory patterns of humpback whales or examining the effect of warmer ocean temperatures on the distribution of molluscs. A big part of this job is compiling data and writing reports; some marine biologists also work as teachers or professors.
4. Wildlife photographer
Patience and adaptability are the name of the game for wildlife photographers. Capturing images of animals in their natural environment means spending long periods of time waiting for your subjects to appear—but when they do, you need to be ready. Photography training is important, but biology courses that focus on animal behaviour can also be useful.
---
Additional Careers With Animals
There are a whole host of other ways to work with animals: You could protect them, teach them new skills, cater to their tastes, or partner with them to apply their unique abilities toward a greater good. Here are a few more animal jobs that don't fit into the other categories:
1. Police dog handler
Many police forces across Canada have K9 units wherein officers utilize the skills of their specially trained canine partners to locate missing people, track suspects, detect drugs, or sniff out explosives. K9 officers live with their dogs and care for them around the clock. You'll need to become a police officer and go through a selection process in order to join the K9 unit.
2. Conservation officer
Patrolling forests and lake areas and investigating cases of illegal hunting or fishing are common tasks of conservation officers. They have all the authority of police officers and are responsible for enforcing government regulations related to protecting wildlife. They also educate the public about conservation issues. Law enforcement training can be useful, as can courses in natural resource management.
3. Therapeutic riding instructor
Did you know that horses can contribute to the physical, cognitive, and emotional well-being of humans? Therapeutic riding instructors use horseback riding to help children and adults with disabilities develop mobility and balance, improve muscle tone, and foster a sense of achievement. Instructor certification is available through the Canadian Therapeutic Riding Association.
4. Animal cruelty investigator
Advocating for animal welfare is the primary role of animal cruelty investigators. They are law enforcement professionals who look into reports of animals possibly being neglected or abused. They have full authority to issue orders, bring charges, and remove animals from unsafe environments if necessary.
Median salary: $49,534 for private investigators1
5. Pet bakery owner
More and more pet owners like to buy treats for their animals. Pet bakery owners serve this growing market by providing high-quality cakes, cookies, and other snacks for cats and dogs. Some bakers even offer a catering service for pet birthday parties. Be sure to research the regulations that apply in your area.
Median salary: $44,939 for bakery managers1
6. Dog trainer
Trainers feature prominently on any list of careers with dogs. They might perform basic obedience training or prepare the dogs for specialized tasks like police work. Learning how to become a dog trainer normally involves observing and learning from an experienced trainer, but professional certification is available. Note that an animal trainer salary will largely depend on how much experience and education the trainer has.
---
Move Toward Your Aspirations
Now that you've explored a wide range of jobs with animals, it's time to put your career goals in motion. Do you have the skills you need to create the future you want? The career-driven training offered by vocational colleges, technical institutes, and trade schools can help prepare you for success in many different animal-related occupations. Enter your postal code into the school finder at the top of the page to locate convenient training options in your area!
---