24 Great Jobs That Pay $25 Per Hour or More in Canada
By Publisher
| Last Updated November 4, 2021
Finding jobs that pay $25 per hour or more is a great goal, but is it really achievable? Absolutely! What if you found out that you can start working toward some of the best-paying jobs in Canada with as little as one to two years of training? Or what if you could fast-track your education and complete a degree program in less than four years? It would likely make you feel a lot better about your future.
After all, you want to get ahead. You want to achieve your goals, not just dream about them. Maybe you're aiming to buy a new car, own a home, travel the world, or invest in the stock market. Earning more than $25 an hour can help you make your life great.
That's why, for a lot of people who want good-paying jobs, $25 an hour is the minimum goal to meet. Finding a job that pays $25 per hour or more can make the difference between just getting by and actually getting ahead. If you are single, then earning in the range of $17.72 to $26.68 per hour places you in the upper middle class. And anything beyond $26.68 per hour lands you among the highest-paid 20 percent of Canadians. That's pretty fantastic.
It's why investing in an education from a trade school, college, or university can pay off. But you may be wondering where to start. How do you decide which career to pursue? Well, we have compiled a list of careers to help you begin generating some ideas. It can help guide you to the high-paying career that feels right for you.
The list below includes 24 careers that pay well. Canada offers career possibilities across a variety of sectors, including the following ones. Take a look and see what appeals to you!
(Note: Wage and salary information is obtained from the Government of Canada's Job Bank and reflects 2018-2019 data.)
---
Business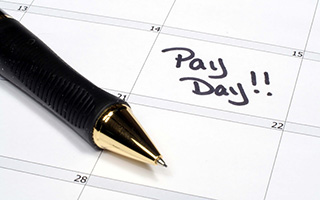 Growth within the various industries that make up the business sector can be beneficial for those looking to start or advance their careers. Vacant positions can be found in almost any industry, which means you may very well find a job that is suited to your own personal interests. And many of these jobs pay $25 an hour or higher. Here are six options you might consider:
1. Human Resources Manager
This could be a great job option if you identify yourself as a people person. After all, managing people is essentially what an HR manager does. Human resources managers are often responsible for overseeing areas like employee recruitment, selection, training, development, and compensation, as well as many other functions related to employee relations. You can get started in the field by earning a human resources diploma in one to two years, which can help open the door to entry-level positions. From there you can start gaining the expertise and work experience that could support your goal of becoming an HR manager.
Lowest 10% wage: $25.71 per hour / $53,477 yearly
Median wage: $47.69 per hour / $99,195 yearly
Top-earner's wage: $70.64 per hour / $146,931 yearly and higher
2. Marketing Manager
Imagine a career in which your creative nature and keen business sense are considered valuable assets. That could be the case if you become a marketing manager. Depending on the size of the organization and scope of the role, you could be responsible for managing a company's advertising, branding, and marketing campaigns—both in print and online. Many successful marketing managers started out in the field by enrolling in diploma programs that helped them develop their talents and take the initial steps needed to work toward management careers.
Lowest 10% wage: $24.04 per hour / $50,003 yearly
Median wage: $41.15 per hour / $85,592 yearly
Top-earner's wage: $67.31 per hour / $140,005 yearly and higher
3. Purchasing Manager
The main responsibility of this job is purchasing supplies and equipment for an entire organization. The products you purchase could be anything from pens and paper to office furniture and manufacturing supplies. You'll likely spend a great deal of time locating suppliers, negotiating sales agreements, and reviewing the quality of the purchased products. Preparing for this career choice can be as simple as earning a diploma related to supply chains and logistics, business administration, or business management. This can help open the door to an entry-level purchasing position in which you could start working your way up to the management level.
Lowest 10% wage: $20.59 per hour / $42,827 yearly
Median wage: $48.08 per hour / $100,006 yearly
Top-earner's wage: $76.92 per hour / $159,994 yearly and higher
4. Business Analyst
This can be an ideal career choice for people who enjoy the varied aspects of the business sector and desire a flexible, interesting career. Business analysts typically work with a variety of organizations on a contract or project basis. Analysts are called in to help a company reach a goal or overcome a problem. They collect all the information they need to form a plan and work with members at all levels of the organization to develop and implement strategies. Many business analysts begin their careers by obtaining diplomas or degrees in areas like business administration or project management. After that, they usually spend many years acquiring experience and expertise in diverse settings.
Lowest 10% wage: $20.77 per hour / $43,202 yearly
Median wage: $36.06 per hour / $75,005 yearly
Top-earner's wage: $57.69 per hour / $119,995 yearly and higher
5. Accountant
Most organizations require accountants, which makes this an in-demand and well-paying career path. Accountants often prepare and audit financial documents and perform any number of finance activities related to a company's accounting systems, financial records, tax documents, and investment portfolios. To pursue an accounting career, you could opt for a quick certificate or diploma program that can open the door to entry-level positions. Or you could jump into a bachelor's degree program that can lead you toward earning your professional designation as a Chartered Professional Accountant (CPA).
Lowest 10% wage: $20.67 per hour / $42,994 yearly
Median wage: $35.00 per hour / $72,800 yearly
Top-earner's wage: $58.17 per hour / $120,994 yearly and higher
6. Public Relations / Media Coordinator
Imagine a career in which you hold the responsibility for making a company come across in a positive light to the public. That is the role of a public relations or media coordinator. You could be responsible for handling all aspects of external communication from developing communications strategies and assisting with marketing campaigns to drafting press releases and coaching public figures within the organization.
Lowest 10% wage: $17.00 per hour / $35,360 yearly
Median wage: $30.42 per hour / $63,274 yearly
Top-earner's wage: $51.28 per hour / $106,662 yearly and higher
---
Health & Dental Care
Do you like the sound of a career in which you could help someone achieve a better or more comfortable life? And what if that career field offered opportunities to pursue high-paying positions? That could become your reality if you prepare for a job in health or dental care.
Statistics Canada reports that, along with a growing and aging population, Canadians are also experiencing a higher rate of chronic conditions and illnesses. Some key findings include the following: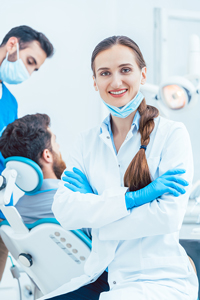 In 2012, 10 percent of Canadians aged 15 and older reported experiences with mental and substance-use disorders.
In 2014, 54 percent of Canadians were overweight or obese. Unhealthy weight is a contributing cause of heart disease, which is the number two cause of death in Canada.
In 2014, 15.7 percent of the Canadian population were aged 65 and older. That number is expected to increase to between 24 and 28 percent by 2063.
The demand for health care services increases as the population ages. And this demand becomes stronger when the overall population is experiencing more chronic disease and illness. Add in the fact that growing amounts of older workers are retiring from the health care field and Canadians can expect a number of job opportunities to become available in this sector in the coming years.
Along with general health care, dental health is also important to Canadians. In fact, one report shows that three out of four Canadians go for dental visits at least once a year, and 86 percent go at least once every two years. So whether you are interested in a health or dental care career, you may find several opportunities, many of which pay $25 an hour and more. Start exploring your options by taking a look at these four possibilities:
7. Psychiatric Nurse
If you want to obtain a job in the mental health field, which offers the potential to make a lasting difference in people's lives, then consider a career as a psychiatric nurse. These specialty nurses work in settings like hospitals, community health centres, group homes, and schools. They help patients who are experiencing behavioural, mental, and psychiatric issues. And due to the growing demand within the psychiatric nursing field, there are now online program options. You may be able to complete your first two years online so that you can keep other life commitments while earning your education.
Lowest 10% wage: $24.04 per hour / $50,003 yearly
Median wage: $38.14 per hour / $79,331 yearly
Top-earner's wage: $48.00 per hour / $99,840 yearly and higher
8. Dental Hygienist
In less than two years, you could be working in a rewarding career as a dental hygienist. You can become a key member of a dental team and be responsible for conducting dental assessments, cleaning teeth, taking X-rays, supervising dental assistants, and assisting with other dental procedures under the direction of a dentist.
Lowest 10% wage: $24.69 per hour / $51,355 yearly
Median wage: $35.18 per hour / $73,174 yearly
Top-earner's wage: $46.00 per hour / $95,680 yearly and higher
9. Pharmaceutical Quality Control Technologist
Take on an important role in manufacturing pharmaceuticals that can help people with various medical conditions to live longer or more comfortably. A pharmaceutical quality control technologist is often responsible for multiple tasks related to drug testing and development, such as conducting experiments, operating lab equipment, and analyzing data. And if you currently hold a science diploma or degree, you could complete your training and be ready to work in the field in as little as one year.
Lowest 10% wage: $16.00 per hour / $33,280 yearly
Median wage: $25.00 per hour / $52,000 yearly
Top-earner's wage: $41.96 per hour / $87,277 yearly and higher
10. Primary Care Paramedic (PCP)
As a PCP, you could be one of the first people on the scene in a medical emergency. And you could be responsible for delivering critical pre-hospital care and transporting patients to health facilities for medical services. Seen as a deeply rewarding career, being a paramedic is often ideal for those with a great deal of confidence and strength as well as a desire to do work that can save lives.
Lowest 10% wage: $21.63 per hour / $44,990 yearly
Median wage: $33.00 per hour / $68,640 yearly
Top-earner's wage: $43.84 per hour / $91,187 yearly and higher
---
Policing & Law Enforcement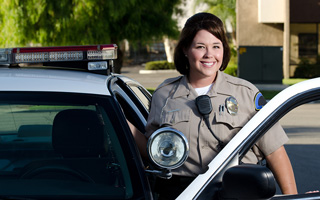 If a thrilling and gratifying career appeals to you, then you may not need to look any further than a career in policing or law enforcement. Individuals who work in law enforcement positions take on the important role of protecting the public safety of Canadians. Law enforcement jobs are available for professionals such as border patrol agents, coast guards, correction officers, forensic specialists, and police officers.
With growing concerns for public safety among citizens and the government, as well as increasing retirement rates in many law enforcement fields, you can expect several job openings to arise. For example, Job Bank data indicates that the average age of retirement for police officers in 2016 was 59 years old. Due to that early retirement age and the increasing demand for policing services, it is estimated that there will be 23,100 job openings over the period between 2017 and 2026.
So if a career in law enforcement sounds intriguing, then take a closer look at becoming a police or corrections officer, which are two of the higher-paying positions found within the sector.
11. Police Officer
If you can picture yourself working as a police officer, then it could be an opportune time for you to enter the field. And a police foundations diploma program can prepare you for this stimulating career. You can even find programs that include essential firearms safety training and preparation for PREP (Physical Readiness Evaluation for Police) fitness testing.
Lowest 10% wage: $25.99 per hour / $54,059 yearly
Median wage: $44.00 per hour / $91,520 yearly
Top-earner's wage: $55.22 per hour / $114,858 yearly and higher
12. Corrections Officer
Take on a critical role in the criminal justice system and contribute to public safety as a correctional officer. You will likely assume a role in a correctional facility and work with criminal offenders to ensure order and security. You can also play a part in rehabilitation, which involves helping offenders make their transition back into society as law-abiding citizens. Although no formal education is required to enter the field, a police or corrections foundation program can prepare you to succeed during the application and training process.
Lowest 10% wage: $24.00 per hour / $49,920 yearly
Median wage: $34.00 per hour / $70,720 yearly
Top-earner's wage: $43.27 per hour / $90,002 yearly and higher
---
Skilled Trades
Some people think that skilled trades careers are limited, but the reality is that they are quite diverse and you can often find $25-an-hour jobs without a degree. Skilled trades professionals are needed in a range of sectors from construction and manufacturing to service and transportation. And it is one of the more in-demand career fields in Canada. Just consider some of these key statistics: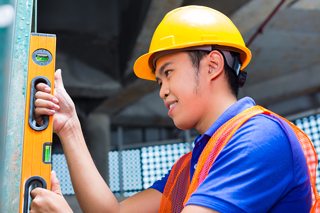 There are more people retiring from skilled trades professions than there are people training for them. For example, a study from 2008 showed that 55 percent of the electrical sector workforce was aged 45 years and older. And it was expected that from 2007 to 2012, 28.8 percent of the workforce would retire.
Skills Canada has estimated that one-third of Canadian jobs require a skilled trades designation or college diploma.
Skills Canada has also estimated that by 2020, Canada will be short of one million skilled trades workers and that by 2022, 40 percent of new jobs in Canada will be in the skilled trades sector. Yet, when surveyed, only 26 percent of Canadian youth aged 13 to 24 years old indicated that they would consider a career in the skilled trades.
Now could be an ideal time for you to begin your career in the trades sector due to the large amount of jobs expected to become available in the coming years. And this holds true whether you picture yourself working in the field as an electrician or at an upper level in an area like construction management. So take a look at the six career options below, all of which pay more than $25 per hour. They are some of the highest-paying trades in Canada.
And if you would like to learn more about skilled trades apprenticeships and how to become a journeyman, you may want to read Red Seal Trades: What They Are & How to Get Into One.
13. Civil Engineer
Set out on a career path in which you could be responsible for designing and overseeing large construction projects that might include anything from roads and water systems to skyscrapers and bridges. Civil engineers must consider every aspect of construction projects, including financial costs and public safety. If this sounds like a career that would suit you, then a program like civil infrastructure design can help you take the first step toward achieving your goals.
Lowest 10% wage: $25.48 per hour / $52,998 yearly
Median wage: $41.03 per hour / $85,342 yearly
Top-earner's wage: $62.98 per hour / $130,998 yearly and higher
14. Construction Manager
Overseeing every aspect of a building project from start to finish is what you would do as a construction manager. You can take care of the day-to-day details that ensure your projects are completed safely, on time, on budget, and up to standard. Many construction managers begin their careers at the entry level, working their way up from a labourer position. However, you could boost your potential by taking a program in an area like architectural design and building, construction management, or structural and building technology.
Lowest 10% wage: $24.04 per hour / $50,003 yearly
Median wage: $40.87 per hour / $85,010 yearly
Top-earner's wage: $63.46 per hour / $131,997 yearly and higher
15. Steamfitter/Pipefitter
Begin a trades career in which you can pursue opportunities with pipeline companies, chemical plants, gas plants, oil refineries, pulp mills, thermal/steam generating plants, and utility companies. Steamfitters and pipefitters are responsible for many tasks, which can include anything from fabricating and assembling to maintaining and repairing pipe systems.
Lowest 10% wage: $24.00 per hour / $49,920 yearly
Median wage: $40.00 per hour / $83,200 yearly
Top-earner's wage: $45.79 per hour / $95,243 yearly and higher
16. Construction Estimator
Most construction projects require the talents of construction estimators. They work with engineers, designers, and contractors to determine the duration and total time of construction projects. Estimators typically request proposals for all aspects of the project and secure contracts that provide the best value. Along with work experience in the construction sector, you can prepare to become an estimator by training in an area like architectural design and building, civil infrastructure design, or construction technology.
Lowest 10% wage: $20.00 per hour / $41,600 yearly
Median wage: $32.00 per hour / $66,560 yearly
Top-earner's wage: $50.00 per hour / $104,000 yearly and higher
17. Electrician
Almost every construction project requires skilled electricians. Along with being required for new building projects, electricians also perform critical maintenance, repairs, and upgrades to electrical systems within existing homes and buildings. And with new building projects starting up across Canada and several people retiring from the field, provinces like BC and Manitoba are expecting a strong job outlook for electricians, according to Job Bank data.
Lowest 10% wage: $18.00 per hour / $37,440 yearly
Median wage: $32.00 per hour / $66,560 yearly
Top-earner's wage: $43.00 per hour / $89,440 yearly and higher
18. HVAC Technician
Canada is known for its temperature extremes. Many parts of the country can be painfully cold during the winter and smoking hot during the summer. This makes the work of HVAC technicians essential for many residents and businesses. HVAC techs install, maintain, and repair heating and cooling units, as well as industrial refrigeration systems. And the Job Bank says that the career outlook for HVAC technicians is expected to be strong in provinces like BC, Saskatchewan, Manitoba, Quebec, and New Brunswick. So this could be a great time for you to start out in the field.
Lowest 10% wage: $18.00 per hour / $37,440 yearly
Median wage: $32.29 per hour / $67,163 yearly
Top-earner's wage: $48.00 per hour / $99,840 yearly and higher
---
Technology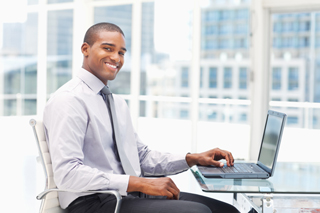 Have you heard Canada referred to as Silicon Valley North? This reference has come up because the information and communications technology sector is a growing powerhouse for the economy and offers some of the best-paid jobs in Canada. Toronto, Vancouver, and Montreal all ranked among the top 20 places in the world for high-tech start-ups in 2015. This could certainly be good news for aspiring tech professionals.
So the country is home to some great high-tech cities. But check out these other promising stats regarding Canada's IT sector:
According to Industry Canada data, the information and communications technology sector represented 4.4 percent of Canada's gross domestic product (GDP) in 2013. And in the same year, software and computer services accounted for the highest GDP growth.
Industry Canada also notes that on average, tech workers' salaries were 48 percent higher than the national average in 2013. The highest earners were found in the software and computer services sectors.
According to the Entertainment Software Association of Canada (ESAC), the video game industry's contribution to the Canadian GDP in 2019 was up 20 percent from 2017.
ESAC also says that as of 2019, the number of full-time jobs in the video game industry was up 28 percent from 2017. And 17 percent of jobs in the sector are now filled by contractors and freelancers.
ESAC estimates that junior and intermediate-level employees now represent about two-thirds of the nation's video game workforce.
It would appear that the tech sector is primed to lead the Canadian economy in the coming years. If you are considering an IT career, then this could be your time to get going. Discover six high-paying career possibilities below:
19. Software Engineer
You could spend your days designing, developing, testing, evaluating, and maintaining computer software and systems when you work as a software engineer. Developing proficiency in the areas of computer engineering, math, and science can assist you in handling everything from business applications to computer games. You could even choose to specialize in either applications (which involves creating consumer or business apps) or systems (which involves focusing on the customized creation and maintenance of an organization's complex computer infrastructure).
Lowest 10% wage: $21.63 per hour / $44,990 yearly
Median wage: $37.95 per hour / $78,936 yearly
Top-earner's wage: $57.50 per hour / $119,600 yearly and higher
20. Network Engineer
Many organizations depend on qualified IT professionals who can design and implement effective network systems. Their work has become more important than ever in today's technologically advanced world. Network engineers or architects analyze the needs of businesses and their end users and create, configure, and implement the components needed to keep their networks running efficiently and securely.
Lowest 10% wage: $25.00 per hour / $52,000 yearly
Median wage: $44.10 per hour / $91,728 yearly
Top-earner's wage: $63.94 per hour / $132,995 yearly and higher
21. Network Security Specialist
Most organizations depend on technology. And with a growing volume of sensitive business files being stored and transactions taking place electronically, network security is a top concern. Businesses want to be sure that their networks are protected against data breaches from hackers. And this is where network security specialists come in. They test computer networks for vulnerabilities, monitor networks for threats, set-up security systems, and address threats and breaches.
Lowest 10% wage: $24.00 per hour / $49,920 yearly
Median wage: $39.42 per hour / $81,994 yearly
Top-earner's wage: $57.69 per hour / $119,995 yearly and higher
22. Programmer Analyst
Assume a role that is part computer programmer and part systems analyst. Programmer analysts design and develop computer and software systems and then implement, maintain, and repair the systems by writing computer programs. This is an important role because it helps support organizational goals and end-users' needs.
Lowest 10% wage: $21.63 per hour / $44,990 yearly
Median wage: $37.95 per hour / $78,936 yearly
Top-earner's wage: $57.50 per hour / $119,600 yearly and higher
23. Database Administrator
Known as DBAs, database administrators organize information, make sure that it is accessible to those who need it, and protect it from those who are unauthorized to access it. Specific responsibilities often include ensuring that the database is set up and running efficiently, backing up the data, developing a recovery plan, controlling access to the data, monitoring and improving database performance, and troubleshooting and repairing issues.
Lowest 10% wage: $19.25 per hour / $40,040 yearly
Median wage: $35.00 per hour / $72,800 yearly
Top-earner's wage: $55.90 per hour / $116,272 yearly and higher
24. Network Administrator
Ensuring that an organization's network is running efficiently and that users are staying connected are the primary responsibilities in this IT career. Most of the work is proactive in order to avoid any network downtime. You could be spending your days monitoring the network, testing it for bottlenecks and vulnerabilities, installing updates and security programs, and many other network-related tasks. And you could find exciting opportunities within the field, especially since Job Bank data shows that New Brunswick, Newfoundland, Nova Scotia, Nunavut, Quebec, Yukon, and parts of Alberta and BC are all expecting a strong job outlook for network administrators.
Lowest 10% wage: $19.32 per hour / $40,186 yearly
Median wage: $31.25 per hour / $65,000 yearly
Top-earner's wage: $49.45 per hour / $102,856 yearly and higher
---
A Brighter Future Awaits
Now that you have discovered a variety of jobs that pay $25 per hour and higher, you may be feeling motivated to find a school that can help you achieve your dream career. Taking your first step is as simple as entering your postal code into the search tool below. Quickly uncover which programs are offered in your area today!
---