Electrician Schools: FAQs and Answers
Last Updated December 7, 2020
If you can't imagine sitting at a desk, and you would prefer to work somewhere new almost every day, then a career in the skilled trades could be ideal for you. With help from an electrician school, you can get moving toward that goal. Electricians are expected to be in high demand. The skills electrician schools can teach you are transferable across many industries. Continue reading to find the answers to some frequently asked questions about a career in this important skilled trade.
---
Frequently Asked Questions
What does an electrician do?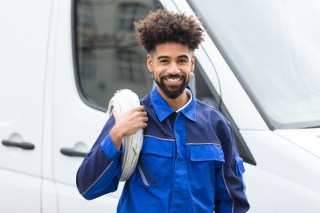 From wiring new homes for lighting to servicing manufacturing equipment, electricians bring power to the people. Many electricians choose to work in either maintenance or installation and construction, but they can often work in both areas. Electricians who work in construction can be responsible for running wire through new buildings and adding outlets, circuit breakers, and transformers. On the occupation's maintenance and testing side, electricians perform service and repairs to existing electrical systems. They can also fix motors, transformers, or generators. Electricians can also replace aging wiring systems, so they meet modern codes and safety standards.
Where can I learn how to become an electrician?
Browse this listing of electrician schools to learn more about entering this skilled trade. Here, you can find out about training programs and request more information from schools that interest you.
What skills are necessary to become an electrician?
Electrical work is very manual, meaning you'll need good hand-eye coordination to work with tools and machinery in remote locations, such as construction sites. You'll also need strong manual dexterity, physical fitness, and a good sense of balance.
What is the average electrician salary?
According to data collected in May 2019 by the Bureau of Labor Statistics, the average hourly wage in the United States was estimated at $29.02, or about $60,370 annually. The regions with the highest wages for electricians had average hourly wages well above this national average. They include the District of Columbia ($38.40), New York ($38.21), Illinois ($37.88), Hawaii ($37.27), and Alaska ($36.23).
Will I need to become certified after completing electrician school?
Yes, in all likelihood, you will need to meet local or state licensure requirements. Often, that includes passing an exam to test your knowledge of theory, the National Electrical Code, and local or regional building codes. Contractors may need further certification to work for the public. That can include acquiring the master electrician designation, which can require seven years of experience, or a bachelor's degree in electrical engineering or a related discipline.
Is there a demand for people who have completed electrician training?
The opportunities are often best for those who diversify their skills to include voice, data, and video wiring. Alternative energy sources, such as wind and solar, are also driving demand for qualified workers. Generally, though, a growing population needs more homes, schools, and business, all requiring power. Furthermore, aging structures will need upgrades to meet current safety regulations. In addition, a growing reliance on electronic equipment and appliances has increased the need for power.
How long does it take to graduate from electrician schools?
Certificate programs in electrical technology can be completed in a matter of months. In contrast, diploma or associate degree programs can require as many as two years of full-time study. Apprenticeship programs usually consist of about four years of paid, on-the-job training, combined with classroom instruction. Read this article, "Electrician Apprenticeships", to learn more.
What are the requirements for training at an electrician school?
Typically, a high school diploma (or its equivalent) is necessary to begin electrician training. Also, depending on the school and program you're interested in, there may also be entrance testing requirements. It's best to check with individual schools and certifying organizations in your area to determine what prerequisites are needed to enroll in an electrician program and later for certification.
Where can I work after graduating from an electrician school?
Electrical contractors employ the majority of qualified workers. Other opportunities exist in industries, such as oil and gas, manufacturing, local government, construction, or power generation and distribution. It's also possible to work independently or start your own business.
Get any bright ideas?
Heat, power, water, and lights are vital to the health of our society, and skilled trade workers are essential to keeping them all running. If you want to learn more about how to get the education and training you require for a career as an electrician, continue your research by consulting this guide to electrician schools today!
---