Electrician Jobs: What Are the Opportunities?
By Luke Redd
| Last Updated July 2, 2020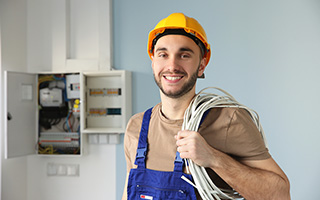 Electrician jobs are not all the same. There is a lot of variety in the opportunities available in today's workforce. The jobs that you could find, and your responsibilities within them, will depend on whether you are an apprentice, licensed, or master electrician. Possessing an advanced education or specialized skills can also make a difference.
Many people just like you are interested in electrician jobs because the positions are known to be good-paying and in demand. In fact, good pay and potential for higher earnings is one of the top benefits of working in the industry. As of 2019, the average annual salary for electricians across the country was $60,370, according to the Occupational Employment Statistics (OES) program. And the highest earners in the field, typically those with more education and experience, earned $96,580 or more.
Several factors can affect your earning potential. One big consideration is the industry in which you work. Just take a look at the average annual salaries earned by electricians in the industries listed below (based on OES data):
Natural gas distribution: $104,250
Promoters of performing arts, sports, and similar events: $86,820
Land subdivision: $82,630
Real estate: $81,300
You can see that the averages in these industries are substantially higher than what's reported nationally. And it is worth noting that you can find a much higher average salary in certain states as well. According to the OES program, the top five highest-paying regions in 2019 were the District of Columbia, New York, Illinois, Hawaii, and Alaska, where the average electrician salaries were $79,870, $79,480, $78,790, $77,530, and $75,350, respectively. And even though California does not make the list of the top-paying states, the San Francisco-Oakland-Hayward metropolitan area is one of the best-paying in the country; the average annual salary is $100,400.
In addition to good earning opportunities, there are many other advantages associated with electrician jobs, such as growth potential. These benefits are discussed in more detail below. This information can help give you a better understanding of what you might experience throughout your career. And if you are wondering about the different types of electrician jobs that you could encounter, check out the following categories:
Electrician Apprentice Jobs
An apprentice electrician is typically enrolled in a four-year trade school program in which only a few weeks a year are actually spent in school and the rest of the time is made up of paid, on-the-job training. However, there are other routes to starting your career and becoming licensed, and if you'd like to learn more, then check out this article about preparing to become an electrician.
Electrician apprentice and entry-level electrician jobs will usually require you to work under the direction of a licensed electrician. Although you will be learning the trade and likely shadowing someone with more experience, you can expect to complete a lot of the same work as a licensed or journeyperson electrician as you build up your knowledge and confidence. You could find yourself carrying out the following tasks:
Reading blueprints, schematics, and other electrical drawings
Servicing, installing, and testing electrical parts and systems
Troubleshooting and diagnosing electrical problems
Maintaining electrical equipment
The idea is to build your skills and abilities up to the journeyperson level so that you are prepared to achieve your licensing and/or certification and work as a professional electrician.
Journeyman Electrician Jobs
Journeyperson electricians have completed all of their training and have obtained licensing or certification as per their state's requirements. Note that every state has different regulations pertaining to whether licensing or certification is required, as well as to what type and length of education is accepted, so it is important to check the requirements within your state.
Once you have advanced from the apprentice to the journeyperson level, you will likely be qualified to complete most electrical work on your own. You can carry out the duties you performed as an apprentice and, in many instances, will not require supervision or approval. It is important to note that, depending on the type of work and the state in which you are employed, you may still need to work under the guidance of a master electrician.
Journeyman electrician jobs can be found in all kinds of settings, including residential, commercial, and industrial. You could find yourself working for companies that specialize in sectors ranging from residential installation and maintenance to manufacturing to power generation.
You may also be able to pursue self-employment opportunities and bid on your own contracts. Again, you will need to check your state's laws and regulations regarding the type of work that a journeyperson is legally allowed to complete on his or her own.
Master Electrician Jobs
A master electrician is essentially the lead electrician. He or she oversees all of the work that is completed by journeypersons and apprentices. Master electricians design plans, create layouts, identify the wiring and connections to be used, and obtain necessary permits. You could be responsible for the following:
Performing install, repair, maintenance, test, and inspection services
Planning and executing every aspect of electrical projects
Establishing and upholding safety measures and quality-control practices
Ensuring the profitability of projects
Handling customer service and client and contractor relations
Reading, interpreting, and executing plans
Maintaining all required documentation and paperwork
Ensuring that licensing requirements, National Electric Code requirements, and other regulations are being met
Training apprentice and journeyperson electricians
Every state has different requirements for becoming a master electrician, but they often include the need to possess a minimum of three to six years of journeyperson experience and to pass a test in order to become certified. Master electricians can also be required to have an electrical engineering degree or similar education.
Master electrician jobs can be found in the same settings as apprentice and journeyperson jobs. Their skills are valued across countless industries, and many master electricians run their own companies. And since they are more experienced and often have a higher level of education, master electricians typically secure much higher-paying positions.
Residential Electrician Jobs
Residential electricians focus solely on the electrical systems within people's homes, including new homes that are under construction. You could be responsible for installing new electrical systems or troubleshooting, repairing, and servicing existing systems. Specific responsibilities could include:
Installing lighting systems
Inspecting and repairing circuit breakers
Using test equipment like ohmmeters and voltmeters to identify problems
Measuring, assembling, and installing electrical conduit
Installing electrical fittings and boxes
Splicing and terminating cables and wires
Installing outlet boxes and conductors
Connecting wires to circuit breakers and transformers
Installing, programming, and testing fire alarms as well as control, security, communication, and sound systems
Maintenance Electrician Jobs
Maintenance electricians focus strictly on working with existing electrical systems in a number of settings, including residential, commercial, and industrial. They identify problems and replace or repair electrical components as needed. It is critical that they be able to identify and repair problems as quickly as possible since it could mean that a family cannot live in their home or a factory cannot operate until the repairs are completed.
Some of the tasks you may carry out within a maintenance electrician job include:
Installing new light fixtures
Repairing faulty fuse boxes
Rewiring an entire house or building
Maintaining commercial air conditioning and heating systems
Repairing power generators in factory settings
Managing the electrical network within a manufacturing facility
Commercial Electrician Jobs
Commercial electricians tend to focus on the electrical systems within office buildings, restaurants, shopping malls, retail stores, and other commercial spaces. Safety is of top importance since they are working in spaces that are generally accessible by the public. Timeliness and cost-effectiveness are also important considerations since, oftentimes, commercial electricians work for clients with tight operational budgets.
Throughout your career as a commercial electrician, you could spend your time:
Working on electrical systems that control the power, light, and heat within a building
Installing or repairing the wiring for air conditioning and refrigeration systems
Ensuring that current wiring is safe and up-to-code
Using electrical test equipment to locate shorts and breaks
Industrial Electrician Jobs
Industrial electricians have to possess knowledge specific to manufacturing facilities, power plants, and other industrial settings. And they must be confident working with high-voltage and direct-current power systems. Many companies have intensive in-house training programs so that their electricians have the specialized knowledge that is required to work within their facilities.
Depending on the industry, industrial electrician jobs could have you carrying out any of the following tasks:
Installing, maintaining, testing, and repairing generators, motors, and other electrical controls and devices
Interpreting complex blueprints and drawings
Installing, repairing, and servicing reactors, regulators, switchgears, and transformers
Performing preventive maintenance on electronic equipment
Installing and programming robots
Troubleshooting and repairing fire-detection and HVAC systems as well as programmable logic controllers
Installing and replacing electrical conduit and raceway systems
Some of the places that you could find industrial electrician jobs include construction companies, mining companies, steel producers, manufacturers, and power companies. And with the growing use of robotics within many manufacturing facilities, electricians with robotics knowledge may have increased access to higher-paying jobs.
Other Electrician Specialties
In addition to the larger areas of focus discussed above, electricians can also concentrate on one of the many niche or specialty areas within the field. Check out four of the more common specialty jobs below:
Offshore electrician jobs: Find these positions within the energy sector in areas like offshore oil and gas operations or wind farms. Many positions will require you to have an advanced education in electrical engineering and specialized knowledge pertaining to the types of equipment used in the field. This could include knowledge of electromechanical, electronic, and programmable equipment as well as hydraulic and pneumatic systems and analog and digital transmitters.
Marine electrician jobs: Secure a job in which you work on the electrical systems and equipment on boats and ships. You could take care of anything related to installation, maintenance, and emergency repairs. Marine electricians must be aware of the extra precautions that are needed in order to conduct electrical repairs with water present. Jobs can be found within the military, government agencies, ship and boat builders, ship and boat yards and docks, and maintenance companies.
Lineman electrician jobs: Work for power companies on outdoor high-power transmission and distribution lines and systems. These jobs typically exist with major electric utility companies, and you could find yourself working on overhead and underground power lines as well as other electrical subsystems and components. Electrical safety and fall protection are key concerns in these positions since you are often working at great heights on high-voltage lines.
Gaffer jobs: Take on a position as a head electrician in the motion picture and TV industries. You could be responsible for designing, setting up, controlling, and maintaining the lighting systems for productions. You would likely oversee all of the other lighting personnel as well.
---
4 Clear Advantages of Electrician Jobs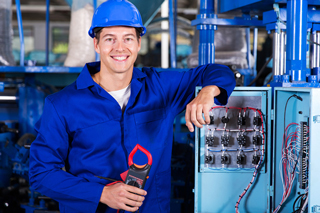 When you choose to become an electrician, you could find yourself enjoying many of the advantages that come with this line of work. In addition to the earning potential already mentioned above, some of the great benefits of being an electrician can include:
1. Short Training Programs
Although apprenticeship programs can take four years to complete, very little of that time is actually spent in school. Many of the programs follow an earn-while-you-learn model. They are designed so that you only spend a few weeks in school every year and the rest of the time, you are learning through a paid apprenticeship in which you are working on-site with an electrical company.
There are also short, intensive programs that can prepare you for some entry-level electrician jobs in which you work under the supervision of a licensed electrician. And, quite often, the credits you earn can be applied toward an apprenticeship should you decide to go that route.
2. Optimistic Job Growth Outlook
Projections from the Occupational Outlook Handbook (OOH) indicate that, from 2018 to 2028, the number of electrician jobs that are available will grow in number by 10 percent. That amounts to approximately 74,100 new electrician positions across the country. And with a large amount of workers expected to retire in the coming years, the number of job openings could be substantially higher. For example, in the hydropower industry, it is expected that about 26 percent of the industry's workforce will be eligible to retire between 2017 and 2027. That's just one example of an industry that hires many electricians and faces a worker shortage.
Other sectors are also expected to see increases in demand for electricians. Take a look at the industries below and their anticipated electrician job growth between 2018 and 2028 (based on OOH numbers):
Power and communication line construction: 33.6 percent
Utility system construction: 29.2 percent
Heavy and civil engineering construction: 26.7 percent
Ambulatory healthcare services: 20.6 percent
Nursing and residential care facilities: 14.9 percent
3. Interesting Opportunities in the Green Energy Sector
Experienced electricians, especially those with specialized knowledge, could find great opportunities available within America's growing renewable energy sector. Industries like wind and solar energy require the expert skills of electricians for manufacturing, installation, and maintenance.
According to The Solar Foundation, from 2013 to 2018, overall solar employment grew by 70 percent, with an increase of about 100,000 jobs. And solar employers are reporting that it is increasingly difficult to hire qualified employees. In fact, 26 percent of solar installation employers that were surveyed in 2018 reported that it was very difficult to hire qualified workers. So licensed electricians who focus their skill development in the area of solar energy may be able to find a number of rewarding job opportunities in the coming years. And that's not even including other renewable energy markets, such as wind energy, that are also growing and continually hiring professional electricians.
4. Extensive Variety From Job to Job
Every day always brings something different for electricians. Professionals in this field rarely report boredom as a problem with the job. Between all the various elements of residential, commercial, and industrial construction as well as other specialty areas, electricians are always facing different tasks and responsibilities. It is likely that you will find your work interesting and engaging for many years.
---
4 Additional Pros (or Cons) of Electrician Jobs (Depending on Your Perspective)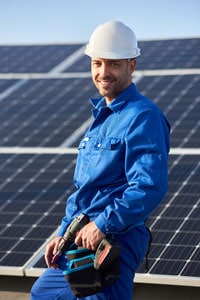 What one person considers a con, another may see as a pro. It really depends on the individual. That being said, many electricians actually embrace these aspects of their work. So here are four other potential advantages/drawbacks that are commonly cited by electricians:
1. Potentially Dangerous Yet Exciting Work
Hazards like falling and electric shock are certainly real. But that's why electricians follow time-tested safety protocols. In doing so, most are able to enjoy their work without injury. And many of them love the daily adrenaline rush that they get from working around electricity.
2. The Possibility of Travel
Depending on the region where you work, your company, and the position that you hold, you may get to travel and work on out-of-town jobs. Many electricians enjoy the challenge of working away from home since they get to experience new places and people.
3. The Potential for Unconventional Hours
Electricians, especially those focusing on maintenance and repair, frequently don't have 9am-to-5pm jobs. A lot of them get overtime opportunities that sometimes extend into evenings or weekends. But this scheduling often works in their favor. It can provide flexibility that allows them to take some afternoons or weekdays off in order to relax, play, or take care of personal commitments.
4. Physically Oriented Tasks
The work of an electrician can involve a lot of standing, reaching, kneeling, and lifting. However, many people enjoy the physical nature of electrician jobs because it helps them maintain their health and burn calories. And with the growing concern over the negative health impacts that come with extended periods of sitting, many people are seeking jobs that keep them physically active.
---
Let Your Talent Shine
As you can see, there are a lot of possibilities and opportunities when it comes to electrician jobs. So you may be wondering, "How do I start enjoying the rewards of an electrical career?" Whether you are just starting out or thinking that it's time to expand your current skills, training may be the answer. By entering your zip code below, you can quickly produce a list of schools offering electrical training programs close to you. Find a school that sparks your interest and prepare for new and exciting opportunities!
---