The Best Backpacks for College That Suit a Range of Styles
By Publisher
| Last Updated January 5, 2021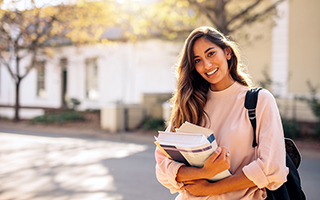 The best backpacks for college let you carry everything you need for class without straining your back. And you will likely need a different kind of bag than the one that got you through high school. After all, college students often have to carry more stuff and walk much farther than high schoolers do. The best college backpacks can handle a heavy load and last for years.
And you want to be careful about how you handle that heavy load. Big backpacks that overwhelm you can be a real hazard. Over 14,000 people in America seek medical treatment for backpack-related injuries each year. It's important to choose a backpack that fits you properly.
But a backpack can be more than a utilitarian accessory. It can also be a reflection of your personal style. To some people, the coolest backpacks are brightly colored and sporty-looking. Other people like a more timeless look and sophisticated feel. And some people just want heavy-duty backpacks that can haul everything but the kitchen sink. There are a range of options to suit every taste.
If you're looking at backpacks for school, you may want to check out our list of things you should think about when buying a pack, as well as our tips on what features you should look for in a bag. In the end, the best backpack for college is the one that suits your taste, needs, and budget. We have a few suggestions to get you started.
This article contains affiliate links. We are compensated with a small commission, at no extra cost to you, for sales made through the links.
---
5 Things to Consider When Buying a Backpack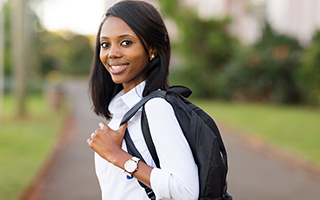 With all the options that are available, it can be tricky to come up with a shortlist of the best bags for college. Deciding on some basic criteria can help you narrow your search. The first thing you should do is ask yourself a few questions:
1. What do you need to carry?
Will you be carrying lots of heavy textbooks? Do you need to tote a laptop or tablet around with you? What about extras like art supplies or lab equipment? Will you need to fit a lunch or a change of clothes in your bag? Make sure you choose a pack that's large enough to carry all your gear, but not so large that it dwarfs you. You shouldn't carry more than 10 to 15 percent of your body weight; be sure to factor that in when choosing a bag.
2. How far do you need to go?
Consider the amount of time you'll spend with your bag on your back. If you're living off campus and biking in, a sturdy bag that's comfortable for long periods will be essential. But if you live in the dorm and your classes are a short stroll away, a lighter-duty bag might work, since you could drop off books and supplies between classes. Also think about your college layout and the location of your various classes—if your classrooms are clustered in a single area, you won't have as many portability concerns as someone who has to hike across campus.
3. What's your body type?
A backpack that doesn't provide the proper support can cause serious back problems down the road. To prevent back strain and muscle fatigue, a bag should fit your torso length. It should start at the base of your neck and end at the top of your hip bone—you don't want a bag that droops below your hips. Some companies make specific backpacks for girls that have smaller proportions, narrower shoulder straps, and wider hip belts in order to accommodate the female frame.
4. What kind of climate do you live in?
Do you live in an area that's perpetually sunny and hot? You'll need ventilation to keep your back from getting sweaty. Is there lots of rain where you are? A water-resistant exterior might be important. Will you be trudging through snow or resting your pack on the floor beside your boots? You may want to look for washable fabrics that will stand up to salt and dirt. The kind of weather you have to walk through will influence what kind of backpack you need.
5. What's your personal style?
Your bag can be a reflection of your fashion sense if you so choose. There are many types of backpacks. Do you like a big, flashy bag or a minimalist design? Do you like a sporty look, or do you want something more classic? What colors do you prefer? Some people want a bag that will accessorize with their outfits; others say the more outlandish the better. Decide what aesthetics matter most to you.
---
4 Features to Look For in a Backpack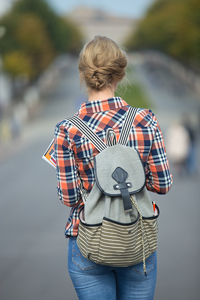 Once you've decided what you need in a backpack, you need to assess the features of the various bags out there to see which ones will suit you best. This section can help you cut through the marketing hype and figure out what each bag really offers you.
1. Comfort
This comes down to personal preference, but how a backpack is built will affect how comfortable it is to wear. Adjustable padded shoulder straps help distribute the weight properly and reduce the strain on your back—make sure the straps adjust easily but stay secure once you have them where you want them. Contoured and padded back panels can make a bag more comfortable, and breathable mesh vents on the back can help pull heat away from your body and keep you cool. Backpacks that have a waist strap or hip belt shift more of the weight from your shoulders to your hips, making it easier to carry heavier loads.
2. Pockets and compartments
Look for useful, sensibly organized pockets. Depending on what you need to carry around, you might want a spot for pens, books, a cell phone, or a water bottle. Laptop backpacks should have sleeves or compartments with a snug fit and lots of padding to keep your machine secure. Some backpacks have a front bungee system that can be good for toting an extra sweater or a pair of shoes.
3. Durability
Good backpacks will last and can handle heavy loads without falling to pieces. Some backpack brands, such as JanSport and The North Face, are known for their durable bags and even offer a lifetime warranty on them. Choose a bag with high-quality stitching (particularly on the shoulder straps) and securely attached handles. Backpacks made of nylon are more durable than those made of polyester; heavier fabrics like canvas will also last well.
4. Material
Different materials will affect the weight, durability, and look of a backpack. For example, cotton is cheap and lightweight, but it won't stand up to water, scuffs, or tears.
The most commonly used materials are nylon and polyester. These are both lightweight synthetic fabrics. Polyester repels water and retains its color well; it costs less than nylon, but it isn't quite as durable. You may also see bags made of Cordura and ballistic nylon; these are heavier, more durable variations of nylon.
Denier (D) is a measure of fiber firmness. As a general rule, the higher the number, the stronger (and heavier) the backpack will be. But be sure to consider the material: Since nylon is more durable than polyester, a bag made of 420D nylon will be stronger than a bag made of 600D polyester.
---
21 of the Best Backpacks for College Students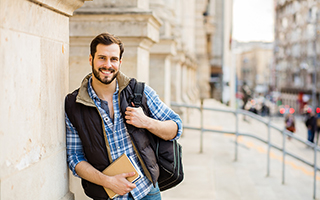 We've assembled a list of some of the best backpacks for college students with laptops, textbooks, and other assorted gear that needs to get carried around. Depending on your needs, your preferences, and your budget, you have a wide variety of options.
---
Gear Up for Your Future
The best backpacks for college are the ones that will carry your stuff without breaking your back. There's certainly a lot to consider (not just about backpacks). Maybe you have most of the gear you need, but you're still deciding on your educational path. Why not explore vocational schools in your area that offer job-focused training? Just enter your zip code into the search tool below to find convenient programs near you!
---