How to Become a Real Estate Agent: 11 Key Steps for Success
Published
| Last updated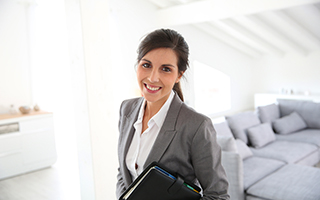 Here it is: your step-by-step guide on how to become a real estate agent. By following through with your ambitions, you may soon get to enjoy advantages like a flexible schedule, high demand for your services, and excellent income potential. You may also get to become an active participant in some of the biggest life events that many people will ever have. After all, selling or purchasing property is often an exciting milestone.
But achieving that type of professional lifestyle takes knowledge and dedication. It also takes confidence, enthusiasm, and the ability to keep yourself motivated. In that sense, becoming a real estate agent is like almost any other major life goal. You need to understand the road ahead and map out a plan of action that keeps you moving forward.
That's why we created this guide. You deserve to know what's in front of you. It will probably take you about 11 main steps to become a real estate agent who can thrive in this field. Check them out:
---
1. Decide Which State You'll Work In
This first step is more important than you may realize. You see, in order to work as a real estate agent, you'll need to be licensed. But you can't get licensed at the national level. You can only get your license at the state level. And every state has its own requirements. Plus, you may or may not be able to easily transfer your real estate license to another state. It's true that some states have reciprocity agreements with each other, but in many cases, you will need to complete additional steps that are similar to the ones you'll have already gone through.
So if you have a real desire to live and work in a different state, then it's probably a good idea to make the move before going too far into this process. That way, you won't go through the whole process and then have to do some or all of it again in your new state. And you won't feel stuck in a place you don't want to be.
Now is the time to decide where you'll build your real estate career. If you aren't there already, then consider moving. In the long run, you'll probably save time, money, and effort.
---
2. Learn What Your State's Requirements Are
Since every state is a little different, make sure you understand the exact licensing process in your area. That way, you'll know whether you can qualify and what to expect going forward. Typically, you'll need to meet basic requirements, such as:
Being at least 18 or 19 years of age
Completing a minimum amount of real estate education through a state-approved school or organization
Passing a state exam
Joining a licensed real estate brokerage
In many states, you also have to pass a criminal background check as part of a real estate license application. And some states require you to purchase special liability insurance or get coverage through the brokerage you join.
Keep in mind that not all states use the same terminology. For example, instead of using the term real estate agent to represent a person with an entry-level license, some states use other terms like real estate salesperson, associate broker, or even broker.
States that use the term broker for an entry-level real estate agent often use a different term like principal broker, designated broker, managing broker, or qualifying broker to represent a licensed and experienced real estate professional who owns a brokerage (i.e., the same type of professional who would simply be called a real estate broker in most other states).
Find out what your state requires by contacting its real estate commission or department of licensing. A state-by-state list of real estate commission websites is included at the end of this article.
---
3. Plan Your Budget
When figuring out how to get into real estate, don't overlook the financial expenses. In total, it may take between $1,500 and $3,000 to get yourself established as a newly licensed agent. But depending on a host of different factors, your costs may vary. They could be more, or they could be less.
Typical costs associated with getting your license include educational fees, application fees, and exam fees. Once you have your license, you also may have brokerage fees and membership fees for things like the Multiple Listing Service (MLS) and your local real estate board. In addition, you'll probably want to invest in some marketing tools such as business cards and advertising in order to start building your own clientele.
Also, remember that real estate is mostly a commission-based business. Once you're set up in a brokerage, it may take a few months to start getting your first sales and commission checks. So it helps to have enough savings to cover that initial period when you may not be generating much income from your new career.
---
4. Get Your Education and Submit Your Licensing Application
In most cases, you'll need to have at least a high school diploma and you'll need to complete some state-approved real estate courses. The minimum number of educational hours tends to vary a lot from state to state. But it's usually easy to find real estate schools in your area or online. A lot of certificate programs are available. And some people take associate's or bachelor's degree programs in real estate, since having a degree can give you a competitive edge.
Most courses of study in real estate are designed to teach students about the fundamental principles, practices, and legal aspects of the field. Among many other things, you'll probably learn the process of determining property values as well as the meaning and implications of terms like escrow, lien, and encumbrance.
Beyond courses that are specific to real estate, a lot of people decide to expand their education in related areas such as marketing, business administration, business management, finance, law, or economics.
When you've fulfilled your state's minimum educational requirements, you can go ahead and submit your application for a real estate license.
---
5. Pass Your State's Real Estate Agent Licensing Exam
After submitting your application, you'll probably be allowed to register for your licensing exam. Typically, exams are administered by third-party testing centers on particular dates. Your exam will likely consist of several multiple-choice questions about federal and state-specific real estate laws as well as other general fundamentals.
The passing score varies from state to state, but you typically need to answer at least 70 percent of the questions correctly. If you don't pass, you may be able to retake the exam as many times as you need to within a two-year timeframe. After that, if you still haven't passed the exam, you'll likely need to complete the required real estate courses again before resubmitting your application and getting another crack at the exam.
---
6. Join a Real Estate Brokerage
Real estate agents are required to work under the general supervision of licensed brokers that oversee all transactions and make sure that ethical and legal standards are being upheld. So you'll need to find a nearby brokerage to join before selling any property. Plus, most states won't activate your license until you're sponsored by a broker.
Fortunately, real estate brokerages (aka real estate agencies) are often recruiting new agents since doing so increases their revenue potential without costing much, if any, additional overhead. In fact, a survey of real estate agencies found that about 42 percent of them were actively seeking new agents.1 That means you can check out a variety of different brokerages and choose one that aligns with your individual goals and preferences. You can even start your search for the right brokerage while still in school.
As you consider your options, pay special attention to how various brokerages operate, including how they support their agents. During your interviews or chats with active agents, be sure to ask a lot of questions. Get answers about issues like:
How long the agencies have been established in the area
Whether they are franchised or independent
What types of property they specialize in
How many agents they sponsor in the same office
Whether they actively promote their agents
How much training and mentorship you would receive
What your obligations would be
Whether you would have administrative, technological, and marketing support
How commissions are split
Whether you would be entitled to any benefits
It's also a good idea to scout potential brokerages as if you were an out-of-town buyer of real estate. For example, ask around and try to get a feel for their reputation. Also, check out their ads and other promotional materials. Are they engaging and high-quality? Don't forget their office locations. Are they attractive and easy to access with adequate parking?
---
7. Activate Your Real Estate License
This step should be pretty easy. Once you've got the sponsorship of a broker, you can complete the process of getting your license. You and your sponsoring broker may need to fill out some final documents in order to have your state issue and activate your license.
---
8. Get a Multiple Listing Service (MLS) Membership
Having access to the MLS is vital if you want to do well as a real estate agent. It's the primary place where you'll list your clients' properties for sale. Other agents and brokers can then access all the details about those listings, including property taxes and a variety of essential information that isn't readily available to the public. And potential buyers can browse MLS listings for free and search for properties that match their criteria.
But the MLS also makes it easier for real estate professionals to analyze market trends, share information for appraisals, and publish offers of compensation (i.e., commission rates) that only other brokers and agents can see. A lot of real estate brokerages cover the membership fees for their agents. But many others require their agents to purchase their own yearly memberships to the service.
---
9. Purchase Liability Insurance (If Necessary)
Depending on the state you're licensed in, you may need to be covered by errors and omissions (E&O) insurance. It can protect your financial interests in the event that you make mistakes during a real estate transaction (such as not disclosing a major problem with a property). According to the survey cited earlier, about 40 percent of real estate firms cover the cost of E&O insurance coverage for their licensed agents, even if those agents are independent contractors.1 But if you aren't covered through your brokerage's plan, you may have to purchase your own insurance.
---
10. Get a Mentor and Start Finding Clients
Many of the most important skills that you'll use as a real estate agent can only be developed through repeated real-world practice. For example, consider crucial skills such as finding good leads, advertising your listings and services, developing and managing good client relationships, organizing your time, and handling all the various paperwork and administrative tasks that go along with being an agent. Your confidence and abilities will probably grow more quickly if you get some solid guidance and support early on.
That's why it's smart to find a more experienced agent in your brokerage to help mentor you. He or she may show you the ropes, direct you toward potential buyers and sellers, and split commissions with you for any property transactions you work on together. Having a mentor is much better than trying to figure everything out alone.
As you get into the groove, you can shift your focus to developing more and more of your own clientele and growing your own listings. Many real estate agents suggest choosing a particular niche to stick to for the first few years of your career, such as residential property for first-time home buyers. Once you've established yourself in that niche and can sustain your success, you may be ready to start branching out a little more. The best rewards in this industry tend to be earned after at least three years, since it takes time to develop a reliable reputation.
---
11. Consider Becoming a REALTOR®
All of the previous steps are about becoming a licensed real estate agent. But knowing how to become a REALTOR® requires paying attention to an additional step. Essentially, you just need to become a member of the National Association of REALTORS® (NAR) by joining one of your local REALTOR® associations (or boards). Just be aware that all of the principals in your brokerage must already be members of a REALTOR® association before you can join. Yearly membership dues vary with each local chapter.
Some of the main advantages of being an NAR member include:
Being able to use the title of REALTOR®, which adds credibility in the eyes of clients and other agents
Pride in knowing that you adhere to common standards and a professional code of ethics
Exclusive access to the listings of other members, along with property-showing privileges
Greater access to local, regional, and national market data
Networking opportunities with top real estate professionals
Access to career and legal guidance
As a member of your community's REALTOR® association, you may also get the opportunity to serve the organization as a volunteer. Doing so is a good way to build a broad range of experience, develop deeper knowledge of your local market, and establish trust with potential clients and other real estate professionals.
---
Set Your Real Estate Ambitions in Motion
Now that you have a better understanding of how to become a real estate agent, don't hesitate to move ahead with your goals. You're probably closer to making them happen than you think. In fact, you may be able to find convenient options for real estate training nearby or online. Simply put your zip code into the following program finder to discover relevant schools in your region!
---
State-by-State List of Real Estate Commission Websites
Wondering what the real estate licensing requirements are for where you currently live or for where you'd like to go? Just follow the links below for information about each state's licensing process.
---
---
1 National Association of REALTORS®, 2019 Profile of Real Estate Firms, website last visited on November 21, 2019.