Animal Behavior College
Online
Where Animal Lovers Pursue Animal Careers
Last Updated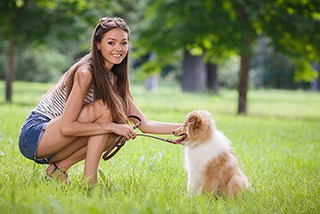 Study for an animal career you'll love in the convenience of your own home.
By offering animal care courses online coupled with over 6,000 training facilities, Animal Behavior College (ABC) allows you the flexibility to study at your own pace wherever you are. Stay on track, and you can receive your certification within one year.
Animal Behavior College has been helping animal lovers pursue animal careers for over 20 years. With over 24,000 graduates across the United States and Canada, and 129,000 volunteer hours donated at animal shelters, Animal Behavior College is a reputable private vocational school. ABC is proud to be approved by the California Bureau for Private Postsecondary Education and maintains an A+ rating with the Better Business Bureau (BBB).
Animal Behavior College cares about their students' success and future careers within the pet industry. They know every student's experience is different, which is why they are committed to providing you the best possible education.
If you're ready to pursue a career with animals, ask for additional information right now!
---
"This is such an amazing school! All of the staff are so helpful. They are willing to answer every question you have and guide you in the best way possible. This has been such a great opportunity for me and my career path!"
---
Animal Behavior College Programs
---
Dog Training Program
Do you love dogs? Would you like to learn how to become a dog trainer? Animal Behavior College's Dog Trainer Program has certified more than 12,000 dog trainers (ABCDT) across North America since 1998. ABC teaches students the theoretical and scientific principles of canine behavior and training. Topics include treatment plans for problematic behaviors, basic training cues, training philosophies, safety, and more. The dog training certification program consists of real-world training with a Mentor Trainer—who uses positive reinforcement dog training methods—in your local area. The program also includes an online dog training course. This hybrid real-world/home-study course, which utilizes LIMA (least invasive minimally aversive) compliant training techniques, ensures you'll receive a solid academic and functional foundation in dog training. This ABC program is approved for CEU credits by several reputable organizations, including the Certification Council for Professional Dog Trainers (CCPDT).
---
Veterinary Assistant Program
Do you enjoy helping and nurturing animals? Animal Behavior College can help you fulfill your passion for working with animals as an ABC Certified Veterinary Assistant (ABCVA). The Veterinary Assistant Program is one of the few online programs approved by the National Association of Veterinary Technicians in America (NAVTA). The Veterinary Assistant Certification Program teaches students about working in an animal hospital setting, including examination room procedures, animal restraint, surgical and laboratory assisting, and more. Students also receive 100 hours of invaluable externship experience in a veterinary clinic or animal hospital. Animal Behavior College can help you realize your dream of becoming a vet assistant.
---
Pet Groomer Program
Are you wondering how to become a pet groomer? The Pet Groomer Certification Program teaches students how to groom dogs and cats while maintaining a safe and relaxing environment. Students participate in a 150-hour externship at a grooming facility with a professional groomer. This ABC program is approved for CEU credits by several reputable organizations, including the International Association of Animal Behavior Consultants (IAABC). Grooming students receive a 40+ piece professional grooming kit that includes clippers, blades, scissors, brushes, combs, shampoo, and more.
---
Cat Training Program
Are you a cat lover? You can turn your love for cats into a cat training career at Animal Behavior College. The Cat Trainer Certification Program teaches students theoretical and scientific principles of feline behavior and training, including socialization, training cues, behavior management, and more. Students participate in a hands-on shelter experience, volunteering with cats at a local animal shelter or rescue. Graduates are recognized as ABC Certified Cat Trainers (ABCCT) and can proudly use this designation.
---
Aquarium Maintenance Program
Would you like to start your own aquarium maintenance company? Are you interested in learning more about the fishkeeping hobby and becoming an aquarist? Animal Behavior College's Aquarium Maintenance Program can help you turn your passion for fishkeeping and marine habitats into an enjoyable occupation. The Aquarium Maintenance Program teaches students the scientific practices for fresh and saltwater aquarium maintenance and production. The in-depth curriculum includes topics of study on basic aquarium set up for fresh water and saltwater tanks, live plant placement and care, reef set-up and care, fish species and guidelines, and much more. Upon completion of the program student will receive a certification of completion and become an ABC Certified Aquarium Maintenance Professional.
---
Zookeeper Assistant Program
Have you dreamed of working in a zoo? Would you like to have a career working with and caring for exotic animals? Do you want to be involved in animal conservation for endangered animal species? Animal Behavior College's Zookeeper Assistant Program can set you on the path to achieving your wildlife dreams. ABC's program will introduce you to the duties and responsibilities of working in a zoo as you learn about zoological environments and animal care, behavior, conservation, breeding and so much more!
---
Military Spouses May Qualify for Free Tuition!