International Academy of Design & Technology
Chicago · Las Vegas · Orlando · San Antonio
Seattle · Tampa · Online
Amplify your creative talents. At the International Academy of Design & Technology (IADT), your commitment to making a satisfying future for yourself can be matched with training that is relevant to the industry you want to work in.
Visualize the possibilities: Maybe you'll choose to refine your design skills. Perhaps you'll expand on your enthusiasm for fashion. Or maybe you'll start making a name for yourself in one of the media arts. You might even look at the potential of a career in business and technology and start down that path.
No matter what direction you decide on, IADT can help you get ahead in your pursuit. This is a school that shares your creative drive.

---
IADT Programs
---
Design
Channel your talents into a field that gives you the chance to maximize your creativity. IADT's design programs are set up to give you practical training that can lead to fun opportunities in areas like visual communications and interior design. So why hesitate? Get the information you're looking for directly from a school representative!
Design Programs
Building Information Modeling
Graphic Design
Interior Design
Visual Communications: Graphic Design

---
Fashion
Start learning the fashion fundamentals that can help you get into an industry full of color and energy and life. With programs in fashion design and merchandising, IADT can make the pursuit of that inspiring career you want a little easier. So don't put it off. Request the details you need right now!
Fashion Programs
Fashion Design
Fashion Design and Merchandising
Fashion Merchandising
Merchandising Management: Fashion Merchandising

---
A career that's fun—it's possible to get one. In fact, the media arts programs at IADT can help you expand your creative and practical skills in areas that provide many professionals with endless entertainment and fascination. Why delay your ambitions any longer? Act today!
Media Arts Programs
Animation Technology
Audio Production
Cinema Production
Digital Media Production
Game Production
Post Production
Professional Photography
Visual Communications: Game Design
Visual Communications: Video and Animation Production

---
Technology & Business
Take advantage of your interest in the business or technological sides of the creative arts. These fields offer all kinds of possibilities that can help you pursue an inspired and energizing career. So use this opportunity to ask IADT for further details about the dynamic programs that can help you get on your way!
Technology & Business Programs
Computer Forensics
Information Technology
Internet Marketing
Retail Merchandise Management
Software Engineering
Visual Communications: Multimedia and Web Design
Web Design and Development

---
IADT Locations
Orlando, Florida
Tampa, Florida
Chicago, Illinois
Las Vegas, Nevada
San Antonio, Texas
Seattle, Washington
Online

---
Opportunities to Choose How You Want to Learn
Your schedule may already be fairly busy. IADT understands. And that's why a large number of its programs offer built-in flexibility.
In many cases, you have the option of choosing to attend classes on campus or having them delivered to you online. You may even be able to combine classroom and online learning in the same program.
---
Training and Support Developed with You in Mind
Your ambitions are just as important to IADT as they are to you. That's why being a student at IADT includes:
Chances to interact with experienced industry professionals
Opportunities for personalized attention
Learning within a setting that encourages diversity and creative thinking
Facilities designed to help you transform your raw talents into market-ready skills
A variety of career services to help you with job searching
---
A Simple Way to Begin
Getting answers that can help you move forward is easy. Just take a moment to tell IADT about your interests and how an admissions representative can contact you!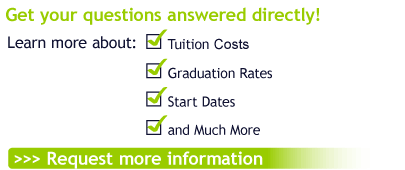 ---
International Academy of Design & Technology Accreditation
---
International Academy of Design & Technology cannot guarantee employment or salary. Find disclosures on graduation rates, student financial obligations and more here.