Fortis College
Medical Assistant
Do you want a career that allows you to become a vital part of a healthcare team? If so, Medical Assisting training from Fortis College could be your calling.
With Certificate, Diploma, and Degree options available, Fortis College can prepare you to handle a wide range of administrative, technical, and clinical tasks. You can also gain the necessary skills and knowledge to take on patient care duties.
Request more information today to find out how you can graduate ready to pursue entry-level Medical Assistant positions within physicians' offices, health clinics, hospitals, and more!

---
The Medical Assistant programs are available at the following locations:
Dothan, Alabama
Foley, Alabama
Mobile, Alabama
Montgomery, Alabama
Phoenix, Arizona
Fort Lauderdale, Florida
Largo, Florida
Mulberry, Florida
Orange Park, Florida
Pensacola, Florida
Port St. Lucie, Florida
Indianapolis, Indiana
Baton Rouge, Louisiana
Landover, Maryland
Woodlawn, Maryland
Lawrenceville, New Jersey
Wayne, New Jersey
Centerville, Ohio
Cincinnati, Ohio
Columbus, Ohio
Ravenna, Ohio
Erie, Pennsylvania
Forty Fort, Pennsylvania
Scranton, Pennsylvania
Columbia, South Carolina
Nashville, Tennessee
Grand Prairie, Texas
Houston North, Texas
Houston South, Texas
Salt Lake City, Utah
Norfolk, Virginia
Richmond, Virginia
The Medical Assisting / Medical Assisting Specialist program is available at the following location:

---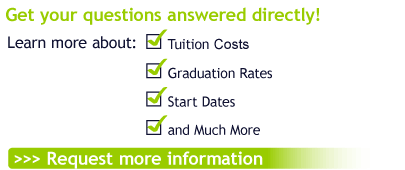 ---
For consumer information, click here.
---

© 2001 - 2013 Beelineweb.com



Privacy Policy | Advertise With Us!