Trade Schools & Colleges > The Career Counselor > Massage Therapy
Massage Therapy Career Information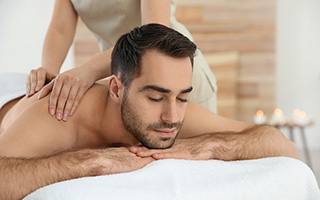 With an origin that traces back thousands of years, massage therapy is an ancient practice that is not only still relevant, but has also been increasingly gaining in popularity over the last two decades. More and more people are turning to holistic health practices, and studies have shown the positive effect massage therapy can have on relieving stress and pain and improving overall well-being. All of these factors have combined to make massage therapy an in-demand career field.


What is Massage Therapy?
So what is massage therapy, exactly? In simple terms, it is the act of using your hands (elbows, forearms, and feet are sometimes used also) to apply a variety of "rubbing" techniques (as Hippocrates is said to have called them) such as stroking and kneading in order to manipulate the soft tissue and joints in various areas of the body. (Skin, muscles, tendons, ligaments, and joint capsules all fall under the category of "soft tissue.")
The primary components used in virtually all massage therapy techniques include:
Effleurage—Strokes that use long, gliding movements and various amounts of pressure
Petrissage—Kneading movements that are typically conducted in a circular motion
Tapotement—Tapping motions performed with the fingers, palm, or side of the hand
Vibration—Rapid, pulse-like hand movements
Friction—Circular hand movements using strong pressure in order to create heat
Why is Massage Therapy Important?
Massage therapy might sound like an enjoyable way to relax and de-stress (and it is), but the positive effects go far deeper. So, why is massage therapy important? For starters, it helps release muscle tension and improves blood flow to joints and muscles. However, it has also been proven to have a positive effect on various body systems, including:
Central nervous system—Massage triggers a relaxation response, causing the body to release endorphins that act as natural painkillers and calming aids.
Circulatory system—Massage helps stimulate the circulatory system, increasing circulation, which in turn increases the amount of oxygen and nutrients reaching body tissues.
Digestive system—Massage helps stimulate organ activity, improving waste removal, enzyme production, and more.
Respiratory system—Massage deepens, stabilizes, and normalizes breathing patterns, and can help clear congestion in the lungs.
Skeletal system—Massage decreases inflammation in joints, helps restore range of motion, and can help improve posture.
Additional benefits of massage therapy include:
Reduction of pain and stiffness in muscles and joints through removal of lactic acid and other waste
Lowering of stress hormone levels, helping to reverse the damaging symptoms of stress, such as raised blood pressure, accelerated heart rate, and respiration
Increased cranial vagus nerve activity, which helps with food absorption, heart rate, and respiration
Heightened levels of dopamine and serotonin, which reduce feelings of anxiety and depression
Decreased stress, which often leads to better sleep, improved concentration, and more
Some of the conditions for which massage therapy can be utilized as part of a treatment or prevention plan include:
Arthritis, tendonitis, and other inflammatory conditions
Headaches and migraines
Repetitive strain injuries, including carpal tunnel syndrome
Back pain, including sciatic nerve conditions
Muscle strains, sprains, and spasms
Rehabilitation from surgery or injury
What Do Massage Therapists Do?
Now that you understand the basic premise behind massage therapy, why it is important, and the different conditions that it is used to treat, the next thing you may be asking is "What do massage therapists do, specifically?"
The answer varies depending on a few factors, including the type of massage therapist and the environment he or she works in. For example, a registered massage therapist working in a sports medicine facility can be quite different from a spa massage therapist working at a resort. However, there do tend to be common threads running through all massage therapy jobs.
The administrative portion of a massage therapy career usually involves:
Scheduling appointments
Consulting with new clients to review symptoms, record medical histories, and learn about lifestyle factors
Billing and insurance processing
Aside from specific techniques and types of massage therapy (which will be outlined next), most massage therapy jobs consist of a common set of general hands-on tasks. The typical process begins by setting up the massage table in a private area (sheets are changed for each appointment) and organizing any needed supplies (massage oils, aromatherapy candles, etc.). Once the patient has arrived, he or she is taken to the private area and left alone to disrobe and lie face down on the massage table, under a sheet. (In North America, massage therapy clients must be covered by a sheet at all times, with the massage therapist only exposing the part of the body being massaged.)
Once the massage therapist returns, he or she ensures that the client is comfortable and begins the massage. Most massage sessions last between 30 and 90 minutes. Unless a specific injury or illness is being treated, massage therapists begin with the back and neck, followed by the legs. The client is then asked to turn onto his or her back, and the massage resumes with the neck, arms, abdomen, and legs. At the completion of the massage, the therapist will give the client time to redress, often asking for feedback afterwards in order to add notes to the client's file and plan future sessions. He or she will then complete the billing process, and if applicable, schedule the client's next appointment.
Now that the general similarities between massage therapy careers have been covered, it is important to understand that there is a significant difference between spa and registered massage therapy:
Registered Massage Therapy
Tends to involve advanced massage techniques plus additional therapies, including hydrotherapy
Generally requires more education and has stricter certification requirements than spa massage therapy
Focuses on therapeutic treatments for general or orthopedic pathologies, including chronic back pain, tendonitis, chronic headaches, and muscle strains
Career choices for registered massage therapists are more likely to include health care settings, such as chiropractic offices, sports medicine clinics, or nursing homes
Spa Massage Therapy
Tends to focus on using massage for relaxation and stress management rather than therapeutic treatments
Is generally performed within spas, salons, resorts, or cruise ships
Aside from massage, it can include additional services, such as aromatherapy, reflexology, body wraps, and hot stone treatments
Generally attracts clients who are looking to treat themselves with enjoyable pampering rather than seeking treatment for an injury or illness
What are the Differences Between Massage Techniques?
Both spa and registered massage therapists generally utilize multiple massage techniques. Because of the huge variety, it is important to understand the differences between massage techniques. Here are some of the most common massage techniques found in the industry today:
Swedish
Thought to be the western world's most widely-used massage technique
Invented by a Swedish physician who combined Chinese gymnastic and medical techniques with 19th-century sports medicine
Typically used to relieve sore muscles, increase flexibility, and promote general well-being
Shiatsu
A Japanese massage technique that mainly involves using thumb pressure along the body's energy meridians
Typically performed on a floor mat rather than a massage table, with the client remaining fully dressed
Sports Massage
Used to help athletes prevent injuries and enhance their performance abilities
Created using advanced knowledge of the structure and biomechanics of the musculoskeletal system
Typically involves soft tissue manipulation as well as gentle stretching and mobilization techniques
Deep Tissue
Uses intense pressure to manipulate the connective tissue found deep within muscle or fascia structures
Often used to relieve chronic muscle tension or knots
May cause uncomfortable sensations during muscle manipulation, but the end results can outweigh the discomfort
Chair Massage
Also known as corporate massage
An acupressure-based therapy that is performed on the back and neck
Typically 10-15 minutes in length and performed with the client sitting in a special chair with his or her face resting in a cradle and arms resting on supports
Typically offered in high-stress locations such as airports and convention centers
Infant Massage
Hands-on therapy using light strokes to help soothe infants and treat various ailments, such as colic
Often used as part of treatment for premature infants
Massage therapists can perform infant massage personally, or teach parents the necessary techniques to handle it themselves
Thai Bodywork
A combination of acupressure and reflexology mixed with energy work, meditation, and yoga
Performed on a floor mat or a firm mattress
Can involve the massage therapist walking on the client's back, performing rhythmic pressing and stretching and gentle pulling of ears, fingers, and toes
Trigger Point
Trigger points are areas of soft tissue that experience tenderness, pain, numbness, itching, tingling, or burning sensations
Massage therapists focus on these trigger points, applying pressure in order to flush blood and toxins out of the area and promote healing
Stone Therapy
Typically involves the use of smooth basalt or marble stones
Depending on the intended usage, the stones are either heated or cooled and used as a tool to massage deep into muscles without causing the discomfort typically associated with traditional deep tissue massage
Myofascial Release
Involves manipulation of the fascia (connective tissue layer surrounding muscles, joints, and bones) in order to free fascial restrictions and help muscles move more efficiently
Primarily used to eliminate pain and increase range of motion
Reflexology
Traditional Chinese massage technique
Involves applying pressure to specific points in the hands, feet, and ears that are thought to correspond to various organs and tissues throughout the body
Reiki
Ancient Japanese healing technique based on channeling life force energy
Often conducted with the Reiki therapist moving his or her hands over the body without actually touching the client
Based on the principle that the body holds seven chakras, which can become blocked and need to be cleared to allow for the flow of life force energy
How to Become a Massage Therapist
If you are wondering how to become a massage therapist, there are a few things to consider first. You must decide whether you want to become a spa massage therapist or a registered massage therapist since the educational and licensing requirements differ depending on the type of massage career you intend to pursue.
Becoming a spa massage therapist (also called a spa therapist or spa practitioner) usually requires completing a certificate or diploma course that is typically 300 to 1,000 hours in length. The focus of these programs tends to be on using massage as a tool for relaxation and self-pampering. The curriculum can include:
Swedish massage
Hot stone therapy
Aromatherapy
Hydrotherapy
Reflexology
Acupressure
Mud and seaweed wraps
Salt glows
Body scrubs
In addition to massage, relaxation, and beauty techniques, many spa therapist programs include business training related to spa management or entrepreneurship. Some of the general topics that get covered can include marketing, customer service, sales, and basic accounting.
If you wish to become a registered massage therapist (RMT), you will likely have to complete a more in-depth program that provides up to 3,000 hours of training. While you will most likely learn about relaxation-based massage techniques, the primary focus of registered massage therapy programs is on the treatment of injuries and illnesses. Therefore, the majority of registered massage courses tend to highlight therapeutic techniques, such as:
Deep tissue massage
Sports massage
Shiatsu
Chair massage
Thai bodywork
Myofascial release
Lymphatic drainage
Neuromuscular techniques
Joint mobilization
Registered massage therapy programs also usually provide an extensive background in health care-related topics, including anatomy, physiology, kinesiology, and pathology. And, since RMTs are required to obtain national certification, programs generally need to be accredited by the National Certification Board for Therapeutic Massage and Bodywork (NCBTMB) so that they can prepare students for national certification examinations.
Why Do Massage Therapists Need Industry Certification?
You might be wondering, "Why do massage therapists need industry certification?" The answer, for those in 38 states and the District of Columbia, is that National Certification Board for Therapeutic Massage and Bodywork (NCBTMB) certification is required by law in order to work as a massage therapist. However, even if you don't live in a state that requires certification, there are various reasons why you should still consider becoming certified:
It shows that you are dedicated to your profession and committed to maintaining the highest industry standard in terms of skills and knowledge.
It proves that you have obtained a minimum of 500 hours of massage therapy instruction.
It ensures that you have a strong understanding of safety and ethical considerations.
The NCBTMB offers two different exams:
National Certification Examination for Therapeutic Massage and Bodywork (NCETMB)
National Certification Examination for Therapeutic Massage (NCETM)
The eligibility criteria is the same for both exams and requires that you:
Obtain the minimum hours of instruction: 125 hours of body systems, 200 hours of massage and bodywork assessment, theory, and hands-on application, 40 hours of pathology, 10 hours of business and ethics, and 125 hours of further theoretical instruction in massage therapy or another related field
Graduate from a massage therapy program at an NCBTMB-accredited school
Both exams are multiple choice and share most of the same content, including general knowledge of body systems, detailed knowledge of anatomy, physiology, and kinesiology, therapeutic assessment and application, and professional standards, ethics, and legal practices. The only critical difference between the two is that the NCETMB also includes questions regarding bodywork assessment and application whereas the NCETM focuses solely on massage.
The application process to take an NCBTMB exam involves:
Completing the application form (including signing the background check, statement of understanding, candidate compliance, and, in some cases, the application authorization sections)
Submitting the application by printing and mailing it or using the online option
Including a photocopy of a valid photo ID issued by the U.S. government along with the exam fee by check, money order, credit card, cashier's check, or voucher in your submission
Requesting that your school send a sealed copy of your official transcript to the NCBTMB
Once you have successfully taken an NCBTMB exam, you must get re-certified every four years in order to maintain your national certification. There are two ways in which you can become re-certified. The first option is to retake the certification examination. The other option is to document a minimum of 50 hours of continuing education (which must include a minimum of two hours of professional ethics training and at least 200 hours of therapeutic massage sessions over a four-year period).
How Long is Massage Therapy School?
People often ask, "How long is massage therapy school?" The answer depends entirely on the type of program you choose and the type of school offering the program.
Vocational schools, trade schools, and colleges usually offer short-term, career-focused massage therapy and spa therapy programs. These programs are typically one year or less in length (and very rarely longer than two years) and focus solely on providing the hands-on skills and practical knowledge required to work in the industry—often omitting the general education and loosely-related theoretical material. Graduates generally receive a certificate or diploma.
Many public and private colleges and universities also offer certificate and diploma programs, and they often provide degree options as well. Massage therapy degree programs are usually two to four years in length and, in addition to practical and theoretical massage therapy courses, also tend to include general education courses related to business, professional development, and more. This can be of benefit if your future goals involve taking on advanced or managerial positions in the industry or becoming an entrepreneur and opening your own massage therapy business.
No matter which type of massage therapy program or school you choose, it is important to keep in mind that if you want to live and work in a state that requires NCBTMB certification, the program you choose must meet the minimum requirements for training hours, and the school must be accredited by the NCBTMB.
How Much Does Massage Therapy School Cost?
Potential massage therapy students often want to know, "How much does massage therapy school cost?" Just like with program length, program cost is entirely dependent on the type of program you choose to pursue.
However, for a typical certificate or diploma program, the average tuition can be as little as a few thousand dollars on the lower end of the scale, right up to $15,000 or more. The average tuition for a degree program can range from $20,000 to $40,000 and higher.
It is important to note that regardless of which program option you choose, most will require that you purchase books and equipment (such as a massage table), which are added expenses on top of the price of tuition. These prices can vary quite a bit, but the overall average tends to be around $1,000.
Where Do Massage Therapists Work?
If you are wondering, "Where do massage therapists work?" you might be pleased to know that there are a wide range of working environments for both registered massage therapists and spa therapists. Some examples include:
Private practices (working under the management of other massage therapists or for themselves as entrepreneurs)
Health clubs and fitness centers
Spas and salons (including ones at resorts and on cruise ships)
Chiropractic offices
Physicians' offices
Rehabilitation centers
Nursing homes
Hospitals
Sports medicine clinics
In addition, some massage therapists opt to work in more than one environment. They buy portable massage tables and make house calls, spending their days traveling from house to house as personal massage therapists.
What is the Average Massage Therapist Salary?
It can be difficult to pin down the exact answer for the question "What is the average massage therapist salary?" The reason is that massage therapy salaries tend to vary depending on experience, work environment, geographic location, and other factors. However, according to statistics from May 2010, the average national salary rates are as follows: *
The annual median wage for massage therapists was $34,900.
The lowest 10 percent earned less than $17,970.
The top 10 percent earned more than $69,000.
When it comes to salaries for licensed massage therapists, it is important to keep in mind that they tend to earn a combination of wages and tips. It is also notable that the majority of massage therapists work part-time. According to the 2010 statistics, only about one in four massage therapists held full-time positions. *
Are Massage Therapists In Demand?
In addition to salary, it is important to know if massage therapists are in demand. Whether or not a career field is growing can have a big impact on the chances of success for those entering the field. So, are massage therapists in demand?
Thankfully, the answer is yes. The alternative health sector is becoming more and more popular, and one of the main areas people are embracing is massage therapy. National statistics show that the projected growth rate for the massage therapy field over a ten-year time period between 2010 and 2020 is 20 percent. * This is faster than the national average for all career fields, which is around 14 percent.
What are the Pros and Cons of Becoming a Massage Therapist?
No matter how promising or enjoyable a career might be, there are always pros and cons. Here are some of the main pros and cons for massage therapists:
Pros
You can become part of a growing career field thanks to the alternative health sector's rising popularity.
There are many different opportunities in the field. From entrepreneurship to health care, you can explore many different routes. Plus, if you choose to pursue a position on a cruise ship, you could even have the opportunity to travel as part of your job.
Depending on what area of the field you choose to enter, you could enjoy extreme flexibility when it comes to your work schedule. Many independent massage therapists are able to set their own hours.
If you are truly passionate about the work, you will likely never tire of it. Many massage therapists feel physically, mentally, and spiritually fulfilled by healing others through touch.
Since you will be working one-on-one with clients, you have the opportunity to meet a variety of people and build close and lasting professional relationships.
Cons
The work is physically demanding and may require you to spend long hours on your feet.
Due to the repetitive physical motions massage therapists need to perform, you will be at risk of developing carpal tunnel syndrome as well as back pain.
Massage therapy tends to have a high burnout rate. It's important to pace yourself and apply quality self-care principles to protect your physical and mental health and help ensure longevity in your career.
In some areas of the field, the work may not be steady. The clients who turn to massage therapy for relaxation reasons, rather than as a treatment for an injury or illness, are more likely to see it as a luxury item—which is usually the first thing people eliminate during hard economic times.
What are Some of the Most Important Traits a Massage Therapist Needs to Have?
Aside from education and certification requirements, there are some personal traits that can help a massage therapist become successful. Some of the most important traits include:
A positive and personable mentality—Since you need to work with clients one-on-one, they tend to prefer someone who can create a comfortable and relaxed atmosphere.
Good listening skills—Many clients come to a massage therapist in order to get treatment for an injury or illness. Therefore, you need to be able to listen carefully in order to understand their individual situations and needs.
Good general health and fitness—Because of the long periods of standing and the physical nature of the work, personal health and fitness are extremely important in order to help prevent injury and burnout.
Strong budgeting and financial skills—Since massage therapy in spa-type environments can be seen as a luxury expense, business can fluctuate. Therefore, the ability to budget and responsibly handle finances is important.
What's Next?
Now that you understand the financial, legal, and personal requirements involved in becoming a massage therapist, the next step is to research schools and programs. This guide to available massage therapy schools, organized by location, is a great place to start.
---