Trade Schools & Colleges > The Career Counselor > Event Planner
Event Planner Career Information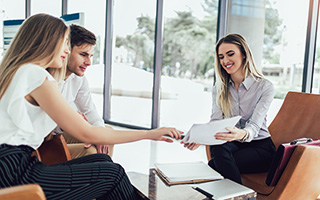 I f you've ever been to a conference, wedding, gala, or other choreographed event, you can probably appreciate how much behind-the-scenes work goes into pulling off such a production. From the location to the food to the decor, event planning and management professionals handle the big picture planning, the finishing touches, and everything in between.
What is Event Planning?
Event planning involves organizing every aspect of important events like weddings, conferences, meetings, or other significant gatherings. Event planners are responsible for coordinating items such as transportation, venue, food, equipment, guest lists, schedules, and other essential details.
What is Event Management?
Event management is the process of overseeing everything during an event. This can include supervising vendors, managing schedules, and ensuring that all details are taken care of. Event managers also make sure that nothing goes wrong, and if anything does, they handle that too.
What Does an Event Planner Do?
Event planners can be charged with coordinating a wide range of events such as:
Meetings
Conventions
Festivals
Fashion shows
Weddings
Concerts
Parties
Galas
Fundraisers
Tournaments
Conferences
Award shows
Exhibitions
Memorial services
Travel tours
So, what does an event planner do to bring these kinds of events to successful fruition?
Typically, event planners work directly with clients to determine specific needs and expectations, develop budgets and timelines, choose and secure locations, arrange transportation, and get a handle on a variety of other details. Their job duties often include working with a wide range of vendors and service providers to solicit bids, negotiate contracts, and more. They are also frequently responsible for acquiring any necessary licenses or permits. In addition, they must take into account all applicable government regulations or legal requirements (for example, a need for security personnel).
For events such as conferences, event planners often handle the booking of travel and lodging. Event planners may also work with caterers and hotel kitchens to develop menus. This can mean having to consider dietary restrictions and allergies, food and wine pairings, and much more.
Depending on the specific occasion, event planners can be responsible for marketing an event, arranging for photography or videography, booking entertainment or speakers, and securing sponsors.
During an event, they are typically in charge of making sure everything goes as planned. This can mean monitoring activities, checking in with clients, ensuring schedules are adhered to, and overseeing all other logistics. They may also register guests, prepare event sites, set up equipment, handle inquiries, and take care of any additional issues that require attention.
Finally, event planners direct the final payment of invoices, make sure clients are satisfied, receive feedback, ensure that cleanup is completed, and tie up any loose ends.
Within the event planning profession, wedding planning is a growing and important specialization. It is becoming more and more popular thanks to the multi-billion dollar wedding industry.
What Does a Wedding Planner Do?
The primary difference between a wedding planner and an event planner is that a wedding planner's tasks are tailored specifically to organizing a wedding rather than a conference or other event. So, what does a wedding planner do?
Weddings are labor-intensive occasions that require the planning of everything from the ceremony to the decor to the guest favors. Families often spend large amounts of money on a single day of activities and expect an event that will make memories that last a lifetime and impress the guests.
A wedding planner's job begins with a client consultation, which can include the bride and groom (often, along with their parents). The consultation consists of setting out expectations, needs, and a budget. The planner can help with all aspects of planning, allowing the couple to achieve the wedding they desire without the multitude of tasks and responsibilities that come along with such a production.
A bridal consultant or wedding planner sometimes acts as a mediator, helping to hash out differences of opinion, negotiate priorities and budget allocations, and provide advice in matters of tradition, etiquette, and other sensitive areas. A wedding planner can also assist a couple with sorting through song selections, incorporating cultural and religious traditions, planning a menu, and more. In addition, they can offer guidance in developing a theme, choosing a cake, selecting wedding favors, and creating a seating plan.
Plus, a wedding professional is expected to work with vendors to obtain the best value possible for the client. People often consider the cost of hiring a wedding planner to be negated by the savings they can achieve during the wedding planning process due to the planner's industry connections with caterers, venues, florists, photographers, and other vendors. A wedding planner is generally also charged with developing a schedule of events that includes the ceremony and other wedding-related proceedings such as the engagement party, bridal shower, rehearsal dinner, and gift opening.
On the day of the wedding, a planner is typically responsible for making sure everything goes just as planned, handling any details that need attention. They make sure deliveries are made on time and decorations are set up. In essence, they safeguard the ability of the couple to be "guests" at their own wedding, enjoying the day rather than worrying about the details.
After the event, a wedding planner will oversee the cleanup and final payment of vendors. Plus, they often sit down with clients to obtain feedback about the event, coordinate thank you cards and take care of any other post-wedding items.
Can You Tell Me How to Become an Event Planner?
When exploring how to become an event planner, the main routes to consider are formal education or on-the-job training. Choosing between these options should be based on the specific goals you want to achieve within the industry.
If you just want to plan small-scale parties, on-the-job training could be suitable. However, if your career objectives extend beyond this, then enrolling in an event planning (or related) training program is likely the most appropriate option.
You could choose a post-secondary diploma or degree program that contains hospitality or tourism training along with event planning and management components. There are also certificate programs that focus specifically on the event planning, promotions, and management profession. Alternately, an education in business, marketing, or public relations could provide the necessary foundation to pursue a career in this field.
Many schools that offer event planning and management training emphasize practical experience and afford their students the opportunity to take part in internships within the industry. Such internships can be paid or unpaid, depending on the specific placement. They can provide the chance for you to gain exposure with potential employers, network with other event planning professionals, and handle real-world situations.
While in school, you can also gain hands-on event planning experience by volunteering to organize events, meetings, fundraisers, and other functions for clubs, student associations, or sports teams.
In addition, many event planning schools offer continuing education courses and workshops for alumni, which can help you freshen up your skills while staying on top of industry trends and issues.
Another option for pursuing a career in event planning involves bypassing formal training altogether. This might allow you to start earning a paycheck sooner, but it could also draw out the process of establishing yourself within the industry.
Getting your foot in the door of the event planning field typically means starting out in an entry-level role in which you might be expected to handle various junior tasks under the direction of a senior planner. In this scenario, you will probably be considered an apprentice or assistant planner, and such a position likely won't include highly creative or glamorous duties. Instead, you could be asked to run errands (like delivering contracts or obtaining samples) and handle other tedious tasks. It is important, though, to look at this role as a learning opportunity that can allow you to benefit from the knowledgeable professionals around you while seeing firsthand how the industry works.
If you are wondering how to get into event management without related post-secondary education, then obtaining an on-site position in a hotel or convention center could be a good option. Such a position could involve setting up displays or equipment and performing other odd jobs. You could even volunteer to help at events, which can be an excellent way to gain experience and make valuable connections for the future.
No matter which option you choose for pursuing a career in event planning and management, it's important to continually document your work in a portfolio. This should include pictures, references, and client testimonials related to any events that you have planned (or assisted in planning). A portfolio is probably the most valuable asset for an event planner to have since it is used for showcasing your talents to prospective clients and employers.
Can You Tell Me How to Become a Wedding Planner?
Within the event planning field, wedding planning has become an industry in its own right. If you're interested in learning how to become a wedding planner, you may want to consider a more specialized education, such as a wedding planning or bridal consulting program. These programs often contain condensed curricula and cover every aspect of planning and executing weddings and related events.
While these programs can provide valuable information, it is recommended that hands-on experience accompany this training before you jump in and start up a wedding planning business. Such experience can include offering to help friends and family plan their weddings or pursuing a job within a wedding-related field. Settings such as florist shops, party rental businesses, and catering companies can be great places to start. Of course, a wedding planning firm would provide the most relevant experience.
After gaining some practical experience, you may then be ready to set up your own wedding planning business. This is a common route for wedding and bridal consultants, but joining an existing company is also an option.
What Can I Learn in Event Planning School?
If you're considering a career in event planning, education requirements are naturally something you need to take into account. And while there is no specific education needed to become a wedding planner, event planner, or event manager, there are a number of areas that you should be knowledgeable in. This is where a formal training program can be an excellent option.
These programs can last anywhere from a few weeks to a few years, depending on the type of events that you want to plan. You could complete a short-term certificate or diploma program, or you could pursue an associate's or bachelor's degree. Plus, you may be able to choose between online programs and traditional on-campus options.
An event planning program can provide you with training related to a wide range of subjects, including:
Client needs and expectations
Accounting and budgeting
Types of events
Event proposals and bids
Contracts and negotiations
Venue selection
Catering
Seating and site planning
Design and decor
Entertainment and speakers
Event marketing and sponsorship
Hospitality and guest services
Tourism and travel trends
Business etiquette and professionalism
Leadership
Event logistics and operations
Business communications
Volunteer and employee management
Permits, insurance, licenses, and legal considerations
Sound, lighting, and special effects
Event timelines, production schedules, and scripts
"Green" event planning
Languages and cultures
Alternately, if your interests specifically involve the field of wedding planning, you may want to enroll in a wedding-specific program, which can provide you with training related directly to weddings.
A wedding planning school can cover a long list of specialized topics such as:
The role and expectations of a wedding planner
Developing a theme
Ceremony and reception venues
Wedding customs and traditions
Wedding etiquette
Invitations and thank you cards
Wedding attire
Wedding attendants
Wedding reception
Wedding cakes
Decor and flowers
Speeches and toasts
Rehearsal ceremony and dinner
Bridal showers and engagement parties
Bachelor/bachelorette parties
Wedding day timeline
Wedding rentals
Guest lists and seating plans
Types of wedding ceremonies
Menu planning
Marriage licenses
Wedding rings
Honeymoon planning
Wedding gifts
Photography and videography
Transportation
Budget creation and management
Fees and services
Working with vendors
Negotiations and contracts
Professionalism and client relations
Wedding industry trends
Wedding planning portfolios
Networking and marketing
Small business management
How Long Does It Take to Become an Event Planner?
This can depend on the route you choose to take. If you're planning to obtain a formal education, the amount of time it takes to become an event planner may correlate with the length of your program, which can range from months to years. Of course, a shorter-term program doesn't always mean you'll be in the field right away. And a longer program could include an internship that contains an on-the-job component, allowing you to start establishing a presence within the industry before you graduate.
Regardless, there is no common timeline for becoming an event planner. It all comes down to how long it takes for you, personally, to land a relevant job in the business.
How Long Does It Take to Become a Wedding Planner?
Specialized wedding planner or bridal consulting programs tend to be quite short in length and are often delivered through online or distance learning formats. This means they can be completed in just a short while, depending on the amount of time you are able to dedicate toward studying.
It's important to keep in mind that these programs are generally geared for those who want to start and run their own wedding planning businesses. The ideal students for these programs are already working and will continue to work until their businesses can provide full-time pay.
So, although the programs might be short, the time to develop a career as a wedding planner can be longer, depending on the strength and size of your business.
How Much Do Event Planner Programs Cost?
Like any area of study, the cost can vary from school to school. You can expect to spend anywhere from a few hundred dollars for an online wedding planner course to more than $30,000 for a bachelor's degree program in hospitality management, marketing, or another related field.
When choosing the right school and program for your education, it's important to understand what you'll get for the price you have to pay.
Here are some factors to consider when evaluating the cost of individual programs:
Value of school reputation
Industry certification and association membership fees
Textbooks and learning materials
Networking opportunities through internships and alumni events
Continuing education opportunities
Job placement assistance and career services
Do I Need to Be Certified to Become an Event Planner?
No. There is no requirement to be certified in the event planning industry. However, there can be various benefits to obtaining certification or membership from an industry-respected association.
These benefits can include access to trade publications, vendor databases, and other resources, as well as the opportunity to network within the industry.
Plus, certification can demonstrate your level of skill and commitment to potential clients and employers. For event planners, a widely recognized credential worth considering is the Certified Meeting Professional (CMP) designation from the Convention Industry Council (CIC).
Other major industry associations and providers of certification include:
Society of Government Meeting Professionals (SGMP)
Event Planners Association (EPA)
Meeting Professionals International (MPI)
International Special Events Society (ISES)
American Association of Certified Wedding Planners (AACWP)
The Association of Certified Professional Wedding Consultants (ACPWC)
Association of Bridal Consultants (ABC)
Recognized associations in Canada include:
Canadian Society of Professional Event Planners (CanSPEP)
Business Events Industry Coalition of Canada (BEICC)
Canadian Special Events Society (CSES)
In addition to event planning credentials, it may be beneficial to obtain hospitality-related certifications such as those related to food handling and the serving of beverages.
What is a Typical Event Planner Salary?
If you're considering a career as an event planner, it's important to learn about potential income. A person's event planning salary can depend on a variety of factors such as the number of years already spent working in the industry or the difference between being an employee and an entrepreneur.
There can also be differences based on what area of the industry you work in. For example, a corporate event planner salary might be different from a non-profit event manager salary or the salary for event managers working in government settings.
Additionally, the pay structure for event planning professionals can vary from salary to commission to flat fees.
As you can see, asking, "How much does an event planner make?" isn't a simple question to answer. But to give you a general idea of what a paycheck in this industry looks like, here are some national statistics: *
In 2010, the median pay for meeting, convention, and event planners was $45,260 per year, or $21.76 per hour.
The lowest 10 percent earned just $27,090 (or less) per year.
The top 10 percent made $76,840 (or more) per year.
What is a Typical Wedding Planner Salary?
If you're wondering, "How much does a wedding planner make?" the answer falls within the spectrum of the above statistics.
However, since the range is quite substantial, a look at how a wedding planner is paid can provide further insight into this question.
Wedding planners often charge for various types of services, from day-of packages to all-inclusive options. Some charge a set fee for their services, while others choose to structure pricing as a percentage of the overall wedding cost (generally from 10 to 15 percent).
Plus, since many wedding planners operate as small business owners, they do not necessarily collect a wage per se. Rather, they profit from their businesses, and this can mean subtracting all costs before paying themselves an appropriate amount.
What is the Career Outlook for the Event Planning Profession?
The event planning industry is expected to have a bright outlook with projected national growth of 44 percent from 2010 to 2020, which indicates an increase that is "much faster than average." * This growth may account for an additional 31,300 jobs in the event planning field over that time period.
The substantial rise in opportunities can be attributed to a wide range of factors, which most notably include the globalization of business. Companies are bringing individuals with common interests together on a larger scale, more frequently.
In addition, those with industry-recognized credentials, such as event planning certifications and a degree, may benefit from better career prospects.
Where you live can also play a role in the viability of a career in event planning. Urban markets tend to be competitive because of already-established planning firms, and rural areas generally have less demand. This means that researching your potential target demographic could be a worthwhile activity before deciding where you're going to start your career.
What Career Opportunities are Available in Event Planning and Management?
By pursuing a career in event planning and management, you could look forward to a future with one of these job titles:
Event planner
Conference planner
Meeting planner
Association planner
Convention service manager
Corporate planner
Catering manager
Travel manager
Festival planner
Event fundraiser
Wedding planner
Bridal consultant
Promotions manager
Trade show planner
Where Do Event Planners Work?
Event planners can be employed in a broad range of sectors. One of the most popular is the wedding industry, but many work for business and political organizations, hotels and motels, cruise ship companies, theme parks, trade show organizations, colleges and universities, or fundraising groups.
What Does an Event Planner's Work Life Look Like?
Event planners typically work from an office (home or otherwise) but often spend time at various venues, vendor sites, and client meetings. Depending on the specific events that are in the works, they may also have to travel out of town to destination events.
Throughout events, they often need to be on-site, which means evenings and weekends could be spent at hotels, convention centers, or other locations. These days can require long hours, which is why event planners often work longer than a 40-hour workweek.
If you're interested in learning more about the work life of an event planner, then consider seeking out a job-shadowing opportunity or contacting a few event planners to ask them about their personal experiences. This could provide you with the insight you need to make a very important decision about your future.
What are the Pros and Cons of Becoming an Event Planner?
A career as an event planner can offer a wide range of benefits such as:
Enjoyable settings—Planners often have the opportunity to play a role in memorable, important, and joyous events like weddings, fundraisers, or festivals.
A fast-paced atmosphere—Many event planners cite this as a top benefit. Always keeping up with deadline-driven projects can be fun and exciting.
Creative expression—Every event is different and requires the development of new ideas, from themes and color schemes to signage and decor.
Social interaction—Event planners get to work with people from all walks of life, from vendors to clients to guests, which is perfect for those who crave a people-oriented career.
Continual learning—With each event, planners gain experience dealing with in-the-field issues, learning about new trends, and more. It all provides for the constant development of skills and expertise.
Freedom—A lot of event planners work as contractors or small business owners. As their own boss, they get to set their own hours and choose which projects to take on.
Like any career, there are also drawbacks. In the event planning field, these can include:
Stress—Event planning can require meeting tight deadlines, communicating with multiple parties at once, and ensuring that all details are taken care of, which can translate into a high-pressure environment.
Long hours—Event planners often have to spend a lot of time on-site during events, meaning long days and grueling schedules.
Unstable pay—For self-employed event planners, pay comes only when you have events in the works, meaning you could have less-than-steady income.
Challenging clients—The term "bridezilla" was coined for a reason. Sometimes, clients can be highly demanding and hard to please.
What Does It Take to Be a Wedding Planner or Event Planner?
If you're interested in the event planning field, there are a number of qualities and personal strengths that can align with the abilities required to excel in this profession.
A career in event planning could be for you if you are skilled at:
Organization
Paying attention to details
Staying calm under pressure
Communication
Working with others
Problem solving
Negotiating
Being resourceful
What Steps Can I Take to Become a More Successful Event Planner?
In addition to following the steps outlined above, becoming a successful event planner frequently involves taking on a number of small (but important) and proactive tasks, which can include:
Volunteering whenever or wherever possible
Finding a mentor
Networking within the industry
Researching industry trends and issues
Enrolling in continuing education courses and workshops
Asking for feedback from clients
Since the event planning industry is often based on contract work, word of mouth is an important factor in becoming successful in this field. That's why it is vital to make sure each event you plan is seamless and that your clients are satisfied. This is especially true in the wedding planning and consulting profession where reputation can make or break your business.
Where to Go from Here?
Now that you have found some answers to the most important questions about pursuing a career in event planning, the next step is deciding where to go from here.
If you're eager to start working toward a career as an event planner, wedding planner, or event manager, then researching available schools and programs is an excellent way to begin. Start by exploring these event planning and management schools and wedding consultant schools today!
---
Main Sources
* Bureau of Labor Statistics, U.S. Department of Labor, Occupational Outlook Handbook, 2012-13 Edition, web site last accessed on May 24, 2012.
The Convention Industry Council (CIC), web site last accessed on May 24, 2012.
Society of Government Meeting Professionals (SGMP), web site last accessed on May 24, 2012.
Event Planners Association (EPA), web site last accessed on May 24, 2012.
Association of Bridal Consultants (ABC), web site last accessed on May 24, 2012.
American Association of Certified Wedding Planners (AACWP), web site last accessed on May 24, 2012.
Association of Certified Professional Wedding Consultants (ACPWC), web site last accessed on May 24, 2012.
Meeting Professionals International (MPI), web site last accessed on May 24, 2012.