Trade Schools & Colleges > The Career Counselor > EMT and Paramedic
EMT and Paramedic Career Information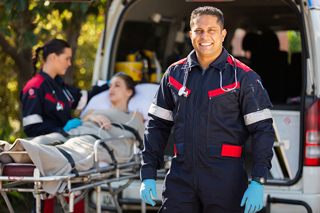 Accidents happen. People get sick. Life is fragile. When life-and-limb emergencies occur, we hope that heroes will be there to save us. So it takes real guts to step up and be one of those heroes. The emergency medical technicians (EMTs) and paramedics who work on the front lines of medical crises (caused by tragic events like car crashes, violence, or natural disasters) are part of a rapidly evolving industry that is crucial to our peace of mind. Every day, countless lives depend on the quick reaction and skillful care of those who work in the field of emergency medical services (EMS).
What is an EMT?
Without people who've been trained to come to our rescue when tragedy strikes, many of us would not survive medical emergencies. After all, an emergency can strike us anywhere and anytime. So, what is an EMT? And what does "EMT" stand for?
An EMT is a type of first responder who specializes in pre-hospital medical care. EMT stands for emergency medical technician.
EMTs are not just ambulance drivers. They are well-trained providers of first aid, resuscitation, and basic life support.
EMT vs. Paramedic: What is the Difference?
Some people don't realize that there are different levels of first responders in the field of emergency medical services. Even if they do, they might not know what the differences entail. That's probably why "EMT vs. paramedic" is a common online search. So, what is a paramedic? And how is a paramedic different from an EMT?
The first thing you should know is that a paramedic is an emergency medical technician (EMT), but an EMT is not necessarily a paramedic. This is because the term "paramedic" is reserved only for those who are certified at the highest level of pre-hospital emergency care.
Here are some other key points to understand:
In most states, there are two levels of EMT certification: (1) EMT-Basic and (2) EMT-Paramedic. A few states also include a level between these known as EMT-Intermediate.
Those with EMT-Basic or EMT-Intermediate certification are generally just referred to as EMTs or ambulance technicians.
Those with EMT-Paramedic certification are referred to as paramedics (or "medics" for short).
It is acceptable to call a paramedic an EMT, but it is never appropriate to call an EMT with only basic or intermediate certification a paramedic.
EMTs with basic certification have generally undergone about 120 to 150 hours of training. In contrast, paramedics have usually had from 1,200 to 1,800 hours of training (often resulting in a two-year associate's degree).
Because paramedics have much more extensive training than basic or intermediate EMTs, they are allowed to perform a much wider range of tasks. In most states, for example, those with EMT-Basic certification are not allowed to give shots or start intravenous lines. Paramedics, on the other hand, can provide more advanced supportive care, such as giving shots, starting IVs, and administering medications.
Regardless of their certification level, all EMTs can respond to emergency medical incidents, resuscitate patients, and provide basic life support to patients during transfers to or between hospitals or other medical facilities.
In Canada, the terminology, training, and certification structure is a little different. All pre-hospital first responders there are known as paramedics or emergency medical attendants, regardless of their certification level.
What Does an EMT Job Description Typically Include?
Emergency medical technicians can have a wide range of responsibilities depending on their level of training and certification, where they work, and what happens on any given day. Still, just about all EMTs share some common duties. So, what does an EMT job description usually include?
A day in the life of an EMT can include general tasks such as:
Responding to emergency calls from a 911 operator or dispatcher
Assessing scenes of emergency along with the conditions of sick or injured patients
Cooperating with any police or firefighters at the scene of an emergency
Determining the proper course of emergency medical treatment for patients
Performing appropriate emergency medical assistance like CPR, wound bandaging, and airway management
Using backboards and restraints, if necessary, in order to ensure that patients remain safe and still during ambulance rides
Calling ahead to hospital emergency departments to give them advanced information about patient conditions and to receive any necessary instructions
Transporting patients to hospital emergency departments via ambulance while monitoring their vital signs and providing any necessary care
Communicating all observations and carried-out treatments to emergency department personnel
Documenting all emergency medical care given to patients
Checking over and cleaning used equipment
Replacing any supplies that have been used
Reporting patients with infectious diseases to the appropriate authorities and decontaminating the ambulances they were transported in
Transferring patients between different medical facilities
The specific tasks related to patient care that EMTs are allowed to carry out vary a lot from state to state and also depend on certification level. A typical paramedic job description will include many more allowable tasks than one for a basic or intermediate EMT. In general, though, patient care duties tend to break down this way:
EMTs with basic certification can assess patients' conditions, engage in non-invasive medical interventions, and manage their patients' respiratory, cardiac, and trauma emergencies by using basic life-support techniques.
EMTs with intermediate certification can do all of the above plus administer intravenous fluids and a limited set of medications.
Paramedics can do all of the above plus administer a wider range of medications and intravenous fluids, interpret EKGs to monitor heart function, and use a greater variety of other monitors and complex equipment. Some paramedics are even specially trained to work as part of a helicopter flight crew for saving the most critically ill or injured patients.
Where Can Emergency Medical Technicians Work?
The most common employers of EMTs are private ambulance services, followed by local governments and hospitals.
Most EMTs work full-time in metropolitan areas. The nature of their work is such that they must do their jobs in both indoor and outdoor environments. Many EMTs also have varied work schedules, meaning that they frequently work nights and weekends.
What is the Typical EMT Salary?
EMTs don't get into the field of emergency medical services for the pay. (This is not the kind of work that makes you rich.) Rather, most EMTs and paramedics join this industry for the satisfaction they get from helping people and saving lives. Plus, EMT wages depend a lot on certification level, amount of experience, type of employer, and geographic location. So, what is the typical EMT salary?
Based on national estimates from May 2010, annual EMT wages break down this way: *
The bottom 10 percent earned $19,710 or less.
Median wages were $30,360.
The top 10 percent earned $51,370 or more.
In many cases, you can expect the typical paramedic salary to fall closer to the middle and higher end of the above estimates since paramedics must have more advanced training and certification than a basic EMT.
Some EMTs and paramedics are able to significantly increase their annual earnings by working a lot of overtime and holidays.
What are the EMT Requirements I Need to Know About?
The emergency medical services (EMS) industry can be complicated. Different rules for EMTs exist in each state and, in some cases, each city or county. So the specific EMT requirements you need to know about must be obtained by contacting your state's EMS office (or the EMS office of the state you intend to work in if it is different from where you currently reside).
In most states, you will have to complete a certified EMT training program and then pass a national certification exam administered by the National Registry of Emergency Medical Technicians (NREMT). The exam consists of both written and practical (hands-on demonstration) components.
Obtaining NREMT certification is usually enough to qualify you for state licensure; however, a few states have their own certification exams and may also use different terminology to describe those within the EMS profession.
NREMT certification is awarded at different levels depending on your training and exam:
EMT-Basic
EMT-Intermediate
Paramedic
In addition to the above official requirements, successful EMTs and paramedics often possess the following:
Compassion for other people
Exceptional listening skills
A fair amount of physical strength
Mental and emotional stamina
Strong interpersonal skills
Excellent problem-solving skills
Good judgment and moral character (Many states conduct criminal background checks.)
What are the Pros and Cons of Being an EMT or Paramedic?
Over the years, many television shows have glamorized the field of emergency medical services (EMS). They've portrayed EMTs and paramedics as highly attractive and super fit heroes always on a quest for their next adrenaline high. But those same TV shows also frequently downplay some of the more unpleasant aspects of the occupation. That's why it's important to have a clear understanding of what you might actually experience in this field.
Most EMTs and paramedics would probably say that they are glad to be doing the work they do. But, like all professionals, they have good days and bad days. Here are some of the most common benefits and drawbacks of working in the EMS field:
Pros
High personal satisfaction—Professional rewards don't get much better than the deep feeling of meaningful contribution that comes from helping to save other people's lives.
Amazing stories to share—Experienced EMTs and paramedics always have a fascinating story to tell about the interesting people they've met or the crazy situations they've encountered while on the job.
Changes in scenery—EMTs are frequently on the move from location to location, so variety is built into this occupation.
Excitement—Unlike office jobs, being an EMT or paramedic means getting to experience thrills like driving fast with lights and sirens and never quite knowing what to expect when you get to the scene of an emergency.
Cons
High stress—EMTs and paramedics witness so much disturbing trauma and tragedy that some of them eventually develop sleep disorders, depression, or other mental health illnesses unless they are proactive about seeking help.
Potential for injury and exposure to infectious diseases—Despite extensive safety precautions, EMTs can never fully escape the risk of getting hurt or contracting a contagious disease such as hepatitis or AIDS while on the job due to encounters with mentally unstable, combative, or infectious patients (or bystanders).
Challenging work schedules—Working odd shifts and always needing to be ready to respond to a call can make it difficult to maintain relationships, eat a healthy diet, or get enough sleep.
Physical demands—This occupation requires a lot of kneeling, bending, and heavy lifting in all kinds of indoor and outdoor environmental conditions.
Can You Tell Me How to Become an EMT?
If you want to know how to become an EMT, then you need to have a clear understanding of what is required and what can help you along the way.
The most common path to becoming an EMT with basic certification involves:
Being at least 18 years old
Ensuring that you have at least a high school diploma or equivalent
Obtaining certification in CPR (cardiopulmonary resuscitation)
Finding a post-secondary school or other institution that offers a formal EMT-Basic training program that meets or exceeds the standards of the National Standard Curriculum
Successfully completing your specialized formal training, which is generally about 120 to 150 hours
Obtaining licensure in your state, which usually involves passing the NREMT's national EMT-Basic certification exam
Getting additional training (usually about 8 hours) and licensure for ambulance driving if that is something you want to be able to do
Here are some other points to keep in mind as you pursue an EMT career:
In some states, you have the option of obtaining EMT-Intermediate certification, which usually requires about 1,000 of formal training.
Some people are able to get their EMT training for free through volunteer organizations if they meet certain conditions, but this is relatively rare.
Before you decide to enroll in your training, it's a great idea to see if any of your local EMS services have a ride-along program. You might be able to spend several days with actual EMTs and paramedics to get a real feel for the profession. Show that you are serious and interested in the field by taking good notes, asking questions, and demonstrating appreciation for their time.
While you are training, be sure to keep an open mind, practice the skills you learn repeatedly, ask questions when you need to, and allow yourself the freedom to make some mistakes.
It can sometimes be difficult to land your first EMT job since you won't have any experience. That's why some new EMTs decide to volunteer for hospitals or community ambulance services to start building their resumes.
In many popular regions, private ambulance services and medical facilities require at least two years of EMT experience. So, at the beginning of your career, you may need to keep an open mind about relocating to a region where you can get that experience.
Can You Tell Me How to Become a Paramedic?
Knowing how to become a paramedic requires understanding that it takes a lot more work and time than becoming a basic or intermediate EMT.
In most cases, the path to becoming a paramedic involves:
Obtaining basic EMT (or higher) certification (see the section above)
Finding a formal paramedic training program that meets or exceeds the standards of the National Standard Curriculum
Successfully completing your training, which is usually about 1,200 to 1,800 hours (taking up to two years)
Obtaining state licensure, which, in most states, involves passing the NREMT's Paramedic certification exam.
Here are a few other things to consider about becoming a paramedic:
Many EMS professionals have the attitude that you must spend a lot of time "paying your dues" as a basic EMT before advancing to the role of paramedic. But it's probably better to follow your own timeline. (Some people find that too much experience as a basic EMT causes them to develop bad habits that are difficult to break and that make doing the job of a paramedic harder.)
Paramedic training often ends with the awarding of an associate's degree. Certificate or diploma programs are also available, but they may not prepare you as well.
It's essential that your training include clinical rotations in which you get to practice your skills in a real work environment.
How Long is EMT Training?
The amount of time it takes to learn how to become an EMT can vary depending on the program you choose. Still, the length of most EMT programs fall within a similar range. So, how long is EMT training?
Basic EMT training usually takes from about three to six months to complete.
Intermediate EMT training, on the other hand, can take much longer—usually somewhere around one to two years.
How Long is Paramedic School?
Paramedic training involves learning many more advanced skills and acquiring deeper knowledge than basic EMT training. Therefore, you can expect to spend a lot more time learning to become a paramedic than a basic EMT. So, how long is paramedic school?
The answer depends a lot on the program you choose as well as the credential awarded. But most paramedic associate degree programs are designed to take about two years to complete. Certificate programs can take less time than this, but the training is not usually as in-depth.
What Can I Learn in an EMT or Paramedic Program?
Although they can vary a little from school to school, most EMT and paramedic training programs follow the National Standard Curriculum from the United States Department of Transportation's National Highway Traffic Safety Administration (NHTSA). Basic EMT training, however, is not nearly as comprehensive as paramedic training.
Most basic EMT programs require you to have CPR certification prior to getting started. The typical EMT curriculum consists of subject areas such as:
Basic concepts of emergency medical care
Medical, legal, and ethical issues
Overview of the human body
Baseline vital signs
Lifting and moving patients
Airway anatomy, physiology, equipment, and procedures
Assessing the scene of an emergency
Gaining access to patients at an emergency scene
Assessing patient injuries, complaints, and symptoms
Detailed physical exams of patients
Interpersonal and emergency communications
Writing documentation reports
General pharmacology
Respiratory emergencies
Cardiovascular emergencies
Allergic reactions
Diabetes emergencies
Poisoning and overdose
Behavioral emergencies
Environmental emergencies (i.e., patients exposed to extreme heat or cold, aquatic incidents, etc.)
Obstetric and gynecological emergencies
Bleeding and shock
Head and spinal injuries
Soft tissue injuries
Musculoskeletal care
Emergency care for children and infants
Ambulance operations
Basic overviews of triage, mass casualty situations, incident management systems, and hazardous materials
In terms of paramedic training, some programs require you to complete prerequisite courses in anatomy and physiology before being admitted.
By enrolling in a paramedic program, you can expect the same types of courses as those listed above, but you can also expect a more in-depth curriculum that is split into three main components: (1) classroom instruction, (2) skills laboratories, and (3) supervised clinical rotations in real EMS field and hospital environments.
The typical paramedic program covers extensive coursework in subject areas such as:
Roles and responsibilities within EMS systems
Illness and injury prevention
Maintaining well-being as a paramedic
Medical, legal, and ethical issues
General pathophysiology
Pharmacology
Administering intravenous medications
Airway management and ventilation
Therapeutic communications
Taking a patient's medical history
Physical examination techniques
Patient assessment
Emergency communications
Clinical decision making
Written documentation
Trauma systems and mechanisms of injury
Soft tissue trauma
Hemorrhage and shock
Head and facial trauma
Spinal trauma
Burns
Abdominal and thoracic traumas
Musculoskeletal trauma
The pulmonary system
Cardiology
Neurology
Gastroenterology
Urology and renal issues
Endocrinology
Gynecology and obstetrics
Neonatology
Toxicology
Hematology
Infectious diseases
Psychiatric and behavioral disorders
Environmental conditions
Pediatric issues
Geriatric issues
Patients with special challenges
Acute interventions for chronic care patients
Abuse and assault
Assessment-based management
Medical incident command
Ambulance operations
Rescue operations
Crime scene awareness
Hazardous materials incidents
Do EMTs and Paramedics Have Advancement Opportunities?
Generally speaking, most EMTs advance in their careers by earning more certifications to handle a wider range of emergency situations.
With experience and additional training, EMTs and paramedics can advance into management roles or become flight paramedics. Opportunities also exist in emergency dispatch services and teaching.
Some EMTs and paramedics choose to make lateral career moves into special operations, hazardous materials, or public education units.
What is the Job Outlook for EMTs and Paramedics?
The job outlook for EMTs and paramedics is bright. In fact, employment in this field is projected to grow by 33 percent between 2010 and 2020, which is much faster than the average for all occupations. *
Much of that growth is due to the increase in the population of the middle-aged and elderly, which is likely to result in more medical emergencies from heart attacks, strokes, and other common traumas. In addition, EMTs will be needed for transferring patients to specialized medical facilities, which are expected to increase in number.
How Do I Get Started?
If you think you're ready to start saving lives, then riding along with experienced EMTs or paramedics for a few days can be a terrific way to really be sure. But if you already know for sure that you want to pursue a career as medical first responder, then check out the EMT and paramedic schools in your area. It might not be too long before you can call yourself a genuine hero.
---
Main Sources
* Bureau of Labor Statistics, U.S. Department of Labor, Occupational Outlook Handbook, 2012-13 Edition, website last accessed on October 9, 2012.
The Occupational Information Network (O*NET), website last accessed on October 9, 2012.
National Registry of Emergency Medical Technicians (NREMT), website last accessed on October 10, 2012.
National Association of Emergency Medical Technicians (NAEMT), website last accessed on October 10, 2012.
United States Department of Transportation, National Highway Traffic Safety Administration (NHTSA), website last accessed on October 10, 2012.