Trade Schools & Colleges > The Career Counselor > Dental Assistant
Dental Assistant Career Information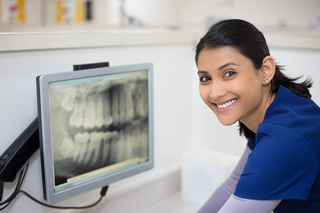 Going to see the dentist rarely involves seeing only the dentist. Today, oral healthcare is made possible by a variety of different professionals, each with a valuable and distinct role to play.
As more and more people muster the courage to see a dentist, dental assisting becomes more and more important.
So, what is a dental assistant?
What is a Dental Assistant?
A dental assistant is:
An entry-level position in the field of allied dental healthcare
Someone trained to assist a dentist at the chairside of dental patients as well as perform other duties that increase the efficiencies of patient care and office administration within a dental practice
Someone who can possess a variety of professional titles throughout a career depending on geographic location and level of certification
A dental assistant is not the same thing as a dental hygienist.
Dental Assistant vs. Dental Hygienist: What is the Difference?
Although both job titles fall within the field of allied dental healthcare, they represent completely separate careers and should not be confused with one another. That said, "dental assistant vs. dental hygienist" is a common online search. So if you are not sure of the difference between the two, then you're not alone.
Dental assistants and dental hygienists both work within dental practices, usually have the same boss, and may interact with many of the same patients, but the similarities don't go much further than that. So, what is the difference between a dental assistant and a dental hygienist? Here are a few key points to keep in mind:
Dental assistants make patients comfortable and work side by side with dentists, assisting primarily with corrective and restorative dental procedures within the mouths of patients. They provide support to dentists in the way of duties, such as using water and suction, passing instruments, and ensuring that infection control is maintained.
Dental hygienists, on the other hand, work with individual patients directly and alone, primarily providing preventive dental care in the form of cleaning, scaling, and polishing teeth, and probing the teeth and gums for any signs of disease that need to be checked out by a dentist.
Dental hygienists are required to be licensed and to have a formal education. Entry-level dental assistants are not.
Dental hygienists generally have more seniority within a dental practice because they carry more liability and must have more clinical knowledge than dental assistants.
What Do Dental Assistants Do?
This is where things become more complicated. When you get down to the full, specific range of duties, "What do dental assistants do?" is not such a simple question to answer, for one major reason: It depends. In fact, it might be better to ask, "What are dental assistants allowed to do?"
As a dental assistant, what you can do depends on the following factors:
Your employer
The state where you live and work
Your level of training and experience
The official certifications and designations that you have earned
The job titles and allowable duties of dental assistants can vary greatly from state to state. That's because each state has its own set of dental regulations, which must be followed by everyone working within a dental practice. The Dental Assisting National Board (DANB) provides links to specific information for each state.
Although a few states allow duties to be delegated to any dental assistant that a dentist deems to be competent, most states have created a hierarchy of job titles and allowable tasks based on a dental assistant's level of training and certification.
In general, dental assisting duties can be broken down into basic functions, expanded functions, and specialty functions. Just remember: where any particular task falls depends on your state, and dental assistants must always work under the supervision of licensed dentists. So, what can dental assistants do?
Basic (entry-level) dental assisting functions generally include:
Sterilizing and disinfecting dental instruments and equipment
Preparing dental instrument trays and laying out materials for treatment
Making patients comfortable and preparing them for dental procedures
Asking patients about their medical histories and updating their dental records
Working alongside dentists during "four-handed" dental procedures
Handing instruments and materials to dentists as needed or requested during procedures
Keeping the mouths and throats of patients clear through the use of tools such as oral irrigators and suction hoses
Instructing patients on pre-treatment, post-treatment, and general oral care
Ordering supplies
Scheduling and confirming patient appointments
Maintaining treatment and dental practice records
Taking and processing dental x-rays (with proper training and certification)
Expanded functions often include tasks such as:
Making oral impressions
Placing dental dams for isolating teeth during treatment
Applying topical anesthetics to gums
Applying sealants and cavity-preventive agents to teeth
Removing excess cement as part of a restorative dentistry procedure
Removing sutures
Coronal polishing
Fabricating mouth trays
Removing and fabricating temporary crowns
Preliminarily fitting crowns
Polishing amalgam-filling restorations with a slow-speed device
Performing teeth-whitening procedures
Specialty functions fall into areas such as:
Laboratory duties (casting oral impressions, cleaning removable orthodontic appliances, and making crowns, dentures, bridges, and veneers)
Orthodontic tasks (removing cement from cemented brackets or bands, re-cementing loose orthodontic bands, and replacing ligatures and separators)
Pediatric dentistry (performing dental assisting procedures on children)
Periodontics (assisting with procedures that involve the structures that surround and support the teeth)
Oral surgery (assisting with more invasive procedures)
Dental assistants are not allowed to do things such as diagnose patients, plan treatments, cut tissues (hard or soft), take any action to correct the positioning or movement of teeth, remove teeth, probe the gums, or prescribe drugs.
Where Can Dental Assistants Work?
Most dental assistants are employed by private dental practices with one or more dentists. However, with training and experience come other opportunities, including the chance to work in different roles (such as office manager, instructor, or sales representative) and for different types of employers. So, where can dental assistants work?
Employers that make use of dental assistants include:
Solo dental practices (one dentist)
Group dental practices (two or more dentists)
Specialty dental practices (focus on a particular branch of dentistry such as oral surgery, pediatrics, orthodontics, periodontics, endodontics, or prosthodontics)
State and local public health departments (includes school and community clinics)
Dental school clinics (to assist students training to become dentists)
Hospital dental clinics (assisting with bedridden patients)
Insurance companies (processing dental insurance claims)
Post-secondary education institutions (teaching dental assisting to others)
Dental manufacturers and pharmaceutical companies (working as a sales representative for dental products)
What are the Benefits of a Dental Assistant Career? What are the Drawbacks?
There can be many great benefits of a dental assistant career. Those who love dental assisting really love it. But, like all occupations, it has its upsides and downsides. So it's a good idea to learn as much as possible prior to deciding to become a dental assistant.
Many dental assistants share common challenges and drawbacks. Here are a few:
The work can be physically demanding, especially on your feet, back, neck, shoulders, wrists, and hands.
Many dental assistants work part-time, work on Saturdays or in the evening, or work for more than one employer. Some dental assistants consider this a benefit, as it may provide flexibility.
The American Dental Assistants Association (ADAA) recommends that dental assistants carry their own liability insurance to guard against the potential financial burden of having to defend themselves in a malpractice lawsuit.
There are also a number of positives associated with dental assisting. Here are some of the benefits:
A large variety of duties means that few dental assistants would ever call their work boring. Many find their tasks, even the most challenging ones, to be fun.
It can be entertaining to meet new patients and different types of people.
Since dental assistants are in high demand, those with experience don't often have to worry about being out of a job.
The chance to work part-time is actually an advantage for many dental assistants, especially those with families or other interests.
It can be incredibly rewarding to help people improve or maintain their oral health because it often has a large impact on their overall well-being.
How Much Does a Dental Assistant Make?
Because dental assisting is an entry-level occupation, dental assistant wages can be on the low side for those just beginning their careers. With additional training, experience, and certification, however, their earning power increases. Dental assisting also offers rewards and personal satisfaction in other ways. So, how much does a dental assistant make?
Based on national estimates, typical annual wages for dental assistants break down like this: *
Median wages (50th percentile) are $33,470.
The top 10 percent earn $47,090 or more.
The bottom 10 percent earn $22,680 or less.
You may be asking, "What is the average wage of a dental assistant?" The answer depends heavily on where you live. Common hourly wages for dental assistants in private dental practices vary widely from state to state, from as low as $9.00 to as much $25.00. This is due, in large part, to differences in the cost of living. Employee benefits such as paid vacation and health insurance also vary from employer to employer, but are typically offered only to those who work full time.
As a dental assistant, you are likely to receive the best wages if you work in a specialty practice or have the necessary education and certification to perform expanded functions within your state.
What are the Educational Requirements of a Dental Assistant?
Anyone can be hired by a dentist and trained on the job to perform basic functions as an entry-level dental assistant without any formal post-secondary training. However, if you want the chance to do more and earn more, then most states will require that you attain the proper licensing or certifications, which usually involves some type of formal education. So, what are the educational requirements of a dental assistant?
Depending on the state where you work and the duties that you wish to perform, you may be required to:
Take a state-mandated course in radiology and pass a written and/or practical exam before you can take x-rays.
Take other state-mandated courses for different sets of expanded functions.
Earn the Certified Dental Assistant (CDA) designation by passing the national exam that is administered by the Dental Assisting National Board (DANB). One way to become eligible for this exam is to complete a dental assisting program that is accredited by the Commission on Dental Accreditation (CODA).
Register with or obtain a license from your state, which sometimes involves an exam.
Complete ongoing continuing education courses to maintain your certification.
Again, it is best to check with your state for specifics.
What Do the Different Job Titles and Acronyms Mean?
There is currently no national standard for dental assistant job titles, designations, and certification. Depending on the state you are in, some job titles include:
Dental Assistant
Dental Auxiliary
Qualified Dental Assistant
Certified Dental Assistant (CDA)
Registered Dental Assistant (RDA)
Licensed Expanded Function Dental Auxiliary
Expanded Duties Dental Assistant (EDDA)
Expanded Functions Dental Assistant (EFDA)
While a dental assistant in one state might share the same job title as a dental assistant in a different state, that does not mean they are allowed to perform the same duties. That's why it is crucial that you familiarize yourself with the regulations of your own state.
Although each state has its own requirements and applies things differently, there is one designation that is recognized in a majority of states: Certified Dental Assistant (CDA). Here are a few facts about the CDA designation:
It is earned as a result of successfully passing the national CDA exam that is administered by DANB.
There are three pathways that can qualify you to take the exam. The two most common are:
(1) completion or expected completion of a dental assisting or dental hygiene program that is accredited by the Commission on Dental Accreditation (CODA) or
(2) a high school diploma or GED combined with at least 3,500 hours of work experience as a dental assistant—accrued over two to four years.
You must be certified in CPR (cardiopulmonary resuscitation) to qualify for the exam.
The CDA exam consists of three components. They are:
(1) General Chairside Assisting,
(2) Radiation Health and Safety, and
(3) Infection Control.
In order to keep your CDA certification current, you must stay certified in CPR, pay an annual fee, and earn continuing education credits every year.
In some states, being a Certified Dental Assistant (CDA) qualifies you to take x-rays and perform other expanded duties. In other states that recognize the CDA designation, you must also pass one or more state exams before being allowed to perform expanded functions.
Here are some additional facts about dental assisting designations that you should be aware of:
Being a Registered Dental Assistant (RDA) or Expanded Functions Dental Assistant (EFDA) in one state does not necessarily qualify you to carry the same designation or perform the same duties in a different state. The RDA and EFDA designations are handed out at the state level. Like in many other industries, if you move to another state, you will have to do whatever is required of that state in order to qualify for the designation.
Having a state license or certification in radiography does NOT automatically make you a CDA, RDA, or EFDA.
Some states require you to earn separate licenses for taking x-rays or performing certain expanded functions such as coronal polishing, even if you are already a CDA.
Not all states offer licensing or require registration or any other form of designation.
Can You Tell Me How to Become a Certified Dental Assistant?
There is more than one way to enter the field of dental assisting. If you want to know how to become a Certified Dental Assistant (CDA), then you've got some options to consider. At minimum, you'll need a high school diploma or GED to get started.
Essentially, you have three options:
You can apply for job openings without any post-secondary schooling, get trained on the job, and work two to four years as an entry-level dental assistant before you can qualify for the CDA exam.
You can get formal training through a dental assisting program that is not accredited by the Commission on Dental Accreditation (CODA), find employment, and work two to four years as an entry-level dental assistant before you can qualify for the CDA exam.
You can enroll in a CODA-accredited dental assistant program and take the CDA exam just prior to, or upon, completion of the program.
Here are some things to consider before forgoing post-secondary schooling and opting only for on-the-job training:
Even though dental assistants are in high demand, many employers prefer to hire individuals who already have hands-on experience in the field, which can make finding a paying position challenging.
It can be hard to find dentists who prefer to hire and train new, unschooled dental assistants.
If you find a dentist willing to train you and then later decide that you want to advance, and you work in a state that requires formal schooling and credentials in order to perform expanded functions, then you will eventually have to take some formal training.
With only on-the-job-training, you will first have to work the equivalent of two years full time or four years part time as a dental assistant before you can qualify to take the Certified Dental Assistant (CDA) exam.
While some dental assistants are able to begin their careers without post-secondary training, the trend is actually going in the other direction. An increasing number of people are opting to complete a formal dental assistant program before entering the job market. Here are some things to consider about choosing dental assisting school:
Not all dental assistant programs are created equal. In fact, they can vary substantially in curriculum, quality, length, cost, and the credentials you come away with. Be sure to do your research.
The Commission on Dental Accreditation (CODA)—part of the American Dental Association (ADA)—accredits several dental assisting programs throughout the United States. CODA-accredited programs are considered the "gold standard" for training in this field because their graduates qualify immediately to take the CDA exam that leads to becoming a Certified Dental Assistant.
Many programs include an externship at a real dental practice, which can give you some of the hands-on experience that employers are looking for.
In many states, only CODA-accredited programs are allowed to teach expanded functions. In such states, completing a non-CODA-accredited dental assisting program will not allow you to perform any duties beyond what is already allowed of a dental assistant without any formal training.
Earning a "certificate" or "diploma" from a dental assisting program does not automatically make you a Certified Dental Assistant (CDA). Be sure to check your state's regulations.
Completing a good dental assisting program can usually enable you to gain more thorough training than you might receive from on-the-job training alone.
How Long Does It Take to Become a Dental Assistant if I Go to School?
Dental assisting programs range in length, from as short as a few days to as long as one year. But when asking, "How long does it take to become a dental assistant?" it is important to understand that, in terms of quality instruction, the longer programs generally offer the best, most comprehensive training.
When choosing a dental assistant program, it's a good idea to aim for one that incorporates classroom instruction, laboratory instruction, preclinical instruction, and a hands-on externship in a real dental practice.
Programs that are accredited by the Commission on Dental Accreditation (CODA) are typically designed to take about nine to 11 months to complete.
What is the Cost of Schooling to Become a Dental Assistant?
The cost of schooling to become a dental assistant varies greatly depending on where you live and the program you choose. Total costs typically range from about $1,000 to $8,000. Some programs, however, can be substantially more expensive, so it is a good idea to check around. (It can also be beneficial to call a few dentists in your area to see if you can get their opinions about which schools they believe produce the best graduates.)
If you qualify, there are programs that can help you pay for dental assistant school. The federal government offers several forms of financial aid (loans and grants), and many state governments also have programs designed to provide assistance to older workers who need to retrain for a new career.
In addition, a number of professional organizations offer dental assisting scholarships to members who qualify. A few of these include:
The ADA Foundation (part of the American Dental Association)
The American Dental Assistants Association (ADAA)
The National Dental Association Foundation (NDAF)
The Hispanic Dental Association (HDA)
What Courses Does a Dental Assistant Program Typically Include?
Dental assistant programs can vary significantly in their curricula. A lot depends on how long a given program is and whether or not it is accredited by the Commission on Dental Accreditation (CODA).
The best dental assistant programs typically include a combination of courses in theoretical dental knowledge, laboratory skills, and chairside skills. They also usually include at least one clinical externship (sometimes called an internship) for real-world practice and assessment. Look for a program that incorporates one or more externships with classes in:
Dental science
Prevention and nutrition in dentistry
Dental materials
Dental office management
Medical emergencies
Infection control
Chairside procedures
Dental radiography (typically only included in CODA-accredited programs)
DANB exam preparation and review (typically only included in CODA-accredited programs)
What is the Job Outlook for the Next 5 Years for Dental Assistant Professionals?
When it comes to finding work as a dental assistant, the job outlook is bright. In fact, dental assistants are part of one of the fastest-growing occupations in America. Employment in this field is expected to grow by 36 percent between 2008 and 2018. **
Dental assisting job prospects will continue to be excellent for a variety of reasons. America's population continues to grow, older people are retaining their teeth longer, there is increasing focus on preventive dental care, and new dentists (who are replacing retiring ones) are more likely than their predecessors to hire dental assistants with an education from a good dental assisting program.
How Do I Get Started?
Call around to a few dental practices. Or inquire about the dental assisting programs in your area. Check out our list of dental assistant schools. And when people ask you, "What is a dental assistant?" you can tell them that dental assistants help provide this world with confident and healthy smiles.
---