Trade Schools & Colleges > The Career Counselor > Cosmetologist
Cosmetologist Career Information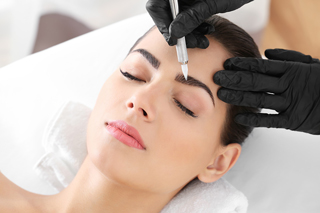 F un. Variety. Social interaction. Creative enjoyment. Who wouldn't want to train for a job that can provide all of that in addition to greater financial stability?
A cosmetology education can be your springboard into a life where you actually feel delighted by what you do each day. It can launch you into a career that invites laughter and warmth and gratitude from the people you serve.
Think about it: Personal appearance is an important element in confidence and self-esteem. Most of us want to look good because looking good often means feeling good.
As a cosmetologist, you'll have the chance to experience being highly sought-after by people who want to take their individual beauty to a higher level. Your clients may just become your biggest fans.
So spend some time diving into the questions below. You'll find answers about many important topics like what cosmetologists do, how much they earn, and how you can become one.
And don't forget: Cosmetology schools are easy to find with our popular search feature.
What is a Cosmetologist?
Cosmetology is one of the few careers that can enable you to consistently impact other people in a positive way while also receiving personal and professional rewards. So, what is a cosmetologist?
A cosmetologist is:
Someone who has been trained in the skillful cosmetic treatment of hair, skin, and nails
A professional who holds a cosmetology license in the state in which he or she works
Often a specialist in one or more areas of cosmetology, sometimes going by titles such as hairstylist, hairdresser, colorist, beautician, manicurist, or makeup artist
Most licensed cosmetologists—about 90 percent—are women, but men can also find success in the beauty industry.
What is a Typical Cosmetologist Job Description?
(What Does a Cosmetologist Do?)
A typical cosmetologist job description doesn't really exist since the range of beauty services that one can perform is so wide (and is always expanding). Cosmetology is a field with an incredible number of options. While most cosmetologists focus on hairstyling, many others choose to make skin or nails the focal point of their cosmetology careers. And some do it all.
So, what does a cosmetologist do?
Depending on where they are in their careers and what they've chosen to focus on, cosmetologists carry out tasks for their clients such as:
Hair and Scalp Services
Shampooing hair
Cutting hair in a wide variety of classic and modern styles
Coloring hair using different types of hair color, such as temporary, semi-permanent, demi-permanent, and permanent
Using a variety of hair coloring techniques, such as highlighting, lowlighting, color blocking, and all-over coloring
Styling hair using a range of methods such as perms, straightening treatments, thermal curling, and wet styling
Doing scalp treatments
Giving hair care advice
Cleaning and styling wigs and other hairpieces
Facials, Nail Care, and Other Beauty Services
Performing facials (cleaning and softening the skin of the face)
Advising on makeup choices and application
Performing manicures and pedicures (trimming, shaping, and polishing nails, removing cuticles, and softening the skin of hands/feet)
Removing unwanted body hair
Giving head, neck, and arm massages
Selling beauty products for the care of hair, skin, or nails
Keeping records of hair color and skin-care regimens (for regular clients)
Ensuring that work areas are clean and tools are sanitary
Owning a Cosmetology Business
Those who own and manage their own salons may also perform duties such as:
Hiring and supervising cosmetologists and other salon personnel
Maintaining accurate and up-to-date inventory and business records
Ordering necessary supplies
Purchasing advertising and other marketing services
What is the Difference Between a Cosmetologist and an Esthetician?
Although a cosmetologist (with the right training) is sometimes also an esthetician, an esthetician is not usually a cosmetologist. That's because cosmetology incorporates general care for hair, skin, and nails whereas esthetics, as a career, is solely about specialized skin care.
Licensed estheticians, in general, have received more advanced training than cosmetologists in various facial beauty treatments, makeup application, full-body skin treatments, and hair removal techniques. They often earn certifications in special procedures such as micropigmentation (i.e., subtle facial tattooing like permanent eyeliner), chemical resurfacing, microdermabrasion (mechanical removal of skin imperfections), and electrolysis. Estheticians are also sometimes more involved in providing certain massage services such as reflexology.
In many states, you must obtain separate licenses (and training) for cosmetology and esthetics.
Where Can a Cosmetologist Work?
Most cosmetologists work in stand-alone hair and beauty salons. However, careers in cosmetology can also involve employment at spas, hotels, resorts, and residential care homes.
Of course, many experienced cosmetologists are self-employed and choose to work from home. Some even offer mobile beauty services, traveling to their clients' locations to perform hair, skin, or nail treatments.
What are the Benefits of Being a Cosmetologist?
To give you an idea of what this challenging and rewarding profession can offer you, here are some reasons why cosmetology is such a popular career choice:
Satisfaction—The confidence that you can give your clients by helping them look their best can also result in a great feeling of personal fulfillment and accomplishment for yourself.
Versatility—Due to the wide range of beauty services offered in today's spas and salons, skilled cosmetologists with up-to-date training can have many options within their careers.
Portability—As long as you meet the necessary licensing requirements, you can work wherever you choose. Cosmetology skills are portable.
Opportunity—Once equipped with practical experience, cosmetologists can become self-employed with little expense compared to other fields.
Variety—Cosmetology gives you the opportunity to meet—and delight—a wide variety of people. Plus, your regular, long-term clients can easily turn into long-term friends.
Interactivity—If you thrive in a social environment and enjoy interacting with others, then cosmetology is one of the few career fields that can allow you to do that most of the day, every day.
Creativity—You can be rewarded for using your artistic talents and staying on top of current fashion and design trends.
Viability—Cosmetologists provide services that must be done locally, so they are protected from the trend of overseas outsourcing. This might not seem like a bit deal, but, in today's world, this is an important point to consider as you think about your future.
How Much Does a Cosmetologist Make a Year?
"Salary" isn't necessarily the most appropriate term to describe the financial compensation of most cosmetologists. This is because cosmetology wages are usually based on an hourly rate, on commission from each service provided, or both.
In addition, cosmetologists regularly earn tips from clients of between 10 to 20 percent on their services (15 percent is customary in many places). And, a cosmetology salary can also include sizeable commissions from selling hair care and beauty products.
So, how much does a cosmetologist make a year?
Based on national estimates from May 2012, the typical annual wages of non-self-employed cosmetologists break down this way: *
Median wages were $22,700 (before tips and sales commissions).
The highest-earning 10 percent made $42,360 or more (before tips and sales commissions).
The lowest-earning 10 percent made $16,850 or less (before tips and sales commissions).
Higher Earning Potential
When everything is added up, a cosmetologist salary is often much more than what is reflected in the above statistics.
And even though it can take a little time to achieve the same earnings as a seasoned cosmetology professional, the earning power of new cosmetologists increases as they gain experience, improve their skills, and grow their clientele.
Some salons also offer benefits such as paid vacation and health insurance.
Experienced cosmetologists also have the potential to earn far more than the above by becoming self-employed or owning their own salons.
Do I Need to Get a Cosmetology License or Meet Any Other Requirements?
The short answer is yes. All states in the U.S. require cosmetologists to be licensed, but the specific requirements vary from state to state. How you go about becoming a licensed cosmetologist will depend entirely on the regulations in the area in which you plan to work.
Before pursuing a career in cosmetology, it's important to understand what requirements and regulations may be relevant to you. Here are some things to consider:
Training Requirements
Most states currently require a minimum number of training hours or credits to be earned from a state-approved cosmetology school before you can qualify for a license.
A few states give you the option of receiving your training from either an approved beauty school or through an apprenticeship. The number of hours you must earn through an apprenticeship, however, is usually about double the number required from cosmetology school.
Most states require you to be at least 16-years-old and have a high school diploma or GED in order to qualify for a cosmetology license. Most beauty schools also require this before you can begin training. Some high schools, however, have their own vocational programs for cosmetology.
Licensing Exams
Once you have fulfilled the requirement for training hours, you must pass state licensing examinations. In most states, that means passing two exams—1) a written test and 2) either a practical skills test or an oral exam.
The written exams from state boards of cosmetology often include subject areas such as infection control (personal hygiene, sanitation, and sterilization), safety precautions, haircutting, hairstyling, hair coloring and related chemicals, professional ethics, general anatomy and physiology, state laws and regulations, basic principles of electricity (since cosmetologists must use many different types of electrical devices safely), scalp disorders, salon management, skin care principles, and nail care basics.
The practical skills exams generally require the use of a mannequin, but a few states may require that you use a live model instead. It varies by state, but the skills you must successfully demonstrate can include procedures such as shampooing, draping, hair shaping, haircutting, thermal curling, setting pin curls and rollers, wet hairstyling, weaving, chemical waving, blow-dry styling, hair coloring and retouching, chemical relaxing, thermal straightening, performing a basic facial, handling salon accidents, performing a basic manicure, eyebrow arching, and applying makeup.
License Renewal and Moving to Other States
Some states require that you periodically renew your cosmetology license. This might mean fulfilling specific continuing education requirements.
If you are licensed in one state and decide to move to another one to work, you will need to check the regulations of the state you are moving to. In most cases, your cosmetology license will not simply transfer over. You may be required to obtain additional training hours in your new state or pass that state's exams.
Can You Tell Me How to Become a Cosmetologist (and Succeed)?
If you want to know how to become a cosmetologist, then it is imperative that you first understand the licensing requirements of the state in which you intend to work. In most cases, that will begin with selecting and attending a beauty school. In other cases, you might have the option of pursuing an apprenticeship instead.
Regardless of how you receive your cosmetology training, that's where it all starts. But to give yourself the best shot at a successful career, it's useful to keep a number of things in mind. Here are some of them:
Choosing a School
Not all beauty schools teach all aspects of cosmetology equally. For example, some schools focus more on hair and include less training in skin and nail care. Look for a beauty school with a curriculum that's in line with what you're interested in learning about.
The more services you are able to perform, the more employment opportunities you are likely to have. For instance, you are likely to garner more interest if you combine your cosmetology license with a license in something like massage therapy or esthetics. So consider a school that can help you achieve this.
Opting for an Apprenticeship
If your state allows it and you choose to seek an apprenticeship as an alternative to attending beauty school, you would then need to:
Find a licensed master cosmetologist who is willing to teach you.
Purchase your books and supplies and do any necessary bookwork on your own. You could think of it as self-directed learning.
Consider that some apprenticeships allow you to earn a paycheck while you learn. This is important to keep in mind when you're looking for available positions.
Be willing to invest more time. Generally, apprenticeships take much longer than school to prepare you for state licensing exams—as much as two to three times longer.
Getting into the Workforce
While in school, you should network with as many experienced beauty professionals as possible. Knowing a variety of stylists, estheticians, massage therapists, and others can pay off big later on when you are looking for work.
Research potential employers. You can often spot a good one by looking for things such as whether it is a member of the Professional Beauty Association (PBA), whether it has a continuing education fund, and whether it offers paid vacation and health insurance to its employees.
Some salons will test your skills before hiring you. So it's a good idea to line up some friends and family who are willing to act as your live models for demonstrating one or more designated cosmetology procedures.
As a newly licensed cosmetologist, you may want to obtain a position as an "apprentice" or "stylist assistant" at a large high-end salon so that you have the chance to observe and learn from a good variety of accomplished cosmetologists.
Progressing in Your Cosmetology Career
Early in your career, it is best to try and stay in one location with one employer for at least a few years. You need to establish a stable base of your own regular clients, which can take time.
Stay on top of the latest cosmetology trends and techniques by seeking new advanced training every year or as often as you can.
Many cosmetologists find that their work becomes the most rewarding (personally and financially) when they are able to own their own businesses. Once you've attracted a large and loyal clientele and obtained a management license (if it's required in your state), you may be in a good place to begin your own cosmetology business.
To help offset some of the startup and operating costs of launching your own business, consider teaming up with another professional (an esthetician or massage therapist, for example) who can complement the services you offer and share the costs.
How Long is Cosmetology School?
Because they are not all created equal, the length of programs offered by beauty schools can vary significantly. Plus, a lot depends on the regulations of your state and how many training hours are required in order to qualify for a cosmetology license.
So, how long is cosmetology school?
Most full cosmetology programs (those that include training in hair, skin, and nails) take nine months to one year to complete.
In some states, it is possible to obtain a license for just skin or nails. That means, if you don't want to do hair, you could conceivably attend a beauty school to become a skin care specialist or nail technician and spend only four months or less in training.
How Much is Cosmetology School?
The cost of cosmetology school depends a lot on location and the type of institution. Beauty schools tend to be more expensive in urban settings than in rural areas. But that isn't always the case.
So, how much is cosmetology school?
Cosmetology school tuition typically ranges from about $5,000 to $20,000 for a full cosmetology program (with some schools costing significantly more or less). Some cosmetology schools include the cost of books and supplies as part of the tuition. However, this varies from school to school, so it's a good idea to check with potential schools before enrolling.
Many beauty schools have grant programs for creative and motivated students. Plus, other types of financial aid (such as student loans) are commonly available for those who qualify.
What Can I Expect to Learn in Beauty School?
Beauty school is seen as a rite of passage by many cosmetologists—one that is both fun and challenging. Most beauty schools teach the fundamentals of cosmetology—enough to prepare you to pass state licensing exams.
Many beauty schools also set policies for attendance, dress code, and punctuality. They want their students prepared to excel in the job market. That means they focus on more than just learning how to perform hair, skin, or nail procedures; they also encourage personal discipline so that students will be early to work, clean their stations, and maintain high levels of professionalism long after they graduate.
In addition to classroom study, many beauty schools also have their own on-site salons where students can practice their skills on real clients (who pay discounted prices for the services).
The actual curriculum used by many cosmetology schools is the same as, or very similar to, what is found in Milady's Standard Cosmetology textbooks. A full cosmetology program generally includes the following subjects:
Cosmetology:
Principles of hair design (such as how to enhance a person's look based on facial shape)
Basic hair care (shampooing, rinsing, and conditioning)
Basic haircutting (including core cuts)
Hairstyling (including how to use the proper tools and techniques)
Hair braiding and braid extensions
Hair coloring
Chemical hair texturing
Wigs and other hair enhancements
Hair removal (such as waxing and tweezing)
Performing basic facials
Makeup application
Performing manicures and pedicures
General/Business:
Developing a professional image
Communication skills
Creating a resume and portfolio
Preparing for job interviews
Basic business skills
Health/Safety:
Sanitary practices
General anatomy and physiology
Basics of chemistry and electricity
Hair and scalp characteristics
Properties of skin and nails (including how they grow)
Skin and nail diseases and disorders
When It Comes to Careers in Cosmetology, Outlook for Jobs is Important.
Are Cosmetologists in Demand?
Yes, cosmetologists are in demand. In fact, few career sectors withstand changing economic conditions as well as cosmetology. Job outlook in this field remains consistently positive. In America, employment of cosmetologists who do hair is expected to increase by about 16 percent between 2010 and 2020. **
Cosmetology demand will stay strong for a number of reasons:
The beauty industry is expanding, and that includes the field of cosmetology.
America's growing population means that the need for basic hair services will grow right along with it.
Baby boomers and young people alike are increasingly seeking out advanced hair treatments as well as spa services such as skin and nail treatments.
Opportunities will be best for cosmetologists who are licensed in a broad range of services.
What Options Exist for Advancement in a Cosmetology Career?
It's easy to understand that more clients and more money can come from keeping up with the latest trends and maintaining advanced skills. And, of course, cosmetologists can also increase their incomes (and profile) by becoming great at selling beauty products to their clients, managing salons, or even opening their own beauty shops. But beyond these typical options for advancement, there are additional opportunities.
If you're interested in a cosmetology career, information on additional employment areas for cosmetology professionals is important.
Experienced cosmetologists can:
Teach in beauty schools
Become sales representatives for beauty-product companies
Work as image or fashion consultants
Act as examiners for their state licensing boards
Some cosmetologists even go on to do things like provide hair and beauty services to actors on movie sets or to help medical patients regain their confidence by providing medical esthetics.
How Can I Get Started?
Armed with the latest cosmetology facts, you can move forward with greater confidence. Start by checking out our list of beauty schools. Then request more information from a school near you about how you can start training to help other people look and feel their confident best.
---